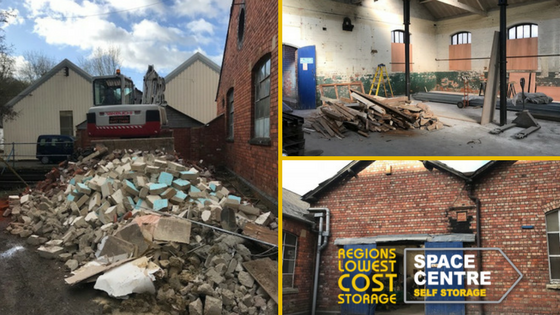 The UK self storage industry is flourishing and in keeping with demand, we're expanding our Stroud storage facility. It really takes us back to when we first opened in 1995. We started out with just 20 storage units where we now have over 300. It shows just how far Space Centre Self Storage has come and we have all of you to thank for that.
Stroud Storage Expansion Update
The primary reason for the expansion was to meet the increasing demand and we were fortunate that an opportunity came to purchase the adjoining property. The building is part of an old mill which used to produce cloth for uniforms and snooker tables many years ago. We believe it was built in the early 1800's.
We are currently completely renovating the building as it is in a bad state of repair. Local council planning advisors have been really positive as they would like to preserve the building from a heritage point of view.
Once completed it will provide 200 additional internal storage units in the same format as the existing Stroud storage facility. It's basically just an extension of what is already there. Each unit will be entirely individual and similar to having your own room to store your goods in.
We will also be providing more external storage units with 24-hour access which are ideal for tradespeople. All of the units are on the ground floor, so there are no stairs to navigate. Smaller units are ideal for student storage, de-cluttering your home or just for keeping business documents out of the way.
Our Stroud storage branch is located close to the town centre so it's easily accessible without traveling too far to access your belongings. Being so close to Stroud also means we are ideally situated for local businesses looking for additional space. The additional units will also allow more homeowners to use self storage to relocate, renovate or make space at home.
In the hopes that everything goes according to plan, the new expansion should be open for business by late Spring. Follow us on Facebook, Twitter or Google+ to keep updated. If our new Stroud storage facility is too far from your premises, we also have facilities in Bristol and Gloucester.
With over 20 years in the self storage business, we provide expert advice to all of our customers and anyone needing assistance. Please get in touch if you need short- or long-term storage in a big or small unit. Our staff members are always happy to help you find the best storage solution.