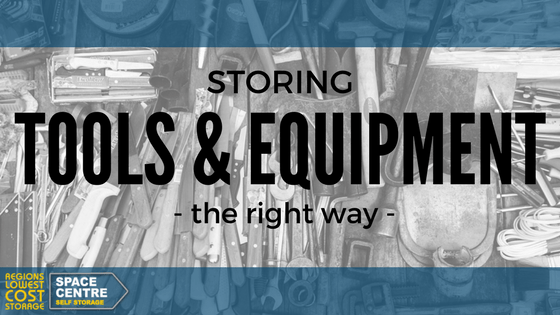 Storing your tools the right way
If you're a sole trader like a carpenter, electrician or plumber, you don't have to spend a fortune on business premises which will mostly be used for storing your tools.
So before you decide on making a big investment in a business property, consider a self-storage unit. Storage units come in various sizes and a 120 or 200 square foot unit will cost considerably less than a business property and still offers all the space you need.
In fact, any businesses can benefit from renting a storage unit especially those who are mobile and make use of tools and equipment. You could even store what you don't need right away when going to a job site. Quickly and easily collect your tools later or keep them safely locked away until they are needed.
Others might feel there is not enough space at home and it's time to declutter; pack away what you don't need and make space. This also helps reduce the risk of theft when leaving expensive equipment/tools in the shed or garage.
Whatever the reasons, leaving your tools at home or in your van overnight isn't worth the risk. Does your home insurance even cover your equipment or tools? You could lose your livelihood and the cost of replacing everything could be astronomical, not to mention inconvenient. Even if you have tradesman liability insurance, you might have the option to cover your tools and equipment but it's very likely there will be certain requirements to ensure your tools are securely stored when not in use.
Storage units for small businesses
Before you decide to go this route, it's important to do your due diligence regarding the operating guidelines, policies and procedures of the storage facility. Some are not setup or allowed to accommodate a business-run storage unit.
That's not to say that these places don't exist. There actually are more and more such facilities appearing but you have to make sure everything is above board. These facilities are normally run like a shared office space; providing storage with movable walls for flexibility regarding your requirements. More importantly, they also have a communal office space, meeting or boardrooms, coffee or cafe areas and toilet facilities. All of which are essential and legally required in order to operate a business from the premises.
Take a look at these types of businesses that can be run from a storage facility that is properly setup and equipped for this purpose:
eCommerce Store – Run your business from home but keep all your products in self-storage. You'll have more space at home and your goods will be safely stored in the process.
Repair Centre – If you're hands-on and able to fix just about anything, you can have your own work area and space for storing your tools in a business storage unit.
Secondhand Shop – Some storage facilities allow for a 'retail-type' business to operate from their own storage unit. Simply put up a few shelves for your secondhand goods and a cash register at the door.
Photo/Video Studio – Put together a proper backdrop, the right equipment and a good sound engineer and you've just setup your own production centre at the fraction of the cost.
We have all sorts of units including ones with drive up access which is ideal for loading and offloading where you simply back your van straight up to your unit and pack away. All the units are clean, dry and secure – you're the only one with a key. We don't tie you to a long-term contract so you have flexibility and you can also change unit size whenever you want or as your business needs dictate. At Space Centre Self Storage we even provide free insurance to the value of £3000.
You can find Space Centre Self Storage centres in North Bristol, Gloucester and Stroud, so if you want to declutter your garage or shed, get in touch with us for storing your tools safely.