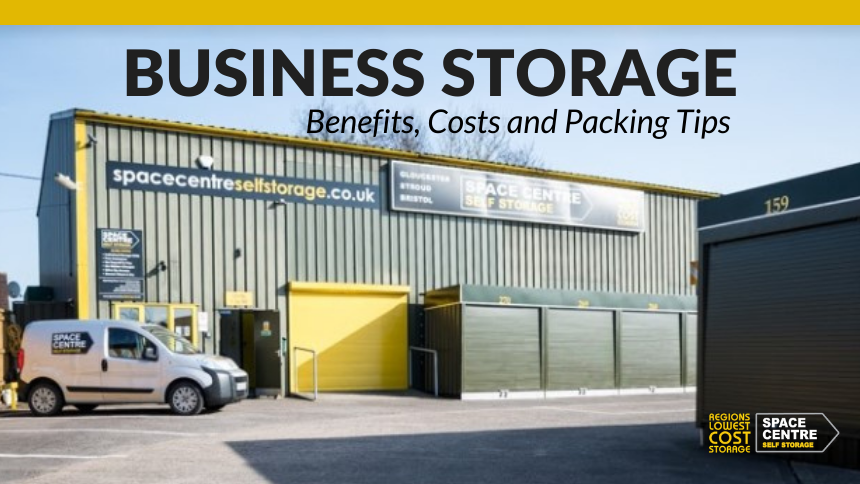 How Business Storage Can Help Companies Establish Themselves
A popular question we often come across is how to start a business with limited funds and nowhere to operate from. If you consider how fast the world is changing, businesses have also been forced to evolve. Now, companies of all sizes are increasingly relying on smart business storage solutions as it offers countless benefits. In this article, we take a quick look at how business storage can be a viable solution for you.
Benefits Of Business Storage
When people hear the word self-storage, many think of it purely in terms of personal use. The truth is, self storage is a great option currently being used by tens of thousands of new and existing businesses across the UK.
Some may even think of it as an added cost but if you compare the cost of renting a business storage unit compared to a bigger office or extra warehouse space, it's a drop in the ocean. With that in mind, here are some of the reasons why you should consider adding business storage into plans.
Self Storage Is Convenient And Flexible
Regardless of how big a company is, self storage can help as it's not only convenient to use but also incredibly flexible. Business storage facilities often have many services available to make everything easier in terms of storing and moving a wide variety of items.
At Space Centre Self Storage, all of our sites have internal and external drive-up business storage units. We can also provide you with proper packing materials and a lock where you will be the only person with a key for added security.
Speaking of flexibility, business storage facilities usually have a month-to-month basis of payment and easy termination of contracts. We don't tie you to a long-term contract so you can store for as long as you need to. A bonus is that you are free to change storage sizes at any time at no extra charge.
Business Storage Can Help With Expansion Or Relocation
Whether you're downsizing, expanding or relocating, business storage can help. You can rent a storage unit long-term or short-term to keep stock, supplies, furniture, documents and even vehicles safe while you move. This way you can keep things more organised during a move and declutter at the same time.
When renting a business storage unit, you may not need to get a bigger office which means big savings on rent. You can use it to store your unused office equipment, extra filing cabinets or historic (but important) documents. This will free up more space in your office for the things that matter most – your staff.
Business Storage Units Are More Cost-Effective
As a business owner, one of the most important goals is to save money whenever and wherever possible. One way of doing this is through business storage as the monthly rent is significantly lower than a bigger office or commercial warehouse space. Not to mention business insurance, maintenance and upkeep costs which can quickly add up to a fairly large amount.
Space Centre offers value for money without compromising on quality with storage units from 10 – 160 square feet at highly affordable rates. The smaller units start at £5.00 per week whilst the bigger ones range between £15 and £42.50 per week.
Self Storage Can Guarantee Safety And Security
Storing important items in a business storage unit is often safer than keeping them in your office or at home. Most reputable storage facilities, like Space Centre Self Storage, will have 24-hour CCTV, alarm systems and smoke detectors. There are also locked gates with access control, security fences and staff to help keep things safe and sound.
We offer free insurance for goods up to the value of £3000 but you are welcome to use your own providers, such as Surewise, Insurastore and Store-Insure. It doesn't take a rocket scientist to figure out how much you can save when using self storage for business.
Self Storage As A Stock Room, Warehouse And Distribution Centre
Home offices and small business owners can also benefit from renting a self storage unit. eCommerce shops, for example, deal with physical items and often need greater availability of storage as their inventory grows. The same applies to publishers and book dealers as they need a secure space to keep their stock until it ships out. Business storage units can help keep items safe between production, storage and dispatch.
Whether you're an online business, plumber, electrician, painting company or into construction, a self storage unit can be very handy. You can use it as a warehouse or stock room for your inventory, tools, equipment and vehicles while you do the hard grafting at home, the office or onsite. It can also benefit companies that offer repair, maintenance or restocking services and those maintaining flats in different areas.
Document Storage
Archive storage is no longer just rows and rows of filing cabinets as the way companies store paper records have changed. Business storage units are becoming increasingly popular not to mention digital storage solutions such as external hard drives, flash drives and cloud storage.
However, some documents can't be stored electronically and knowing what to keep safe for business purposes is important. Here's a short summary of the business records you should keep:
Pay as You Earn records including payments to employees, income tax and national insurance deductions
Sales and takings (sales invoices, bank statements, accounting records and cash receipts)
Purchase invoices, bank and credit card statements, motoring expenses and mileage records
Assets, liabilities, income and expenditure
Benefits records (statutory sick pay, statutory maternity, paternity or adoption pay and any employee benefits)
If you are VAT registered, you are required by law to keep track of all your VAT accounts
How To Make The Most Of Your Storage Space
A poorly organised business storage unit is not only wasteful but can also be a dangerous place. Incorrectly stacked boxes or if you pack it too high could result in everything toppling over causing damage to the goods or injuries. Finding the right storage facility is important but so is making the most of the available space.
You might think that shelving will take up too much space in your unit when it actually helps create more room, especially vertically. Whilst some storage facilities have built-in shelves, others may not but you can find out if you are allowed to install your own or use mobile shelving. You should always try to utilise the height of the storage unit by packing to the ceiling.
Recommended: 'What Can (And Can't) I Put In Self Storage?'
Tips For Packing A Business Storage Unit
To ensure you maximise storage space, and not pay for a bigger unit if you don't have to, here are a few expert packing tips that can help.
Pack big items first and ideally vertically against the wall
Keep smaller boxes or items in the middle of the storage unit
To ensure you know exactly where you packed stuff, label everything using a permanent marker or labels
Use furniture items like desks or dining room tables to form a strong base to stack other items on top
Cover furniture with bubble wrap, a blanket or high-density plastic to prevent damage
Where possible, disassemble furniture and use drawers as extra storage space
Leave a pathway down the middle to ensure you can easily access your boxes whenever and wherever they are
Keep a master list (inventory and floor plan) near the entrance so you know where everything is
How To Find The Right Business Storage Unit For You
Many storage facilities have a wide variety of units in different sizes but you still need to know which one is right for you. This is an important consideration as you don't want to pay for space you don't need.
Fortunately, Space Centre Self Storage has made it super easy with our online Price and Size Guide. Simply visit this page, choose your preferred facility and click on the square foot area you think you'll need. From there, you'll see an estimation based on the equivalent van load along with the cost per week.
For all your business storage needs, Space Centre Self Storage can help. If you don't have enough storage space at the office and don't want to pay for a warehouse, contact us to rent a short-term or long-term storage unit. Our facilities are conveniently located in Bristol, Stroud, Gloucester, Cheltenham and Stonehouse.