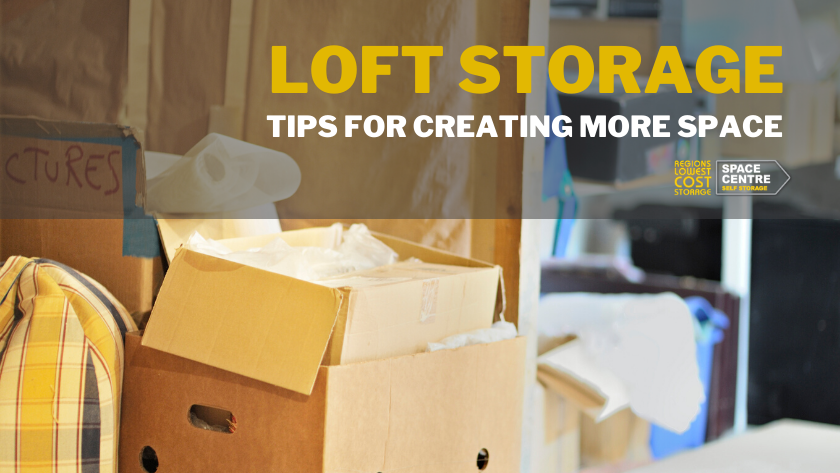 Creating more space at home is always a challenge but this article explores some amazing storage tips and ideas for the loft. Traditionally, the top of the house is used to store things we only use once a year, such as Halloween or Christmas decorations. However, whether it's a simple boarding or full conversion, your loft can be the perfect storage place for a lot more. The secret is knowing what to do and we are here to help.
Loft Boarding Or Loft Conversion?
Unlike a full conversion, when boarding your loft, you don't need planning permission but it will still have fluctuating temperatures. This means it's not the best place to store valuables or any items susceptible to humidity cold or heat. But with a full loft conversion, you can use it as an extra room which opens up so many possibilities.
Considerations For Loft Conversions
The type of insulation you need will depend on what you are going to store. If you are putting temperature-sensitive items in the loft, you'll need insulation between the joists and under the roof. This is called "warm loft" insulation which allows you to safely store a wider variety of items.
A vital factor to consider is airflow throughout the loft. If there isn't any, vapour from normal daily activities will accumulate in the loft and condensate the moment it makes contact with a cold surface.
If you have the recommended depth of insulation, you have to raise the boards above the joist and one of the most efficient approaches is the LoftZone StoreFloor system. Lastly, make sure there's plenty of light whether it's running electric lights up to the loft or installing roof windows.
Loft Storage Tips: Plan, Prepare And Declutter
As with a typical decluttering and storage process, you need to put a plan in place. It's all about deciding what you want to store in the loft and how much access you might need. Remember, all your decisions should be based on this step.
Unless an item is sentimental or of high value, your decision should only involve throwing it away, selling or donating it. If you haven't used something in the last year, you probably not going to so it's best to get rid of it.
Next, draw a plan of your loft so you know how much space is available so you can create a workable plan more easily (and accurately). One last thing to do is making sure you have a good enough ladder. This will not only help you get up and down safely but it will also make carrying boxes so much easier.
Recommended: 'Decluttering Tips For A Proper Home Clean Out'
Storage Tips For An Organised Loft
It's not always easy keeping track of what you've put in the loft so why not make a list? If you want access to your possessions when you need them, it will help keep a record of what you've stored, and where.
The biggest mistake many homeowners make is filling the loft with too much stuff. This only makes it harder to reach your belongings and that doesn't help with the organisation either, not to mention a safety hazard. Here are some simple but effective storage tips for the loft:
Never store anything damp
Pack silica gel sachets into your containers to absorb moisture
Be sure to vacuum-pack clothes, curtains and material for protection and to save space
Put mothballs into your boxes and containers
Lofts are dusty so make sure you cover everything
Use sealable containers or boxes, preferably plastic
Leave a walkway down the middle so you have easy access throughout the loft
Install shelves or cupboards in the eaves area to save space and help keep things more organised
Loft Storage Tips For Toys
Many parents will agree that stuffed animals and toys are among the items that cause the most clutter. The attic offers a great storage place as everything is still in the house but not causing tripping hazards or overflowing cupboards.
However, it's not the safest place in terms of moisture or dampness, mice, dust mites and other insects so make sure to store them in airtight plastic containers. It's best to avoid old cardboard boxes or black bin bags.
Recommended: 'Top Tips For Organising And Storing Toys'
Storage Tips For Carpets
Moths, carpet beetles and nesting birds love carpets and rugs, especially those made from wool, silk and other natural materials. They love dark, damp and quiet places so before you pack anything in the loft, check that there are no old birds' or wasps' nests.
If you have no choice but to roll up the carpet and put it in the loft, get it professionally cleaned first. Then, spray with a moth repellent and put the carpet or rug in heavy-duty polythene before storing. Most importantly, make sure carpets and rugs are completely dry before putting into storage to avoid mould and mildew.
If you have more delicate and antique rugs, here is a very helpful guide from the Victoria and Albert Museum.
Use The Right Boxes And Packing Material
The most important storage tips involve planning and using the right boxes and packing materials. If you get this wrong, you might be left with damaged goods that will be expensive to repair or replace. Try to use sealable plastic containers as these are much safer, easier to carry and stack.
Not only do the right storage boxes keep things dust-free but pests also can't get inside. The secret is to make sure everything is clean and dry before going into storage otherwise it becomes a breeding ground for mould and mildew. There are also a few things you should not keep in the loft, including:
Wooden furniture
Old electronics (laptops, TVs, VCRs, mobile phones and game consoles)
Vintage clothing (wedding dresses, ball gowns)
Leather clothing
Books
Important documents (tax returns, birth and certificates)
Old photo albums
Need A Secure Household Storage Unit?
When decluttering your home, it's all about making space, organising everything whilst keeping the memories. A secure storage unit checks all the boxes as it's one of the best ways to keep everything clean, dry, safe and out of the way. Fact is, many of our customers use household storage units to keep goods and belongings until the children go to college, uni or when they move into their first house.
If you have any questions about storing your things in the loft or a household storage unit, please get in touch as we are here to help. Space Centre has facilities in conveniently-located facilities in Stroud, Gloucester, Stonehouse and Bristol with storage units of all sizes. Have a look at the easy-to-use price and size guide on the website.