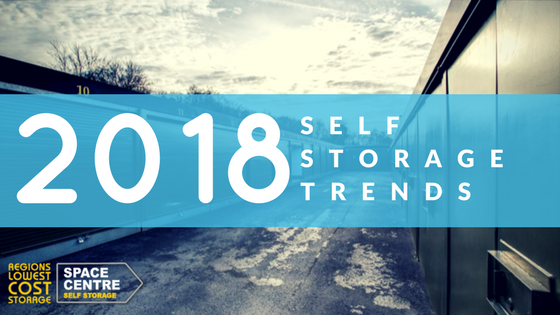 Throughout history, the self-storage industry have had some challenges but in recent years, it's mostly been re-invented. Self-storage trends play a continuous role year-on-year and 2018 is sitting pretty on the fairway. Right off the tee, it's hard to argue the impact Millennials have had and how this will continue but what about urbanisation leading to smaller living spaces and the rising property prices?
Some attribute the positive growth to modern construction and design techniques while others focus more on technological advancements. Let's take a look at the top 3 self-storage trends to watch for in 2018!
Three Major Self-Storage Trends In 2018
Millennials and the Digital Connection
Millennials are accustomed to accessing apps for a host of services and self-storage is no exception. The use of apps like text reminders, document e-sign, online payments and digital gate access will help drive these connected customers your way. For starters, getting new leads to your business in 2018 means updating your website. Just as a bad manager at your facility can affect business, so can a bad website. In 2017, 70% of customers searched for businesses online which means it's essential to have a positive online presence. More millennial customers are likely to walk through your front door in 2018 so be digitally prepared.
Work with a digital marketing agency to improve your search engine results and include online customer reviews. These are worth gold in the digital age. Focus on added online features like rent reminders or a monthly autopay feature. Not only does this make life easier for you, your customers will also benefit tremendously. Many people are already paying most of their bills online so why waste time, money and effort printing and posting invoices? Just be sure you have a responsive website so it looks good on PC, Laptop, Tablets and Smartphones.
Paperless Storage Solutions
Paperless used to mean 'going green' but it really is so much more than that. Technology has advanced considerably, particularly over the last decade, and customers now expect businesses to be digitally savvy and paperless. The increase in mobile use means customers want nearly everything to be accessible from their smartphones. The more they can do from their phone, the easier renting a storage unit will be. Staying on top of the digital, paperless trend is essential to the success of your business.
Cloud storage really hit its stride in 2017 with apps like Dropbox, iCloud and Google Drive. This year more of your customers will use digital storage for their files, photos and other documents. Business storage is likely to follow as going paperless can't be avoided. Notably, one of the biggest challenges is making modern technology available so make sure your business has all the necessary tools for a paperless experience. Once you reach your paperless goal, all your records will be safer, more easily searchable and accessible from anywhere.
Urbanisation and Residential Downsizing
It's no secret that the 'Baby Boomer' phenomenon creates a unique set of data, especially in self-storage. Many are reaching the age of 65 and this demographic shift will likely result in continued, significant downsizing over the next few decades. This is a positive sign for self-storage investors and business owners as downsizing is one of the major reasons people choose self-storage.
Urbanisation is another factor to consider as high demand for housing has resulted in smaller homes with bigger price tags. Fewer people can afford to buy property which has led to a significant increase in private renting. The combination of smaller, more crowded properties and more temporary lifestyles seemed to have increased demand for self-storage. In Europe, and particularly the UK, good alternative investments have been identified as student accommodation, healthcare and self-storage. This goes to show how important the industry has become for many individuals and businesses.
Following and implementing the right self-storage trends for your business in 2018 is vital and an area where smart investors can truly benefit.
Get in touch with us if you need more information or need a quote. Our experienced staff would be happy to help you find the perfect storage solution. We have facilities in Gloucester, Stroud and Bristol with a variety of units ideal for student, household or business storage.