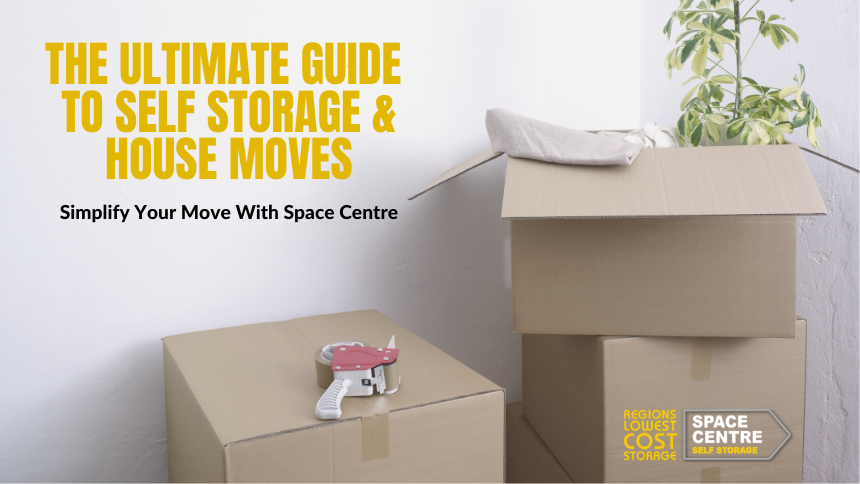 Moving house is always challenging whether you're in a studio flat or a house in the suburbs. If you were renting a fully furnished property and only moving small items, you could do it yourself but it's almost always better to hire a professional moving company. Something else that can help is using self storage for house moves as it offers extra space whilst giving you more time to properly organise things.
Moving may not be the easiest thing in the world but it doesn't have to be unnecessarily stressful either. So, let's start by looking at DIY moves versus using a professional removal company. We will also share some valuable tips on what to consider when finding a removal company as well as self storage for house moves.
Hiring A Removals Company Versus Moving House Yourself
At Space Centre, many of our customers rely on self storage for house moves and have often been asked questions such as the following:
What is better, DIY move or using a professional moving company?
How to choose a good removals company?
Where can I find the best removal company?
How do I choose a moving company I can trust?
Can I use temporary self storage for house moves?
Choosing a professional moving company or doing it yourself is entirely your choice but there are several factors to consider. Deciding whether to use professionals when moving or doing it yourself is a decision you should make early on if you want your move to go as smoothly as possible.
Advice For Moving House Yourself
The first thing you should know is that DIY removals are not suitable for moves that take place over long distances. International house moves should be done by a professional removals company considering they have the experience, equipment, vehicles and staff to ensure all goes well.
If you're only moving a short distance and you have a small flat or home, then you can probably do it yourself with the help of friends. To make things easier, you can also hire a vehicle that is better suited for removals as the daily rates are reasonable and you'll be able to do fewer trips with bigger loads.
Recommended: 'Tips For Packing And Moving Fragile Items'
What About Hiring A Man With A Van?
Another alternative for smaller, short-distance moves is hiring a man with a van as it's more affordable and convenient. It's essentially a removal service where one person drives a van transporting your belongings from one place to another.
Many consider this the most budget-friendly way to move as you are doing all the packing, loading and unloading. However, if you're moving a lot of bigger items, this may not be the right option for you which brings us to hiring professional movers.
How To Choose The Right Professional Removals Company
In our experience, it's almost always better to use a professional removals company even if you have a small property. When choosing a removals company, make sure you do thorough research and take into account someone that will suit your budget and moving schedule.
Some moving companies also provide additional services like packing and loading your belongings, furniture and even unpacking at the new location. Most people choose to pack everything themselves and rely on the moving company to transport the goods. In this case, it's important to ask the following questions:
Will the mover's insurance cover the items?
Is there a delay between moving dates?
Do I need self storage?
Does the company provide self storage for house moves?
Will they deliver to a self storage facility?
Recommended: 'The Ultimate Guide For Moving House'
What To Consider Before Choosing A Moving Company
Considering how stressful the moving process can be, most people prefer using a professional moving company. However, there are a few factors to consider to make sure you choose the right one.
Check that they have a license from the relevant authorities, such as the British Association of Removers (BAR)
Find out more about their reputation by looking at reviews or testimonials on the internet or the company website
To find the best price, get quotations from at least three removal companies and make sure you have it in writing along with the specifications and fees.
Check if they offer self storage for house moves either on their premises or contract storage
A great place to find good removals companies is through Which? Trusted Traders. Anyone listed here would have gone through rigorous checks and processes including credit and reference checks plus an interview with a trained assessor.

Ask About Removals Insurance
Considering you are leaving your belongings in the hands of strangers, find out from the company about removals insurance. Ask them what would happen if the move is delayed and you can't get into the new property. Be sure to check that the removals company has adequate insurance cover for your possessions and what the time limit is for claiming insurance if something should go wrong.
If you have anything of high value, check whether they need special packing and if they are covered by the company's removal insurance. Read the terms and conditions as some policies set a limit per item or box. Remember, some removal companies may restrict their liability for your items up to a certain amount per box unless you tell them the value of the contents.
How Much Does A Removals Company Cost?
The cost of a professional removals company depends on the type of home and the distance they have to travel. Most UK moving companies charge for the labour so regardless of the property size or distance, you only pay for the time you use their services. For example, if it takes the company 3 hours to pack and a further 2 hours to transport and unload, you will pay the price for 5 hours of labour.
No price is set in stone but the average cost of house relocations in London is between £300 and £1,100 for a 1-bedroom and 5-bedroom house respectively. The cost may vary depending on several factors and calculation methods but this should provide you with a good general overview.
Using Self Storage For House Moves
You should never underestimate the amount of physical and mental organisation it takes to move house. It's not just the transport side of things you have to worry about but also decluttering, packing and organising everything.
Self storage for house moves is one of the most popular choices for many reasons whether you are renting a new property or building your own. In both scenarios, there may be an overlap between moving out and moving in where you need a secure place to keep some of your belongings.
The same could also happen if you are selling your home and haven't bought another property yet, but renting a small house or flat in the meantime. Using self storage in this instance is ideal to store a small number of belongings and furniture while you hunt for a new home look.
Final Thoughts
Hiring a professional removals company certainly seems the least stressful way to move but don't ignore the risks. Damage to your possessions is a real possibility so make sure your insurance covers the move. If possible, try to include movers insurance as part of your quote.
If the company meets your requirements, the price is right and your research hasn't revealed anything alarming, you may have to go with your gut. All things considered, you should also listen to your inner voice as it compliments playing detective.
You should send the removals company a sheet with information about any items that may need special packing. Also mention anything that will be difficult to move like antique furniture, cupboards or other larger items.
Something else that may help is to include a floor plan of your new property so they know which rooms to place the boxes in.
Temporary Self Storage For House Moves At Space Centre
If you are looking for a temporary place to keep your things safe over a short period, contact us to reserve your storage unit today. Our facilities in Bristol, Stroud, Gloucester and Stonehouse are all conveniently located with various size short term storage units to choose from.
At Space Centre Self Storage, our facilities provide ideal self storage for house moves with easy terms, no deposit, no small print and FREE storage insurance up to £3000 using our provider or your own. All of our units are in secure compounds with alarms, CCTV and smoke detectors.
We can advise you on how to pack, store and protect your valuables when moving house to ensure everything is safe and in excellent condition. If you have any questions about how to use self storage for house moves, please post a comment below or give us a call.