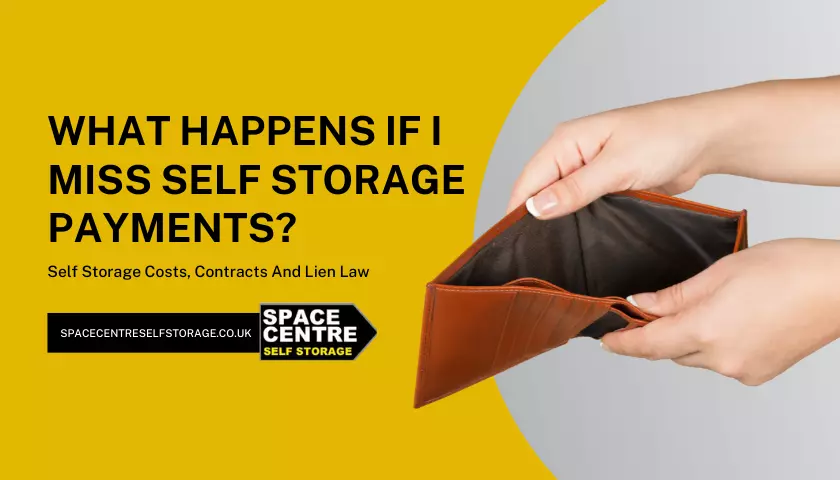 Many people assume that if they do not pay their bill, the self storage company can sell the contents to recover their self storage costs. But unlike the TV shows like Storage Wars, there is a drawn-out process that costs time and money. Even when they go through this process, the contents often don't cover the self storage costs and will only end up in the bin or at the tip.
There are several reasons people miss payments from belonging to somebody who passed and never told anyone to a loss of income or divorce. Often, it's as simple as someone forgetting to pay their bills or who didn't speak to the storage facility to discuss a payment plan. With that in mind, what are the rules around non-payment of a self storage unit and what are your rights?
What Happens If I Miss Self Storage Payments?
When using self storage, your rights will be in the signed contract and may differ from other units and facilities. In most cases, though, missed payments give the facility the right to your belongings inside their storage unit.
This means they can hold onto your belongings until you pay your debt. If you are unable to pay the debt, they can sell your things to recover some of the lost self storage costs they incurred due to your non-payment. That said, they have to send several notices and give you reasonable opportunities to pay your debt before they classify you have a default storage unit.
What Is A Default Storage Unit?
Most of what happens when you don't pay for your storage unit is clearly stipulated in the contract. When you sign it, you agree to the facility's terms and conditions where you would have been made aware of defaulting on your storage unit. This refers to the maximum number of days usually about 30 days) that you can go without paying rent before the facility takes the matter further.
Once you're in default, they will lock you out of the property and your unit. Some facilities will cut the lock on your unit and replace it with a special red one. They may even post a letter on the door warning you against trying to enter the unit which should be taken seriously no matter how desperately you need something inside.
Self Storage Costs, Contracts And Lien Law
Contrary to what some may think, storage facilities don't want to sell your stuff as it's usually not profitable. Fact is, they can cost the facility time and money that they could otherwise have spent on maintaining the property and serving tenants. In addition to this is the right of lien over the content which is taken very seriously as the facility manager could end up in court (or worse) if they don't follow the rules to the letter.
When you go into default, the storage facility is obligated by law to contact you but they also do this because they want to work with you to avoid further action. They will try to contact you at least once through post, e-mail or phone. Some lien laws specify that they have to contact you by mail, so if you've moved recently and the facility doesn't have your new address, you might not get the letter.
The facility will do everything in its power to get in touch but if your contact information is outdated, you could miss out and pay the ultimate price.
What Happens To Abandoned Storage Units?
According to Self Storage Association UK, auctioning abandoned contents of self-storage units is illegal in the UK. All reputable UK self storage companies follow the strictest guidelines, including Space Centre Self Storage, when discovering abandoned storage units. Here are the THREE steps that storage facilities must follow when dealing with abandoned storage units or non-payment.
Make several attempts to contact you via post, e-mail and phone call as mentioned earlier
If the facility still cannot contact you, they will value the contents and sell items of value to recover the rental debt but not in the form of storage auctions
When they cannot contact anyone, the facility lists the items and add an estimated value. They then contact antique dealers, second-hand furniture stores and other specialists to try and sell the items. Anything not sold will most likely be disposed of.
Do Not Be Afraid To Ask For Help
If you are renting a self storage unit, it is vital to understand your rights regarding missed payments. There is a lot you can do to save your belongings before you have a default storage unit, especially in the early stages.
Speak to your provider about your financial predicament as they also don't want your account to fall into arrears or lose your belongings. However, they are a business and cannot afford to hang onto your items indefinitely as they lose the ability to lease the unit and generate income.
Be honest about your situation and how long you think it might last, as they can help you work out the best way to deal with the issue.
Concerned About Self Storage Costs And Non-Payment?
We know first-hand that you don't want this to happen, and in all honesty, neither do we or any storage provider. If you think you may struggle to meet your monthly payments, contact your provider as soon as possible. Most facilities can make arrangements whether it's a payment to reduce arrears or packing differently to get into a smaller unit.
At Space Centre, we are flexible about moving from one unit size to another at no extra charge (if another unit is available). With the help of our easy-to-use online Price & Size Guide, you can rent the most suitable storage unit for your requirements.
Visit the website or contact our friendly, experienced staff for more information about self storage costs and how to find the perfect unit for you.