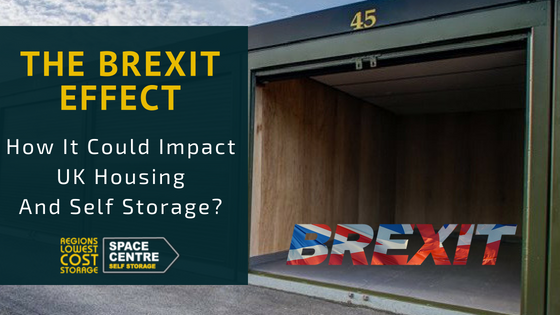 The uncertainty around Brexit combined with fewer foreign buyers and a higher stamp duty is affecting the UK housing market. For the first time since 2009, the country is experiencing negative growth and not even self storage facilities are exempt.
Late last year, economists predicted that a range of factors could impact house price growth in 2018. These include continued economic and political uncertainty over Brexit, the possibility of further interest rate hikes, falling real wages, weak consumer confidence and mortgage affordability. The Land Registry reported that the average house price growth in the UK, until April, was just 3.86 per cent. At the same time, the Royal Institution of Chartered Surveyors found that the level of homes on the market has remained constant at a record low for more than a year.
Since the 1980s, the financial sector "dominated" the market which contributed to a stronger pound. While far from ideal for exporters, it attracted surplus money from other countries. These funds were essentially used to help speculative investors obtain loans including mortgage lending.
Grace Blakeley, IPPR research fellow, said: "Since the 1980s, the UK's business model has rested on attracting capital from the rest of the world, which it has channelled into debt for UK consumers. The 2008 crisis proved that this is unsustainable."
For a more in-depth report on statistics and data, read the full story about Brexit, house prices and the Bank of England.
Bad News For Renters
According to Nationwide's chief economist Robert Gardner, the annual house price growth has stayed within a fairly narrow range of 2-3 per cent in the last year. This indicates that there has been little change in the balance between demand and supply in the property market over that time.
"There are few signs of an imminent change. Surveyors continue to report subdued levels of new buyer inquiries, while the supply of properties on the market remains more of a trickle than a torrent."
According to RICS reported lettings data, this is also bad news for renters as there are fewer rental properties available. As a result, rental rates have been increased and RICS estimates that rent will see a cumulative average rise of around fifteen per cent over the next five years.
The biggest question mark in terms of the property market next year is undoubtedly Brexit. While many pundits have their views and predictions, it is difficult to forecast especially what it could mean for people's personal finances and the broader economy.
Self Storage Woes Amidst Brexit Uncertainty
The fact that the housing market is grinding to an unpleasant halt does not bode well for self storage facilities. Increased rent coupled with exorbitant house prices, especially in London and surrounding areas, have a knock-on effect.
Self storage offers a needs-based product driven by life changes. These facilities depend on individuals who are looking to safely store their belongings with great peace of mind. Many offer additional services including storage for business, students, boats and vehicles but a large piece of the pie belongs to household storage. While reasons for renting a self storage unit may vary – from decluttering, spring cleaning and home improvement – moving house is one of the most common.
When looking at all the above-mentioned data, an increased rental rate and property prices mean fewer people are moving. Buying property is nearly impossible for many and as a result, there is little or no need for self storage. For the most part, people remain in their current homes as they cannot afford to move. So, if fewer people buy or even move, why do they need a self storage unit? Unless they are renovating or getting rid of clutter, many storage facilities are paying the price.
Is There A Silver Lining For Self Storage Post Brexit?
While many focus on the negatives about how Brexit could impact self storage, many believe that there are some positives. During the last recession in 2008, the industry saw a massive boost and whilst it slowed during the recession, it never dropped. Self storage remained resilient and who's to say the same pattern and projection won't apply to the Brexit effect?
The property market often slows down during challenging economic times but therein lies the silver lining. Similar to downsizing businesses, homeowners planning to relocate will often take advantage of affordable, secure and flexible self storage facilities. In fact, past trends in the property market indicate that slowed transactions generally result in longer self storage terms.
Although many companies might be affected, at Space Centre Self Storage we continue to provide quality, affordable and flexible storage solutions to our customers. The renovations at our Stroud storage facility is testament to offering our clients even more flexibility and options.
If you are looking for an all-round affordable, reliable and professional storage facility, get in touch with us today. We are also conveniently located in Bristol and Gloucester with units ideally suited for home, business or student storage.