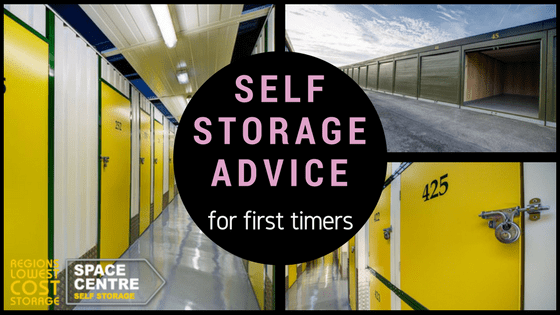 If you've never used self-storage before chances are you need expert advice on what you should keep in mind. One of the most frequently asked questions from first timers looking for self-storage is how much space they really need. This is an important step in the process as you don't want to pay for space you don't need.
Similarly, the type of self-storage you need will depend on what you're storing, how much and how often you need to access it. Cost and flexibility of rental terms are other factors to also take into consideration. This is particularly important as we find that people tend to keep their units longer than they initially planned for. Knowing what type of storage unit you need and the costs involved are key to avoid storage fails.
Our 20 years' experience in the business has shown us a number of things we'd like to share with you.
Self-storage Tips for first timers
Firstly, don't just put everything into boxes and drop it off at the nearest storage centre. It's vital to determine exactly what you need, how long you need it and the costs involved (especially the fine print). Different companies offer different storage solutions so it's worth doing your homework and think carefully before you sign anything.
Here are a few questions you need to keep in mind when choosing a storage facility.
How are you going to pack your unit to avoid damage?
Will you need regular access to everything?
What will you be storing?
Is there anything special you should do to keep things in good condition (storing fabrics, books, clothes etc.)
Are you likely to reduce or increase the amount of storage you need in the future?
How flexible is the provider?
What costs are involved and does it include insurance?
You wouldn't buy a car without seeing it or go for a test drive. Why would renting a storage unit be any different? Be sure to visit the facility and check the storage unit you are allocated. Make sure you get what is advertised and always ask to see a variety of sizes. This way you'll not only get a feel for what you need but also see the condition of other storage units.
What About Contents Insurance?
There are many reasons for using self-storage whether you're moving house, renting out your home or doing renovations. Not all facilities offer insurance and you are required to provide proof if you are using your own. At Space Centre Self-Storage we automatically include free insurance for goods valued up to £3000.
Before moving anything into your storage unit we highly recommend you contact your insurance broker. Your cover will depend on the company and the terms of your insurance policy. Same applies during transit; don't just assume everything is covered. Some insurance providers will offer cover but most of them only if you're using a professional removals company.
Avoid the Cheap Storage Trap
A cheap but poorly maintained facility could cost you further down the line. If units are not clean, dry and well ventilated with regular pest control, this could directly impact your belongings, especially with long-term storage. Check for damp or mildew as you may incur damage and replacing your goods could be costly.
It's not all doom and gloom as some offers simply are unbeatable and a rare bargain. Just be smart and always check the condition of self-storage units and ask exactly what is included.
Operating Hours and Access Charges
Not all storage facilities are open or accessible 24 hours which means some might charge an additional fee. Find out the procedure if you needed to access your unit after normal operating hours especially if you had to work late. Some facilities may charge per visit or incur an additional weekly or monthly fee.
Pricing and Cancellation Fees
Ask about the pricing structure of long-term storage in particular as some facilities may either increase prices after a set amount of time or limit you to a shorter rental contract. Space Centre Self-Storage guarantees your price for at least 12 months if not longer so do your homework.
Some facilities will charge an additional fee if you leave before the agreed date or extend your terms. Make sure you know their policies should this happen to you. At Space Centre Self-Storage we don't tie you to long-term contracts and don't charge extra for extensions or if you want to change to a different unit.
How To Fit Everything Into Your Self-Storage Unit
Packing your self-storage unit carefully will help prevent damage and maximise available space. Take a look at these handy tips on how to fit everything into your storage unit. Vacuum packing clothes or bedding, using the right boxes, smart stacking and utilising the inside of desks and drawers are but a few examples. We can also advise on storing your items safely and securely while in transit and while they are stowed in your storage unit.
We have been operating for more than 20 years and our facilities are in North Bristol, Gloucester and Stroud. Give us a call to arrange a visit or take the virtual tour. We'd be happy to talk to you about you're requirements and show you around the units.