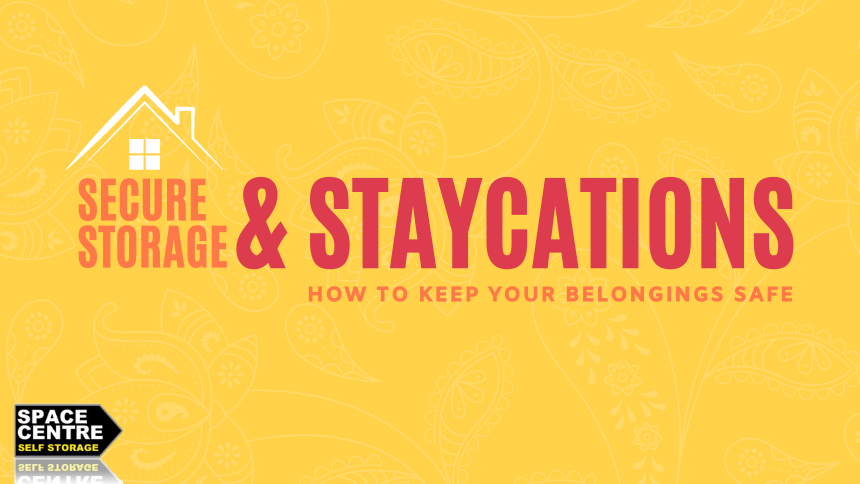 Despite the easing of some lockdown rules, the ability to travel abroad this year remains uncertain. It seems we are in for another summer of staycations and that means more people will be looking for a safe place to keep their belongings. Whilst you can use the garage or ask a friend to store your valuables, renting a secure self storage unit is far more practical, affordable and simple.
Whether you're renting out your investment property or primary residence, there's a lot to do before opening your home to Airbnb, Home Exchange or HomeAway guests.
Secure Self Storage And Household Belongings
When renting out a single room to staycation visitors or business travellers, you could simply put your belongings in a locked box under the bed, in the cupboard or in the garage. Of course, this will depend on what you are storing and how much as you don't want to add unnecessary clutter to your home. Not to mention risking damage to your items by squeezing them into tight spaces.
It's a different story when renting out your entire home, whether it's an investment property or your primary residence. Here, you'll have to decide if you are comfortable with people using your furniture, gym equipment or your grandmother's antique crockery. For anything you want to keep safe or don't have space for, a secure self storage unit near the property can be hugely beneficial.
Considerations For Renting Out Your Home Or Rooms In Your Home
As more people are looking for that "home-away-from-home experience" when travelling, home exchanges are becoming increasingly popular. Not only is this a great way to earn a little extra income but it's also a way to experience a different place as if you were living there.
If you're thinking of doing this, it won't be a decision you'll take lightly as there are valid concerns around safety and security. Your guests will also have the same concerns as they are not staying at a hotel or travel agency that can guarantee their health and safety.
So, if renting out your home or rooms in your home, here are a few important things to give you and your guests have complete peace of mind.
Remove Valuables Or Special Items
Aside from valuables like jewellery, coin collections or expensive art, there are other items in your house that you may not want guests to see or interact with. This can include photos, underwear, personal diaries or appliances such as shavers.
Fridges, freezers and food pantries are other considerations as you need to clearly outline whether you want guests to have access to it or not. Some hosts will set rules that indicate which shelves on the fridge and pantry are off limits to guests, especially when are sharing the space.
The simplest solution for smaller items is to find a cupboard or another storage space in the house that you can secure. For anything big and bulky, you should opt for secure self storage as many facilities have units of all sizes and drive-up access.
Get The Right Home Insurance
This may seem obvious but you'd be surprised how many hosts get into tough situations as they didn't take out comprehensive home and content insurance. When using Airbnb, you will be covered by the Host Protection Insurance for up to $1 million for any claims made against you for bodily harm or injuries.
It's always best to check with your home insurance provider and tell them your plans and whether you are fully covered. Most Airbnb management companies will offer further insurance protection as part of their Airbnb management service package. For added security, some people may also include a "host guarantee" which offers additional insurance and requires guests to pay an Airbnb security deposit.
Make Sure Smoke Alarms Are Working
Households should have smoke alarms and carbon monoxide detectors as they are becoming increasingly common. If you want to ensure the safety of your home and your guests, make sure you have both and that they are in perfect working condition. You have to test them regularly either way but especially before renting to anyone.
Redirect Your Post
Although we don't get as much through the post as before, there's always the potential for important documents to arrive while you're away. If you will be gone for a long time, ask your neighbours if you could redirect your mail to them or ask them to collect it for you.
Invest In Security Measures
Even with home insurance and Airbnb's guarantee, there is always a chance that would-be criminals can copy your keys. It may be a good idea to get an electronic lock that opens with a code that you can change at any time. You can also fit a smart lock that you can control by adding the time-frame of your guests' stay.
If you live in an area susceptible to crime, you should also consider installing security cameras and an alarm. However, make sure you explain to your guests exactly how the alarm system works so they can easily turn it off if necessary. Another way to protect your property is to add a few security lights around your home and garden.
Leave Detailed Instructions On How Things Work And Emergency Contacts
Not all electrical and gas appliances are the same so don't risk leaving things to chance. Keep the operating manuals or a clear set of instructions in an easy-to-find location for your guests in case they need guidance on how to use something. This includes stove/oven, boiler, electric shower, Wi-Fi router, entertainment system and alarm.
Whether you renting a room or an entire property, make sure you have a list of emergency numbers for people to use. These should include not just 999 for the emergency services, but also things like gas, electricity, water and even a neighbour to help if your guests are unsure about anything.
Provide Everything Your Guests Need
To minimise the chances of guests going through all of your belongings, make sure that you anticipate all of their needs. Tell them where to find extra towels and blankets whilst leaving items out that they might need, such as hairdryers, shampoo or coffee machines and put a few umbrellas by the door.
Remember, the more you offer them, the less likely they will rummage through your cupboards and drawers. A great way to make guests feel more at home is by giving a few extras in the shape of a welcome pack with snacks, a bottle of wine and some fresh produce.
Put In Place Strict House Rules
House rules are always important but even more so when using Airbnb or Home Exchange. If you have expensive gym equipment or a home office with sensitive information, make sure guests know what they can and can't use and which areas are off-limits. The same applies to any outdoor equipment such as barbeques, bicycles, Jacuzzis or canoes.
Using Secure Self Storage For Your Belongings
The only way to guarantee the safety of your belongings whilst maintaining maximum space when renting your home is to remove any private or precious items. You could ask friends or family to keep your items but it's best to rent a secure self storage unit whether it's short-term or long-term. Besides, if you are storing a large number of goods, you don't want to put them out.
With a secure self storage locker or unit, you can rest assured knowing that your goods are protected by robust security systems and that no-one has access except you. Wherever you decide to store your stuff, remember to pack everything properly and clearly mark fragile items.
Secure Self Storage At Space Centre
For a small fee, secure self storage gives you much-needed peace of mind knowing your household contents are safe, clean and dry. Storage unit rentals are very reasonable and a cost you can easily recoup from the rental income.
If you need secure self storage, we have facilities in Bristol, Stroud, Gloucester, Cheltenham and Stonehouse with units ranging from 10 sq ft up to 200 sq ft. We do not require a deposit or tie anyone to long-term contracts and you get free insurance up to the value of £3000.
For anyone considering letting a room or your property on Airbnb or Home Exchange sites, we hope these tips provide a good base to help you plan properly. Contact us today for more information on pricing and the wide selection of secure self storage units you can choose from.