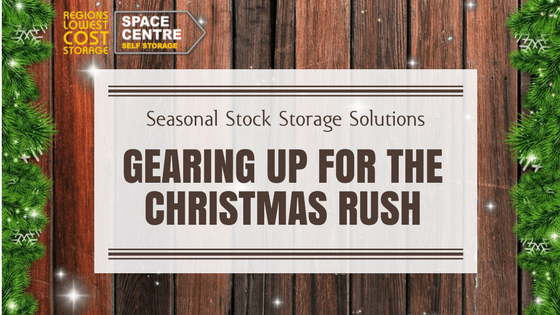 None of us want to think about it but October is almost here and next on the calendar is Christmas. Can you believe it? Halloween is also still to come and if you're a retail business, seasonal stock storage must be on your mind. Black Friday is another potential headache in-between so be sure you have enough space for all your business storage needs. By now many have ordered stock for the Christmas rush but there's still time for final preparations. If you're only just starting the process, here are some handy tips.
Gearing Up For Seasonal Stock Storage
Planning ahead where your Christmas stock will go is essential and so is determining your level of readiness. You may need to consider alternative storage solutions if you don't have enough space. What about attending additional events or more staff members?
Ensure additional stock orders are in place
Before placing new orders, it helps with business storage to check old stock to see if it can be re-used. Not only will you save on storage space but money too. Why order more if you have good quality left-over seasonal stock?
If that's not the case, many businesses rely on numbers from last year but it's good to prepare for anything. Planning for the future is important so ordering a few extra best-selling items may not be a bad idea. Rather be slightly overstocked than run out. You could identify other possible events where excess items can be sold.
Early Festive market bookings
Christmas is a busy time for everyone so if you are attending events or markets, plan ahead and book early. Remember to research the events to see if your typical customers will attend. This helps to determine how much stock you may need and potential profits.
Make sure you have enough staff
If you're expecting a very busy season, make sure you have enough staff available. Holidays mean people also want time off so hire additional staff if required and if it fits your budget. You also need to effectively cope with the Christmas rush. Don't risk losing business because customers are unwilling to wait in long queues.
Assess additional short term storage requirements
This relates mainly to stock storage and your ability to plan accordingly. You may need additional storage space to buy in bulk at a discounted rate. Perhaps you had to order more stock than you initially anticipated. Do you have enough space to store it at your own premises?
Many small businesses have turned to self storage facilities to solve their seasonal stock storage needs. Clean, dry watertight conditions, combined with more flexible leasing arrangements mean you have more control. Whether you're a big retailer or a small trader, a clean, dry secure, self storage unit can make a big difference.
Self storage units can be rented at a reasonable price but make sure you check your agreement. At Space Centre Self Storage we guarantee our prices for 12 months but not all providers are the same. Follow our effective storage guidelines and your goods will remain in excellent condition.
If you're preparing for the Christmas rush and need additional business storage space, get in touch. We have facilities in Bristol, Gloucestershire, Cheltenham and Stroud. Give us ring if you are unsure exactly what you need. We'd be happy to assist.