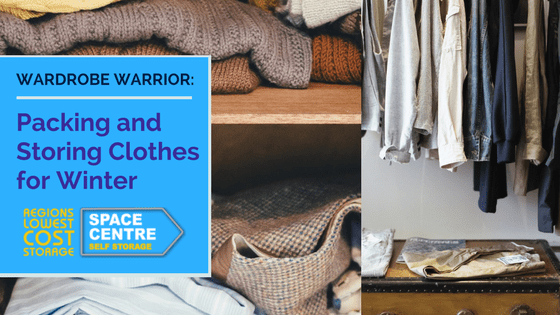 Summer has gone and if you haven't done so already, storing clothes should be next on your 'to-do' list. For most of us, it is a seasonal chore but don't be tempted to just shove everything into the cupboard. Wardrobe space is limited and the last thing anyone wants to do is waste time finding something to wear. Not only that, how often have you discovered a ruined top among the pile of clothes?
Storing clothes is not something we can ignore and a little effort can go a long way to simplify your life when you later unpack. Take the time to go through what you want to store and follow our guidelines to avoid mould, discolouration or insect damage.
Best Tips for Storing Clothes
Regardless of how much or how little storage space you have, being organised is essential. There are a number of clever tips for effectively storing clothes but these are our top five.
Divide Clothes into Designated Piles
When cleaning out your summer wardrobe, use this as a decluttering exercise. Divide your clothes into three piles labelled "donate," "throw out," "keep" and "store". Don't be too sentimental and throw away any old or damaged clothing you haven't worn for the last two seasons. Items in good wearable condition should be donated to a charitable organisation. Not every winter's day will be freezing cold so put aside a few heavier summer items that can be worn on mild days. Definitely pack away things like shorts, bathing costumes, sandals and tank tops.
When all your summer clothes and footwear are neatly stored away, add in a few dryer softener sheets. You'll thank us next spring when you open and unpack a fresh-smelling, wrinkle-free wardrobe you simply need to hang up.
Wash, Launder or Dry Clean Everything First
It's not really rocket science, is it? Keeping smelly and dirty clothes in a bag or box for months only spells trouble. Moisture can build up and result in a haven for insects, mould and mildew. This is especially the case if you had something dry cleaned. Clothes can also be stained and discoloured from dirt sticking to clothes when stored for an extended period of time.
Find the Right Storage Containers
Contrary to popular belief, cardboard boxes are not best for storage. They're ideal for short-term use, like moving home, but not for storing clothes. Mold and mildew are once again your worst enemy and should be avoided at all cost.
Sealable plastic storage containers are our recommendation but even these are not without risk. Make sure they are thoroughly cleaned and dried beforehand as the slightest bit of moisture can be an issue.
Another really good idea is using an old suitcase as it's already sealable and easy to transport. More delicate material like silk should be stored in garment bags. Regardless of the container, leave a small gap between the lid and the top of the container to allow for airflow.
Don't Just Hang Everything
Some things are better left folded. Don't hang sweaters or other knitted items for long periods of time as they can lose their shape. Instead fold them neatly and use a storage container. Same as packing your storage unit and moving boxes, the golden rule is to pack heavier items at the bottom with lighter ones on top. In fact, this helps minimise creasing when you're ready to unpack. Remember to always pack clothes loosely to allow air to circulate. If you have to hang clothes, avoid plastic bags and use all the available loops to minimise possible damage.
Choose Smart Storage
Not everyone has walk-in closets or loads of free space but there are some smart storage ideas out there. Consider window seating or custom-made wardrobes for storing clothes easily and effectively. Your clothes might still be there but it's safe, out of mind and still easily accessible. Whatever you do, don't store clothes in a damp and light environment. As mentioned before, moisture causes mould and mildew where sunlight could cause clothes to fade.
Here's something you may not have known. Mothballs should only be used in a well-ventilated area which already discounts most household storage options. Renting a self storage unit solves this problem but if that's not an option, you should replace mothballs with cedar wood chips. It's a great substitute and also helps absorb moisture, is a good deterrent for moths and generally keeps the environment fresh.
If you're looking for a safe, dry and secure location for storing clothes and other summer goodies, consider renting a self storage unit. Get in touch with Space Centre Self Storage today and our friendly, experienced staff would be happy to assist.