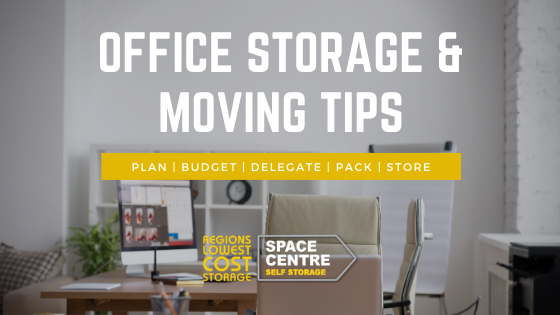 An office move can be a big challenge as it requires a lot of hard work and planning. With so many things to move, such as office furniture, stock, documents and hard-to-pack electronics, office storage can help streamline the process.
Companies move offices for various reasons and can positively change the perception of the business. Not only will it improve staff performance but it also allows more opportunities for growth. Whatever the reason, strategic planning and effective office storage are vital for a successful office move.
Managing An Office Move
Moving to a new office is just as involved and stressful as moving to a new home but with a few additional considerations. You need to plan in terms of how and where to pack your big, bulky furniture, stock and electronic equipment.
Then there are all the multiple rooms with brick-a-brack that also require additional office storage space. An office relocation is a major project and needs careful planning and these essential tips can help make the process go as smoothly as possible.
Reasons For Moving Offices
Before you consider an office move, think about why it is necessary for your business. A start-up that's moving into an office for the first time will usually have different requirements compared to an existing business that may have moved before.
It's essential to think about this to justify the disruption and cost of moving offices. Have a look at these questions and how you would answer them.
Are you expanding to give your customers a better experience?
Have you employed additional staff and require more space for desks and other office furniture?
Do you need more office storage space for stock and what type of storage do you need?
Is it necessary to store all your stock on the business premises?
Commercial property is expensive whether you're buying or renting so you need to be certain of your decision whatever it may be.
Planning For Office Storage
There's no denying that an office move cannot be done on the whim and needs proper planning. You also usually don't have loads of time as you can't just shut down the business for a few days or weeks. Planning is your best friend and should be done as early as possible in terms of who will be doing what, how and when they will do it so delegation is essential.
In addition to planning, you also need to figure out how you are going to get everything ready for moving day. You'll need a plan in place for where things will go when you arrive at your new office. Use a blueprint to best identify common spaces and office areas as well as possible storage options. If your new offices don't have plenty of extra room, you should consider renting office storage space.
Setting A Time Line
Realistically, you will probably need to set aside at least a few months to properly plan your office relocation. You also may have to add a couple of months to get everything set up and ready for business. Don't forget to include a moving budget as it's important to know how much you can spend. If you are renting office storage space, figure out how much room you need and for how long.
Delegate And Appoint An Office Moving Manager
Delegating certain tasks to specific people will give everyone a purpose and direction. Also, make sure you task everyone with clearing out and cleaning up their desks. This includes personal items and company property like computers, printers and other peripherals.
Even if you are dividing up the work, you should still appoint a designated moving manager. This person will help facilitate and follow up on each step of the process to ensure everything is going according to plan. The best person for this job is usually an administrative assistant but you can choose anyone with experience in commercial relocation.
Find The Right Moving Company
We always recommend spending some time researching and getting quotes from at least three professional moving companies. However, because moving offices can get very expensive, very fast, it's best to look at a few more just in case.
If you have the budget, hire a full service moving company as they will do all the packing, loading, unloading and unpacking. Do your research properly and find recommendations for moving companies with experience in office relocations.
Recommended: 'Removals – DIY Or Professional Movers?'
Easy Packing Tips For An Office Move
Without having a clear plan and timeline in place, the office move could be unnecessarily stressful with items ending up in the wrong place. This is not ideal as nobody wants to be in the office all night packing and trying to figure out how to get printers, computers and other electronics ready for transport. Here are some basic packing tips for moving offices.
Helpful Advice: 'Business Storage And Office Downsizing Tips'
Dismantle Furniture
If you have furniture like desks or tables that can be dismantled, take them apart to make it easier to move. Save loads of space and time by packing the individual pieces into good quality boxes and tape it up properly. Remember to include all screws or bolts so you can easily put everything back together again.
Recommended: 'How To Store Wooden And Fabric Furniture'
Choose The Right Packing Boxes
Using the right packing box for the right item can help keep your valuables in excellent condition and easy to move. Make sure you have good, clean, dry, sturdy boxes and avoid re-using old ones. Use boxes with lids or at least where the tops can be taped shut. Most removal companies can provide quality boxes but if you get yours from the local supermarket, make sure they are up to the task.
Packed boxes should not weigh more than you can comfortably, and safely, lift. Heavier items should be packed at the bottom of the boxes for a stable base. At the same time, half-empty boxes could easily result in the contents shifting around causing costly damage. Use foam packing peanuts, newspaper, packing paper or bubble wrap to fill empty spaces without adding excess weight.
The Importance Of Labelling Boxes
Besides planning, labelling boxes must be one of the most important office storage tips. Make sure you clearly label boxes on the top and at least one of the sides using a heavy black marker. Another great piece of advice is to put a unique number on the box indicating the room it came from and where it's supposed to go at the new premises.
Top Tip:
Add a short description of the contents and use good quality packaging tape. For added stability, tape across the seams and use multiple strips to ensure the boxes won't burst open when moved.
Wrapping Fragile Items
When packing fragile items from the kitchen or personal office belongings, use special packing paper, towels, newspaper or bubble wrap. Make sure everyone knows that the box contains fragile items by using words like "FRAGILE", "GLASSWARE", "BREAKABLES" or "HANDLE WITH CARE".
Packing Electronics
It may be easier to do when moving home but if possible, the best way to pack electronics is using the original box. Things like TVs, desktop computers, peripherals, laptops and printers should be packed properly to avoid damage. If you can't use the originals, at least try to find boxes that are the right size for better protection. Use bubble wrap, towels or blankets to fill empty space.
Office Storage Units
If you are renting office storage space, pack your unit properly to save time and money. Besides, you don't want to pay more for a bigger storage unit if you don't need to. Maximise the space by storing office couches end-to-end and stack chairs upside down, seat-on-seat. You can also store vertically by stacking lighter items on top of desks or tables but cover everything to avoid scuff marks or scratches.
Recommended: 'How To Pack Your Self Storage Unit'
Office Storage In Bristol, Stroud, Gloucester And Stonehouse
At Space Centre Self Storage, we can help make your office move as smooth as possible. Our staff are friendly, professional and trained to assist wherever they can. Our units are ideal for office storage as many are on the ground floor with drive-up access.
We also offer free insurance for goods up to the value of £3000. You can either use our provider or your own storage insurance company. Follow our weekly blog or join us on Twitter and Facebook for more interesting articles, helpful advice and packing tips.