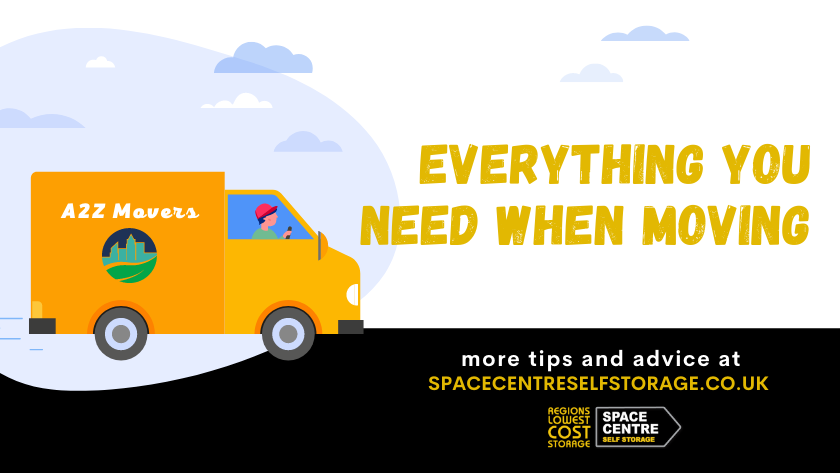 We don't have to tell you that moving house can be a massive challenge and a major cause of stress and anxiety. Fact is, 40% of homeowners rank moving house as the most stressful thing they've had to overcome with 27% stating it's worse than starting a new job. In this article, we share some valuable tips on moving and packing supplies as well as the potential benefits of using self storage.
Where To Start When Moving House
There's no doubt successfully moving house relies heavily on having the right moving supplies or packing supplies. However, as with any big task, it all starts with being organised and well-prepared before you start the moving process.
You have to declutter your home as early as possible to determine what you are keeping, what goes to the dump, recycling or donations. It's best to clear out one room at a time and neatly pack your belongings in boxes ready for the new home or self storage.
Next on the list is finding a reputable moving company which should not be taken lightly. Remember, you are essentially entrusting strangers to safely handle, transport and deliver all of your worldly possessions.
Related: 'How To Find A Reputable Moving Company'
Must-Have Packing Materials And Supplies
If you think you only need boxes and tape when moving home, you couldn't be more wrong. The only way to ensure your belongings are safe for transport or storage is by having the right packing and moving supplies.
With a good plan in place and by following this guide, you can streamline the moving process whilst minimising anxiety and stress. Here is a breakdown of essential moving equipment that you can refer to when moving day arrives.
Home Repair Supplies
We start by exploring some of the things you need to repair your home before moving out. This will help get the most value from your property when it's time to sell.
Wall filler repair kit for holes
A Carpet stain remover or carpet treatment product
Hardwood floor markers to repair hardwood floor scratches and furniture
Paint and painting supplies (brushes, scrapers, drop sheet and tape)
Lightbulbs
Oven cleaner
Cleaning supplies (broom, mop, cloths, buckets)
Rubbish bags
Packing Boxes
Next on the moving house checklist is packing materials and other supplies you will need. A move is not complete without using boxes whether it's cardboard or plastic. If you choose cardboard, factor in that you will need various sizes for different items, including your wardrobe. You can also buy or rent plastic bins for packing but remember to make a detailed inventory list so you know how many to get.
Packing Tape And Packing Paper For Moving House
As with packing boxes, you also need quality packing tape for building boxes and sealing them properly once they're packed. Don't overfill them though as it could damage items inside and make them difficult to carry. Avoid buying cheap tape as some brands are not strong enough and remember to buy more than you think you'll need.
One of the best ways to fill gaps inside boxes or to add protection for fragile or sharp items is packing paper. Get loads of packing paper but make sure it's ink-free as it could leave marks or stains on your belongings.
Plastic Wrap And Bubble Wrap For Extra Protection
You don't necessarily need special moving plastic wrap but at least have one sturdy roll on hand. This is ideal to wrap around certain items, specifically for keeping things together like plates so they don't shift around. Many people also use plastic wrap to prevent bottle leaks. Here, you simply remove the bottle caps, apply a layer of plastic wrap and screw the cap back on.
Bubble wrap needs no introduction as it's still a widely used method of wrapping extra fragile items. This includes those made of glass, ceramic, and porcelain. You can also use it to provide some extra padding around sharp items or inside boxes for added protection.
Plastic Sandwich Baggies
A great way to keep smaller things organised when moving house is by using plastic sandwich bags. These are perfect for storing screws or bolts that you may have to remove when disassembling furniture. They're also a popular choice for keeping any other tiny pieces around your home that are easily misplaced but remember to label each bag so you know what goes where.
Moving Home Toolset
When disassembling furniture, you'll need some basic tools if you don't already have a toolbox in the garage or under the sink. This includes screwdrivers, spanners with different fittings and Allen-keys are often necessary, especially for IKEA furniture or other DIY builds. You might as well include a pair of good quality scissors and a box cutter in your toolset as you'll be surprised how easily these are misplaced.
Labels And Markers
Even if packed like a pro but forgot to label bags and boxes correctly, your efforts were wasted. When it comes to moving house successfully and (mostly) stress-free, we cannot stress enough the importance of labelling everything. It's super easy too as all you need is either a permanent marker or labels. You can also get colour-coded labels to easily mark items for certain rooms.
Essential Moving Day Supplies
Once you've packed up your home using our checklist, it's time to get ready for moving day. Unless you're using a professional moving company or a man-with-a-van, you need to rent an appropriate vehicle. Make sure you choose the right size as you don't want to be left with too little space and no time to rent a bigger one.
If you are renting your own lorry or borrowing from a friend, you'll need the following moving day supplies:
Dollies for moving heavier items or multiple boxes at once
Furniture pads/moving blankets to help cushion your belongings
Lifting straps to distribute weight more evenly when moving heavy appliances
Cargo or safety straps to keep things in place during transit
Trailer (if the van or lorry is not enough)
A ramp to ease the burden when loading and unloading
Gloves to protect your hands and give better grip when carrying boxes
What Goes In An Essentials Box When Moving House?
There's no set rule in terms of what to pack in an essentials box as everyone is different. However, to give you an idea, here is a list of items many people put in an essential box:
Phone chargers
Chronic medication
Basic toiletries (soap, toilet paper, shampoo, toothbrush, toothpaste)
Shower curtain
Small emergency or first aid kit
Portable tool kit
Flashlight, candles and matches
List of important or emergency contact numbers
Important documents such as medical and financial records, passports, leases
Food and beverage items (snacks, coffee, tea, cutlery, crockery)
Sharp knife and scissors
Change of clothing and towels
Moving House And Self Storage
The benefits of self storage when moving home are overwhelming! Not only does a storage unit ensure the safety of your belongings but it also helps keep things organised. It's ideal if your new home is not ready for all the furniture, downsizing or there is an overlap between selling your property and moving into your new place.
Self storage units are perfect for storing furniture, paintings, sporting equipment, documents, toys or clothing. At Space Centre, you can also choose to store short-term or long-term without paying a deposit and we don't charge extra for changing to a different sized unit (if it's available).
Have look at our Price And Size Guide for a visual illustration of how much storage space you need when moving house based on the size of the van. Please give us a call or get in touch via the website for more information.