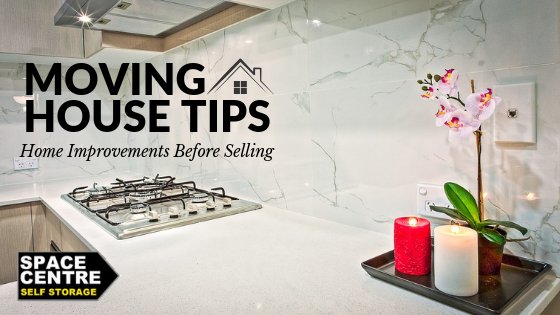 Are you thinking about moving? Is your home in tip top shape to get the most value? While some home improvements can be rather costly, there are many DIY projects you can do. These quick and easy moving house tips won't cost the earth or take months to complete. Even if you're not currently selling, making these inexpensive changes will make you enjoy your home more.
From decluttering and painting to getting rid of old, outdated fixtures and furniture are just the beginning. Our moving house tips will help make your home more modern and organised while adding value when you do sell. You can also create visions of space using some of our handy storage ideas.
Moving House Tips
We know that every house is different and that home owners have their own sense of style but there are a few general home improvements that cannot be ignored. Let's take a closer look at how you can add value to your home.
Decluttering Your Home
Possibly one of the first things you should do when selling your home is to declutter. It is almost free as you may need to buy some garbage bags and storage boxes. The less you have lying around, the bigger your place will be with more open space. Creating a good first impression is vital and remember, rooms look more cluttered in photos.
Get rid of anything you are not taking to your new home as it will make packing and moving much easier and less expensive. Not only that but it will also make your space look cleaner, neater and more inviting. Without all the extra clutter, potential buyers can imagine themselves living there which improves your chances of selling.
Of course, you don't need to throw everything away but you need to have a clear strategy in place. Give some of the things away to your kids, friends or family members if they want it. Another option is to donate items to the church, school or local charities. Don't forget that you could do a garage sale or attend a car boot sale to rid your clutter and make some money.
Fresh Coat Of Paint
Applying a fresh coat of paint is one of the simplest ways to make your house more sellable. There is a reason why painting is on nearly every real estate agent and home stager's list because it works. Painting your home can make a considerable difference in how people see your property and the value factor.
Not only can it lighten up your home but it also makes it look cared for and more inviting. More importantly, certain colours can also make your home look bigger, cleaner and better maintained. Shades of grey and greiges (combinations of grey and beige) are among the most popular colours for selling a house.
However, various other colours offer different benefits and values like baby blue being the most calming. Take a look at some of the preferred shades of paint when selling your house. While many people choose to hire a professional painting company, you can do it yourself. If this is the case, your expenses will include paint, paint brushes, rollers, painter's tape and drop cloths.
Light It Up
Having sufficient lighting in your house can make a big difference to potential buyers. Not only will your house look lighter and brighter but it will be much more inviting. Many houses don't have sufficient lighting as the average is 100 Watts for every 50 sq ft. You should also ideally have 3 types of lighting in every room which include ambient or overhead, task specific (pendant lights, under cabinet or reading) and accent (table or wall lights).
Here are some simple tips on lighting up your house:
For most rooms, down-lights in the ceiling is ideal, preferably with a dimmer switch
Add a floor or table lamp and bedside lamps in the bedrooms
Include wall mounted lights in the bathroom but make sure they are up to date
Best lights for a kitchen are down-lights, pendant lights for islands and under cabinet lighting
Update Cabinets
Replacing all of your kitchen cabinets is a major expense that usually requires a professional company to complete. However, resurfacing or painting your cabinets is much more cost effective and one of the most popular moving house tips. If you're going to paint, choose a brushed nickel, chrome or silver as gold and brass are rather outdated. Not only will grey or silver paint look better but it also matches stainless steel very well.
Here are some easy steps to follow for updating your cabinet:
Remove hardware, doors and drawers
Thoroughly clean the surface
Deglaze the surface with liquid, sand it down and then clean once more
Next step is too paint and you may want to add a tint depending on the style you're going for
Repair, Replace or Update Kitchen Flooring
Nothing spells disaster more than an outdated kitchen and bathroom. If you have old, damaged or dated kitchen flooring, you should consider updating it. Whether you retile, add wooden flooring or vinyl, kitchens need to look homely. Besides, aren't kitchens the heart of the home? Many families spend a lot of time in the kitchen cooking and socialising hence why they can often make or break a sale.
Change The Taps And Other Fixtures
Sometimes it's the small things that make all the difference like taps, light fittings, switches and blinds. The good news is that most of the minor updates don't cost a fortune and you could even do some of them yourself.
If your taps are old, outdated or rusty, get some new, modern ones to give your bathroom or kitchen a simple makeover. The same applies to door handles and light switches as you'll be surprised what a massive difference it makes to the room.
How To Create More Space
Whether you have a big or small home, there are many ways to create the space you need. It's quite simple really as manipulating furniture, lighting, mirrors and other home accessories can add more airiness and brightness to your home. Size is often overrated as it all comes down to the clever use of the available space.
Bringing more volume to your home will make it feel more comfortable and organised. People tend to overlook the simplest of moving house tips but we have listed a few below for your convenience:
Adding mirrors can make a space look bigger and brighter
Be sure to have the right balance of furniture – rooms actually look bigger when furnished
Create more space for storage like a cupboard at the bottom of the stairs or the entryway
Maximise high ceilings by creating a loft space for an extra bedroom or storage
Re-purpose rooms the right way like converting a walk-in cupboard into a home office
For a more detailed overview of how you can create more space at home, take a look at the article '11 Surprising Ways To Create More Space In Your Home'.
Moving House Tips And Self Storage
If you're in the process of selling your house or moving in the near future, don't leave anything to chance. One the most important moving house tips in our book is to prepare well in advance. This applies to finding the right real estate agent, a professional moving company and planning what to do with all your stuff.
We'd recommend against storing your clothes, furniture, equipment and personal documents in the spare room, garage or shed. You should rather rent a secure self storage unit where you will have complete peace of mind knowing everything is safe. At Space Centre Self Storage, we offer short-term or long-term units at affordable rates with free insurance and no hidden costs.
Follow our weekly blog or join us on Twitter and Facebook for more interesting articles, helpful tips and storage advice. Contact us today for more information about our wide range flexible storage solutions in Bristol, Gloucester, Stroud and soon-to-be Stonehouse.