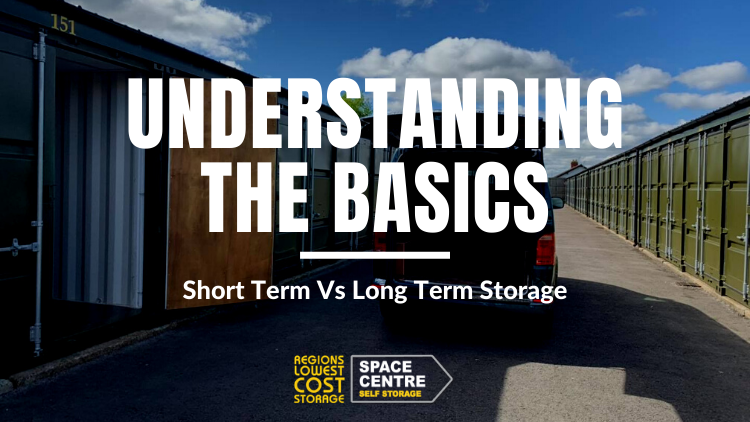 People choose self storage for various reasons, from moving home, downsizing, retiring, home improvements or going on holiday. Whether you need a secure location for a short time during a move, for example, short term storage can offer the perfect solution. However, when you need to store your belongings for a longer period, you can opt for long term storage as well.
In many cases, there are some additional factors to take into consideration even before you start packing your things. Thanks to our many years in the self storage business, we can offer expert advice for short term storage and long term storage. In this article, you will learn all the tips and tricks for packing your valuables the right way.
Short Term Storage Units
Short term storage is typically defined as anything less than three months. It acts as a stop-gap or temporary measure that allows you a bit more space when you need it. Many people choose short term storage units as it offers a simple and affordable solution to keep things safe and dry for a short amount of time.
It's ideal for students, travellers and young couples moving in together, families or businesses moving between locations. Whilst short term storage may not require as much preparation as long term storage, you should still take the necessary steps to ensure everything remains in good condition.
Considering there is less time for dirt and moisture to collect, the likelihood of damage is pretty low so dust covers should do the trick. However, fragile items always need the same level of care regardless of how long you intend to store them.
Long Term Storage Units
Long term storage gives you a safe place to keep items for a longer period which is usually anything more than 3 months. Many people use long term storage as an extension of their wardrobes at home or to declutter the garage or travelling for extended periods like a sabbatical.
Whether it's storing seasonal gardening tools, sporting equipment, toys or furniture, long term storage units offer easy-access and total peace of mind. Regardless of the reason, you need more time and effort when preparing and packing items for long term storage.
You should pay special attention to the upcoming seasons as temperature and humidity can play a major part. When considering short term storage or long term storage, keep the following in mind.
Planning For Self Storage
Once you know what should go into storage, contact your local centre and determine the size unit you will need. Although most storage facilities allow you to change the size without an additional fee, it's always best to ask first before committing to anything.
When planning what to store, make sure you prioritise in terms of what goes where. Pack items you may use more regularly or need easy access to in manageable boxes and as close to the entrance as possible. Leave some walking space in the middle of your storage unit so you can easily access boxes in the back.
Recommended: 'Self Storage Tips For First-Timers'
Preparing Large Appliances For Storage
If you are moving into a rented house or flat with appliances, you can keep yours in a short term storage unit. This is an easy and affordable way to keep washing machines, tumbles dryers and dishwashers safe until you make your permanent move.
Before you put any appliance into storage, make sure to defrost refrigerators and freezers to avoid water damage and mildew. Tie down the appliance doors during transport, but leave them slightly ajar once inside the storage unit. Always drain washing machines and tie down hoses and cords before storing them.
Cleaning And Preparing Furniture For Storage
If you can, disassemble furniture like beds and tables before putting them into storage. When using long term storage, make sure to wrap and cover the separate sections and clearly mark them. Keep all nuts, screws and bolts in clearly marked transparent plastic bags so you know what goes with what.
Polishing wooden furniture will add more protection from the elements which is especially important for long term storage. We recommend that you spray this on immediately before storing. Also, wipe down metal objects and tools with a little oil before storage to avoid rust from forming.
Related: 'How To Store Wooden And Fabric Furniture'
Short Term Storage Tips
Many people are tempted to use old boxes from the local supermarket to meet their short term storage needs but this quick fix is not worth it. You may end up with mismatched shapes and sizes which will affect your ability to organise and pack effectively. Here are some simple, but important packing tips:
Breakables should be wrapped well using newspaper or bubble wrap preferably
Always distribute the weight in packed boxes evenly
Don't make boxes too heavy for you and others to lift
Never overfill or underfill boxes as it makes it harder (and more dangerous) to move and pack
Wrap fragile items and breakables separately and clearly mark the boxes as "Fragile"
Label all the boxes on more than one side so you can easily identify the contents
Long Term Storage Tips
There are always more to consider when packing belongings for a longer period. Keep the following in mind if you want your valuables to remain in good condition until you need it again.
Avoid packing anything in plastic bags as they trap moisture and speed up the growth of mould and mildew
Use sturdy boxes as recycled ones won't last
Opt for plastic stacking boxes but only if they are high quality
Treat fragile items well and use bubble wrap and/or newspaper
Store boxes with fragile items somewhere safe and away from everything else
Seal clothes or fabrics using vacuum-sealed bags to protect against damage and insects
Make sure you've cleaned appliances thoroughly by wiping down the interior and exterior with baking soda or bleach
Stack everything on pallets to keep items away from potential damage whilst promoting airflow
Recommended: 'How To Pack Your Self Storage Unit'
Final Thoughts
Regardless of your reason for renting a storage unit, you have total peace of mind knowing everything is safely tucked away. However, whatever you store, make sure you wrap, pack and transport each item properly to avoid damage or injury.
When possible, try to rent a short term storage or long term storage unit with drive-up access. This will help make packing and unpacking so much easier, especially if you have big or heavy items. In extreme climates, you may want to use a climate-controlled unit, especially when storing electronics.
Why Choose Space Centre Self Storage?
Whether you need more room at home, Space Centre is the ideal solution for short term storage or long term storage. The units are in secure compounds with alarms, CCTV and smoke detectors. We also provide you with your own high-quality padlock so only you have access to your unit.
We offer FREE storage insurance up to £3000 without any upfront deposit and you can use our provider or your own. Contact us today with conveniently located facilities in Bristol, Stroud, Gloucester and Stonehouse with a large selection of units in various sizes.