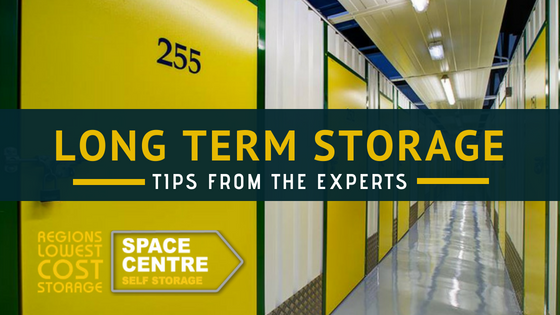 While there are many reasons people choose long term storage, it always involves finding the right storage facility for you. Whether you're downsizing, renovating, going on holiday or storing the kid's things while they take a gap year, there are some things you need to consider.
If you are thinking about long term storage, finding a suitable location in your city or surrounding area is essential. It just makes it easier to transport goods between your home or business and storage facility. Other than location, have you thought about how you will prepare and pack your belongings for long term storage? Have you considered what could happen to your goods if you are unreachable? What about if you fail to keep up with your monthly payments?
Lucinda Dangerfield, co-owner of Space Centre Self Storage with centres in Bristol, Stroud and Gloucester said the following:
"Obviously the storage provider makes every effort to contact the owner. However, if this doesn't prove successful, storage providers ultimately have a 'lien' over the goods. A lien is a legal right, so in the event of non-payment, the storage provider takes ownership of the goods until the debt is paid. Access to your belongings will be denied and your goods could end up being sold if the debt is not repaid."
What To Do When Planning For Long Term Storage
There really are very few (if any) disadvantages to long term storage, unless you choose the wrong facility of course. On the contrary, there are many positives especially if you follow these simple tips when choosing a self storage facility.
Read through the contract
Some facilities do not guarantee that your rental price will remain unchanged for the duration of your contract. Always ask whether the contract is subject to price changes. In the event that you are away from the area, find out how they will notify you of any price changes. People using long term storage while travelling don't always take price changes into consideration. You need to make sure the self storage centre has a way of reaching you in the event of any contractual changes.
If you are renting a property while your goods are in storage and need to move properties, remember to give the centre your new address. This is quite common when people are between selling their house and buying another. If you are in property market, perhaps you'll find these tips for selling your home of particular interest.
Make sure your goods are insured
While Space Centre Self Storage offers free insurance up to the value of £3000, many companies don't. More often than not, self storage insurance is an added extra and it's important to ask first. Review the list of items you want to store and make sure your insurance covers everything should the worst happen. Always check your home insurance policy and don't assume it will cover your goods while in long term storage. As they always say, "Hope for the best but prepare for the worst!"
Find out what you are allowed to store
This may sound like a strange question to ask, but there are things you are not allowed to store by law. These items include gas canisters, tyres, flammable liquids, perishable food items, firearms and ammunition among others. That means you can't just pack your BBQ gas bottle or petrol lawn mower and store them in your unit.
In addition to the common disallowed items, some self storage facilities may have their own restrictions. If you store items that are not allowed, and the worst happens, not only will your own insurance be invalid but you could face legal action from the facility provider if they've incurred any damages.
Determine how much self storage space you really need
It's essential to have some idea of how much space you'll need as it affects the unit size and self storage costs. Renting the right size storage unit for all your goods means you won't pay for space you don't need. This is especially useful if you're choosing long term storage. Just imagine paying an extra £20 per week for an entire year? You can see how important this part of the process is.
A good way to determine what size unit you need is to look at what you have and work out how it will be packed. Remember, the way it looks scattered around your house does not accurately portray the way it is stored. You do not need a storage space the size of your house. At Space Centre Self Storage, our unit sizes are calculated according to van or truck size. This makes it a whole lot easier to find out how much long term storage will cost.
If you're having trouble visualizing it, talk to the self storage providers you want to use for guidance and advice. Some of more prominent facilities will even let you visit to view the different storage units. You can take the virtual tour of our storage facilities in Bristol and Stroud.
Emergency contacts for long term storage
In terms of an emergency contact, consider adding someone you trust especially if you are travelling or live far away. Anything can happen and the storage centre needs a way to get in touch with you. It could be as simple as a price change, late payment or a more serious concern that requires moving to a different storage unit. Either way, if they can't contact you, your goods could be at risk.
Why choose Space Centre Self Storage
With over 20 years of industry experience, Space Centre Self Storage is the primary choice for self storage in Bristol, Gloucester and Stroud. Our wide range of storage options include from 10 sq ft up to 200 sq ft, equivalent to a 4-bedroom house. Perfect for business and household storage, we can save you 50% when compared to other storage providers in the area.
With friendly and experienced staff, you can rest easy knowing we'll have a storage unit to meet your requirements. Our facilities have 24 hour CCTV and fire alarms to ensure that your items are in the best possible hands. In addition, we offer free insurance, no deposit and no need to commit to a long term contract. We can also supply appropriate boxes and bubble wrap for your move. If you are looking for a premier and affordable long term storage facility, get in touch with us today.