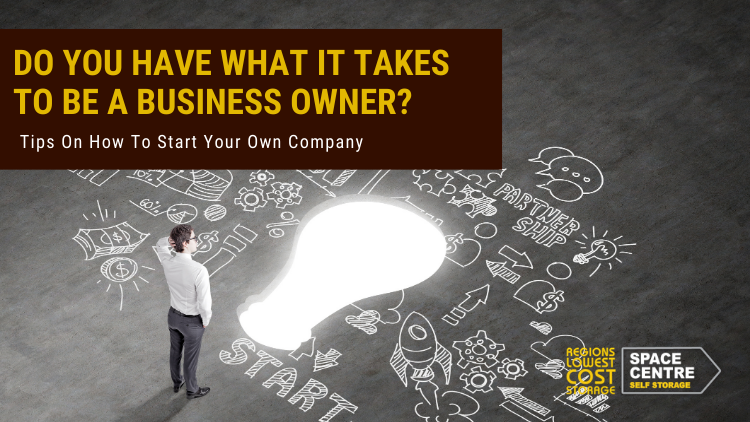 Since the pandemic started, many people have embraced their hobbies and turned them into new jobs or a secondary source of income. Whether you've been furloughed or made redundant, starting a business may sound like a good idea but it may be easier said than done. In this article, we take a look at what your start-up needs and how business storage can help.
Tips For Starting A Business
With everything that has happened in the last year, you may want to start your own business and considering the current economic climate, it may be the best thing for you. However, before you do anything, assess who you are, determine whether your business goals are achievable and get your family involved.
Do You Have What It Takes To Be A Business Owner?
When starting a business from scratch, it's important to lay out clear steps and to get everything in order before launching. Writing down the reasons why you are starting a business is a good place to start and also answering these questions with absolute honesty.
Can you handle the pressure associated with running your own business?
Do you have an action plan in place?
Can you work long hours?
How well do you take criticism?
Will you be able to cope with financial insecurity?
If your business struggles at the beginning, do you have what it takes to continue?
Get Buy-In From The Family
If you have a husband or wife or children, involving them in the decision to go it alone is important. Your home atmosphere should be very supportive, particularly in the early stages. Your family could also be useful as a sounding board, helping out with the odd task or providing feedback or finance. Without their support, you may struggle more than you realise.
As important as family support is, you also need to make time for them. Starting your own business will take loads of time and effort so don't neglect your partner or children in the process. When working from home, set time aside every day to play with the kids or have lunch with your husband or wife. If you have business premises, try sticking to office hours so you are home when you need to be.
Recommended: 'What To Do When Working From Home'
Assess And Refine Your Business Idea
Although not all successful business ideas are new, you still need to offer people a product or service they need. Not to mention successfully compete against other brands with a similar offering.
Do a quick Google search for existing companies within your niche and do a competitor analysis
Look at what current brand leaders are doing and see where you can do better
If your business can deliver something other companies don't, or offering the same thing but faster and cheaper, you've got a good platform to create a business plan and hit the launch button
Don't be put off if your idea is not unique, as the secret is finding a way to do things differently and better. Include an additional feature or benefit to the product to give you a competitive edge.
Business Operations And Business Storage
Whilst most people focus on what they are selling and who they are selling to, many don't think about how the business will operate. Here are a few example questions you can use as a guideline even if you are starting a small personal service business.
If you are selling goods, how are you going to deliver them?
Do you need business storage for stock, equipment, tools or documents?
Do you need a customer support system to answer questions about the product or to respond to queries?
How are you going to invoice customers?
Are you going to handle the finances and debt collecting yourself?
Who will create and maintain your website and social media accounts?
Can you use a virtual assistant for certain tasks or are going to employ someone?
Compile A Sound Business Plan
Starting a new business is exciting but it can be daunting if you don't cross all your T's and dot the I's. The best way to stay on top of everything is to have a business plan covering the main idea of how your business will operate and generate income. Part of a business plan includes a marketing strategy, financing, staffing, business storage and legal documents for naming and registering your business.
How To Choose A Name For Your Business
The name you choose for your business should reflect what you do as opposed to a random, irrelevant word. For example, if you're offering an accounting service, you can use your first name, last name or initials as long as the entire name makes sense. Considering something like A&J Accountants or EZ Bookkeeping.
Before you decide on a name though, first make sure it's available. You should be able to find this information on Companies House listings or Who Is Lookup. Remember to check the domain name when starting the web design process as someone may already own the domain.
How To Register A New Company
The business structure will depend on your set up. This refers to whether it's only you or if you have other partners, directors and staff. The major options include Sole Trader, Partnership, Limited Company or Limited Liability Partnership (LLP) but there are others such as Community Interest Companies and co-operatives, offshore companies and franchises.
Here are some useful government links on registering a new business.
Registering A New Business For VAT
Regardless of your business structure, you need to consider whether to register for VAT. A business must register for VAT with HM Revenue and Customs (HMRC) if the taxable turnover exceeds £85,000. You can register voluntarily even if your turnover is less than £85,000 unless your products or services are exempt.
Recommended: 'How To Register My Business For VAT'
Business Storage And Other Considerations
Business storage has numerous benefits as you can rent short-term, long-term and choose a small or large unit. People use business storage for various reasons but it mostly depends on the type of business. Some only use it to keep belongings safe when moving into an office while others depend on it all-year-round for stock, equipment, machines or documents.
Many companies use business storage for excess stock or to keep physical accounting and financial documentation. This is especially useful for confidential client financial statements and other important documents. Whilst some data may be digitised, make sure you check the HMRC requirements as many need long-term business storage.
Hire A Reputable Accountant
Not all business owners know enough about accounting and tax law to successfully navigate the often tumultuous world of bookkeeping. It's best to hire a reputable and experienced accountant but make sure they are familiar with your business' sector to some degree.
Request an initial accountancy consultation to discuss the services you would likely require from the accountant. This can be just final accounts and self-assessment tax work or VAT and payroll as well. Accountants will charge differently depending on what you need them to do.
Where To Find Affordable Business Storage Units
Whether you are working from home or starting or Limited Company from a corporate office, business storage can help. To make it more convenient and accessible for everyone, Space Centre offers short term or long term contracts without requiring a deposit.
A business storage unit is one of the easiest, safest and most affordable ways to keep all of your belongings clean, dry and safe. We offer FREE storage insurance up to £3000 and you can use our provider or your own.
Contact us if you need a business storage unit at any of our conveniently located facilities in Bristol, Stroud, Gloucester and Stonehouse.