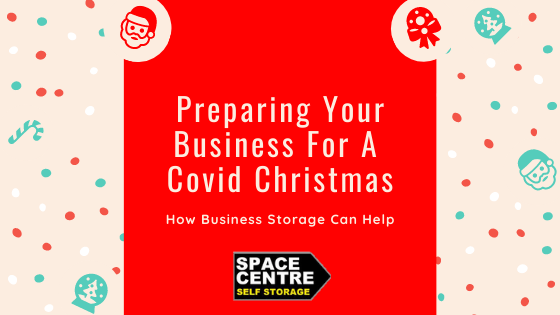 Christmas is a busy period for many businesses and that can make things rather stressful. Properly preparing all the essentials, including effective business storage, stock management and Christmas marketing campaigns will help reduce stress and ensure that you can enjoy all the festivities.
Make sure you have everything in place with this simple guide containing handy business storage tips and how to prepare your business for a Covid Christmas. It's now more important than ever to put in place the right processes as the pandemic is still a real concern.
Planning For A Covid Christmas
Boris Johnson said that he expects the second lockdown to last until 2 December from where England's regional tiered system will be reintroduced. However, there are no guarantees that it won't be extended as everything depends on the infection rate, particularly in high-risk areas.
As Covid-19 is still posing a threat, you may have to do things differently this year. Will you be selling more items online? Are you implementing a click-and-collect system? Are you offering touchless deliveries?
These are all valid questions that weren't around before the pandemic which are now part of the "new normal". If you want to ensure your business doesn't lose out this year, put in place some additional strategies for a possible Covid Christmas.
Improve Your Online Presence
Whether you have an e-commerce website or selling on Amazon, customers are increasingly looking to shop online. You have to solidify your online presence using your website, social media, emails and the all-important Google My Business Listing.
Even without Covid, you'd normally update your website, social media and Google My Business page with festive operating hours and special offers. The same applies now as you have to inform your customers what you are planning to do. Let people know if you have reduced or restricted hours so they can plan accordingly.
Click and Collect
It's important that customers (and search engine results) know you policy toward click and collect. This will give your customers the ability to order online and simply collect their goods from your store without entering the premises. Making this process available and simple could be the difference between a successful festive season and getting the edge on your competitors.
Touchless Deliveries
Not all organisations have the option to click and collect but they do offer touchless deliveries. A "Touchless Retail" customer journey starts with people searching and evaluating products online. During the lockdown, you can offer customers innovative online shopping experiences on whether it's your website, social media, live streaming platforms or other buying apps.
This includes cashless payments as customers pay online and arrange a time for delivery. As a result, you limit person-to-person contact whilst creating a super easy and convenient shopping experience. Truth is, the coronavirus has forced companies of all shapes and sizes to re-think how they operate. Even when Covid-19 is no longer an issue, Touchless Retail may very well be the future of shopping.
Ensure Covid-19 Hygiene Practices Are In Place
Whilst providing your customers with hand sanitiser may or may not be a requirement in all areas, you should do it either way. The fact remains that, besides wearing a face mask, sanitising hands and surfaces have been proven to stop the spread.
All you need to do is put a small stand at the main entrance to your store that dispenses alcohol-based hand sanitiser. This will show customers that you are making a conscious effort to customers who also err on the side of caution.
Use a dispenser that is laser or foot-operated as a communal pump can be counter-intuitive
Ensure staff wash hands regularly and wear proper face masks
Regularly clean surfaces and any areas that customers and staff touch
Consider Business Storage For The Christmas Season
To ensure you have enough stock on hand whether you are attending markets and fayres or simply selling from your premises, business storage can help.
Retailers often order stock months in advance with an estimate of what trade might be like. Of course, trying to compare to last year won't be as accurate considering the impact of Covid-19. Even so, things don't always go according to plan regardless of the pandemic as your stock could arrive earlier than expected. If this happens to you, and there's not enough space at your premises, what are you going to do?
Many retailers have opted for business storage units for their surplus stock all-year-round with others choosing business storage only when demand requires it. Christmas is a prime example of when this decision can pay off beautifully as you save space in-store whilst keeping everything in excellent condition.
Christmas Planning And Preparations
Regardless of your business type, planning remains the key to a successful festive season. The Christmas holiday season is usually a little crazy but it's important to decide early on how much time, effort and staff you might need.
It's always best to start planning early as you don't want to leave anything until the last minute. Besides what we already mentioned, i.e. operating hours and Covid safety tips, you need to consider the following:
What are you capable of doing with your existing manpower and the limited time?
Do you have enough staff or should you hire a few part-time workers?
Are your stock levels sufficient for the entire Christmas period?
Have you checked the operating hours of your suppliers in case you need extra orders?
Is your stock room big enough for the excess stock?
Best Business Storage Packing Tips
When it comes to packing for business storage, there is a right and wrong way of doing things. Without following the basic rules, you could be left with damaged goods and potential injuries to staff. If at all possible, avoid storing stock at home or in the garage as they don't provide the optimal conditions of a business storage unit. Here are some simple but important tips on how to pack your goods properly:
Use the right boxes and label everything clearly
Pack larger and heavier items at the bottom to avoid damage
Reinforce your boxes with extra packing tape at the bottom for added protection
Wrap fragile items in bubble wrap, newspaper, blankets or special packing paper
Leave an aisle for easy access to items toward the back of the storage unit
Create a master list of everything in your business storage unit
Recommended: 'How To Pack Your Storage Unit'
Ways To Promote Your Business Over Christmas
As much as Christmas is about connecting with people, celebrating and giving thanks, for businesses it's also an important time of the year to earn a decent turnover. There is so much you can do to stand out with creative Christmas Newsletters, social media posts and competitions or offering discounts. Here are a few easy ways to prepare your business for Christmas.
Keep your customers updated with a festive newsletter covering everything from new staff to special offers and product launches
Offer discounts on deliveries or two-for-one specials
Offer free gift wrapping services
Give customers a promotional Christmas calendar (consider a free Christmas Advent Calendar)
Create Christmas themed blog articles and social media posts unique to your business
Consider advertising on Facebook, Twitter, Instagram or Pinterest as remarketing is a powerful tool during the busy holidays
Recommended: 'How To Market Your Business On Facebook'
Business Storage Solutions From Space Centre
During the festive season, don't be penny-wise and pound-foolish. If you don't take business storage seriously, you could damage your stock which means a loss of profits and a not-so-merry Christmas. Renting a business storage unit to keep your valuable stock safe is more cost-effective than you may think. Have a look at this handy Price & Size Guide.
Working with a reputable facility, like Space Centre Self Storage, will help you save time and money while giving you much-needed peace of mind. A clean, dry and secure business storage unit means your stock is kept in excellent condition. Better yet, plan your stock properly and you could use most of it again next year.
Contact us if you need help choosing the right business storage unit for your requirements. We have facilities in Stroud, Bristol, Gloucester and Stonehouse with 24 access, drive-up access and flexible terms.