The most important aspect of moving house regardless of the season is to thoroughly inspect your new home. If it's a rented property, ask your landlord for the keys a few days before the move-in date so you can do a proper recon mission. If you bought a new home, you can inspect it at any time and sort out any issues before moving house. Your home inspection should include the following:
Check the Electrical and Heating Systems
Winter days in the UK are short and very cold with the sun setting between 3 and 4 pm during peak months. This often means your move can go into the evening which only adds to the already stressful process. Make sure to check for any faulty wires or broken light bulbs and if you have a boiler with a timer, set it to switch on the night before moving day. The last thing you want is to move into and unpack in a cold house.
Inspect Heating and Water Pipes
As with the electrical and heating systems, remember to check the heating and water pipes as well. Make sure the heating system is working as it should and that none of the pipes is frozen or broken. Although you would have packed some clothing, towels, toiletries and other items in your essentials box, you'll need to wash those too and that requires hot, running water. Besides, nothing makes a cold day better than a warm cup of tea, coffee or hot chocolate for you and the removals company staff.
Recommended: How To Pack An Essentials Box When Moving Home
Check the Foundation, Doors and Windows
Another important item on any moving house checklist is finding out if the roof has a leak or whether the floor shows signs of water damage. Next on the checklist is checking if the doors and windows are sealed properly as the icy winter wind can be rather unpleasant. The last thing on your mind when moving house in winter is to try and find an emergency handyman service. Avoid all of this frustration and stress by doing a thorough home inspection.
Important Things To Remember When Moving House
Moving house is already stressful with many factors to take into consideration. Here are a few essential boxes you need to check when moving house with some specific to winter moves:
Notify everyone of your new address as you don't want to miss important mail from HMRC and you certainly don't want to pay twice for a missed utility bill
Check the weather forecast and if possible, try to move on a day without rain or snow
Plan your trip properly and that includes following news reports of road closures or traffic accidents
Keep a list of emergency contact numbers on a piece of paper as mobile phones, tablets and laptops can lose their charge
Pack a shovel, cardboard pads and salt, sand or even kitty litter to help with snow and sleet
Top Tip: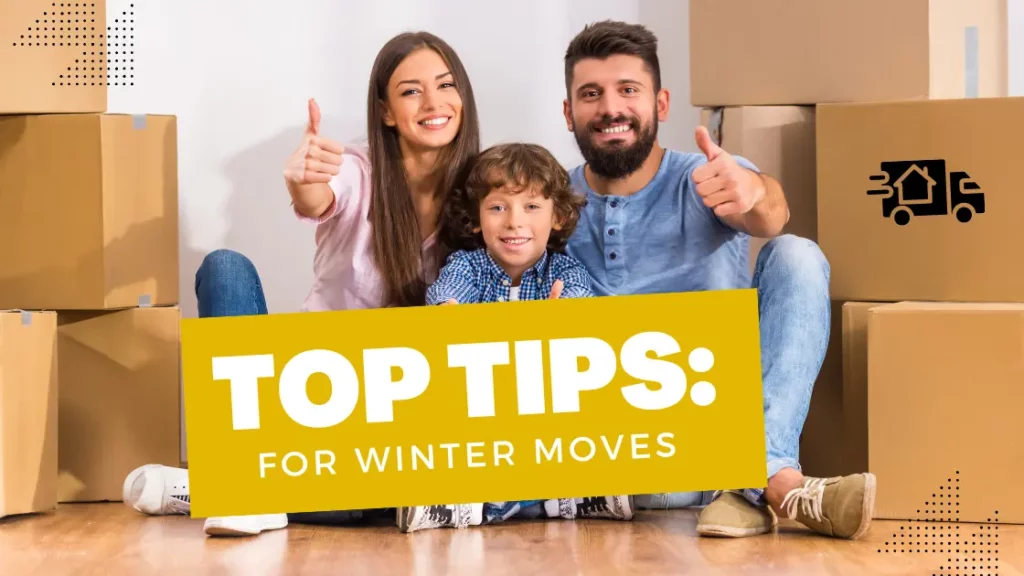 A great way to make the process of moving house even faster and safer is to arrive well before the removal company and clear the path to your front door or garage. Be sure to sprinkle salt afterwards to minimise the risk of anyone slipping and injuring themselves while carrying your belongings.
Make sure your vehicle is ready for the move by visiting your local garage for a full check-up and don't forget to pack essentials (maintenance tools, tyre chains, spare tyre, flashlight, first aid kit, extra batteries and a high-visibility jacket
Pack extra chargers and invest in a power bank for added peace of mind
Include warm clothes, blankets and hot refreshments in your essentials box
Take extra care of your pets when moving house. Pack their favourite toys, basket and blanket and put them in a quiet room before the movers arrive
Packing Mistakes To Avoid At All Costs
Since packing is already stressful enough, why overcomplicate matters by packing incorrectly and leaving things for the last minute? To help you out with your next house move, here are some of the most common packing mistakes you should avoid.
Using the wrong type of boxes or sizes
Packing too much into one box
Not using the right packing materials (bubble wrap, packing peanuts, packing paper and box dividers)
Incorrect or insufficient labelling of boxes
Leaving too much empty space in the box can lead to breakage
Using plastic bags or flimsy old boxes
Starting the packing process too late
Not using enough packing tape to secure the boxes
Packing without properly decluttering first can help determine what to keep, store or bin
Moving house on your own – don't be afraid to ask for help from friends or family but ideally a reputable removals company
Which Is Better, DIY House Moves Or A Removals Company?
Many people would never dream of hiring a professional to help them move house, preferring instead to do everything themselves. But is this really the best option? Let's take a look at some of the pros and cons of DIY house moves or hiring a removal company.
Moving House On Your Own
The main advantage of doing your own house move is that it will cost less but often only if you don't have too much to pack and move. If you have a lot of friends or family who are willing to help, then you might be able to get away with hiring a van for the day and not having to pay for any professional services. However, there are a few potential downsides to moving house on your own:
The first is that it can be very stressful as there is a lot to think about and organise; not to mention only having yourself to blame if something goes wrong
Secondly, if you don't do it properly, you could end up damaging your belongings or even injuring yourself
Lastly, it can also be very time-consuming which means you may need to take a few days off work to get everything done
Hiring A Removals Company
The biggest advantage of hiring a professional removals company is that they will do all the hard work for you. Many of them will also pack all your belongings, load them onto their van, and transport them to your new home. They will even unpack everything at the other end, so you won't have to lift a finger (apart from signing a few pieces of paper and making them hot drinks).
The downside of hiring a removals company is that it will be more expensive. However, you need to weigh up this extra cost against the stress and hassle that you'll avoid by not having to do everything yourself. An added bonus is that you won't have to take off too much time from work so it could work out the better option, especially if you are transporting large quantities!
Finding The Right Removals Company When Moving House In Winter
As with most things in life, packing your belongings and moving house requires careful planning and execution. Everything you do before and during the process can determine how successful your move will be. An important consideration is using the right moving company and these websites can help:
Whether you choose to move on your own or hire a removal company, it all depends on your individual circumstances. If you have the time, energy and money to do it yourself, then it could work for you! But if you want added peace of mind while greatly reducing stress levels (and maybe even some money), it's certainly worth considering hiring a professional mover.
Moving House With Space Centre Self Storage
As we've established, moving house is a stressful and time-consuming process. This includes the whole mortgage process, calculating how long it will take to pack and move all of your belongings and finding the right removals company. Not to mention making sure your car and your new home have sufficient lighting and heating as mentioned earlier.
Whether you are between homes or need a safe place to keep some of your belongings, a self storage unit is well worth considering. At Space Centre, we have ground floor units with drive-up access to make loading and unloading that much easier. We have 24-hour CCTV, access control and smoke alarms so your valuables are in great hands.
If you are moving house this winter, we hope this guide can help streamline the process even just a little! Please contact any of our branches in Bristol, Stroud, Gloucester or Stonehouse for more information.