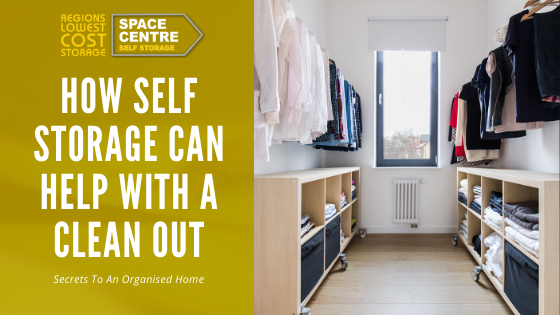 Have you had to rummage around the loft, garage or spare room to try and find the Christmas decorations? Have you considered renting a self storage unit? You'll be surprised how much self storage can help when clearing out the house, regardless of how much stuff you have.
Like many other people, you've probably noticed that every inch of space in the loft, garage or shed is filled with stuff. Do you even know what's in all the rooms, cupboards and drawers? I'll bet you don't know what half of it is or when last you used it. Fortunately, there are so many tips for decluttering and self storage that can help you have an organised home for Christmas.
Self Storage And Clearing Out
Doing a proper clear out of things you no longer need is often challenging but it is necessary. Everything starts with being prepared and planning ahead in terms of what to throw away, sell or donate, especially if you haven't used something for a long time.
If there are sentimental items you cannot part with, a self storage unit is by far the best option. Not only is it safe but it's also convenient, affordable and a massive space-saver. Reputable self storage facilities provide quality units with exceptional value for money while offering long or short term agreements.
Interesting Read: 'Common Mistakes When Using Self Storage'
Where To Start Clearing Out
It is easy to become overwhelmed by clutter and that can deter many people from starting the process. Most home clutter has been accumulating for years so there's no rush to try and get it all done in one day. Decluttering is a time-consuming process and you need to be patient.
There are likely many areas you need to clear out but be smart about it and don't dive in head first. It's important to take your time to separate and organise everything properly. Divide the house into different areas and make a plan to tackle each one individually, whether you spend a day or a weekend in there. Places to start decluttering include the following:
Desk (drawers tend to collect loads of random stuff)
Cupboards and drawers
Under the bed
En-suite bathroom
Kitchen cupboards, pantry or food cupboards
Expert Organising Tips For House Clutter
Experts recommend using three different colour bags; one for things to throw away, one with items you wish to put in self storage and another one for everything you want to keep. You can also use boxes but make sure you choose the right ones so you can simply pack and store things seamlessly.
When you declutter, it's important to focus on the future and not the past. If you imagine the home you want and the type of person you want to be, do all those excess stuff feature? Items with memories or emotions attached to them won't fade when getting rid of something so there's no need to feel guilty. If an items has already served its purpose but it no longer does, ditch the guilt and free up the space.
Declutter First, Then Find Storage Solutions
This is probably one of the most important decluttering tips everyone should know. Before you go out and buy funky or rustic storage boxes, make sure you declutter the house first. If you don't, all you will end up doing is filling the new storage containers with junk that you really should get rid of.
Depending on what you want to store, there are several creative budget-friendly storage solutions available. There are many stores that stock affordable storage options like woven baskets, Perspex containers or durable and sealable plastic containers.
Work within your own budget and make sure you are happy with what you use. It doesn't matter what anyone else says, if something works for you, do it! Budget storage ideas include things like plastic baskets, shoe boxes and jam jars. IKEA or your local pound store are great sources of budget-friendly decluttering and storage ideas.
Be Committed and Consistent
As mentioned earlier, decluttering is not a once-off exercise and you need to invest some time and effort. It is a time-consuming and continuous process as you need to keep your place tidy after doing a massive clear out. Remain organised, committed and consistent on a weekly, or at least a monthly basis to prevent clutter from building up again.
Before you know it, you are left with yet another massive decluttering project. After you initially clear out and organise your home, you need to decide what storage solutions you're going to use and find a permanent place for everything.
You should, ideally, do a quick scan of your home every week, tidy up what you can and make sure things are in their place. If it isn't, you can deal with it quickly and stop everything from piling up in the wrong place.
Keep Your Surfaces Clear
If there's something most of us are familiar with, it has to be cluttered surfaces. Looking at your coffee table or kitchen counter, are they stacked with used cups, cutlery or crockery? Books and magazines are the main culprits in many homes which is why it's best to keep all the surfaces clear for a constantly organised space.
According to experts, clearing surfaces around your home can actually promote a healthier and clearer mind. By keeping an eye on your clutter daily, and making a conscious effort to keep surfaces clear, you could have a tidy house around the clock.
Set Up A Cleaning Schedule
In addition to keeping the house organised, creating a cleaning schedule will be extremely helpful. To keep your home clean, tidy and organised, walk through every room and make a note of what you would like to keep clean.
Also, add in how often you need to clean it but be realistic about it, taking into consideration your own busy schedule. If you prioritise cleaning and organising tasks, you will quickly notice a considerable difference in your life.
Try to group cleaning tasks by frequency and split the list into a daily, weekly or monthly schedule. Implementing a physical list will go a long way in helping you stick to your cleaning and organising schedule.
Self Storage Units For All The Clutter
The first rule when clearing out your house is to put similar items together as that will really help streamline the process. By doing this, and following the aforementioned decluttering advice, you can organise, pack and unpack like a pro.
As the needs of your family change, so does the way you store all of your belongings. While you may have used the cot, baby bath and other equipment when the kids were small, there comes a time when you need to get rid of that stuff. They're a bit older now which means more sporting equipment, bunk beds, toys, bicycles and even doll houses, for example.
A self storage unit is ideal for bulky items you are not currently using. By putting things in self storage, you will notice just how much space you actually have at home. Good organisation simplifies your life as you'll be able to find items easier once it's packed in self storage.
Tips On Packing Your Self Storage Units
Always correctly and clearly label all the boxes so you can easily find things later. It beats scratching through everything and making an even bigger mess. Boxes destined for self storage should have clear labels indicating the contents. Here are some simple tips on packing your self storage unit:
Use the right boxes and stack them neatly
Pack large and heavy items first (and at the bottom)
Label every box on all sides with the full contents
If possible, dismantle furniture and other items to save space
Put smaller items into drawers or cupboards to maximise storage space
Always leave an aisle for easy access to the back of the self storage unit
Use pallets to store boxes and items off the floor wherever possible
Store sofas end-to-end and stack chairs upside down, seat-on-seat
Create a master list and location map and keep it near the entrance
Recommended: 'Self Storage Providers – How To Choose The Right One'
Where To Donate Your Items
If you are donating goods, remember that charities rely on donations to operate, whether it's a financial contribution or goods that they can sell. There are also other places that may not necessarily be charities but could benefit as well, including local community and playgroups. Donate used or unwanted furniture to Restored Furniture while The Salvation Army clothing bank and The British Heart Foundation will gladly collect clothing from your house.
What You Need To Know When Renting A Self Storage Unit
Always find out about storage insurance and whether the facility provides it as a standard option or not. At Space Centre Self Storage, we offer FREE insurance up to £3000 and there is no upfront deposit. If you need more cover, you can use our provider or your own.
All of our self storage units are clean, dry and secure with prices guaranteed for 12 months. We don't tie you to long term contracts and we don't charge extra if you need a different unit or extend your rental period. Our facilities are monitored by 24-hour CCTV while each unit also has a smoke detector.
We have conveniently located self storage facilities in Bristol, Stroud and Gloucester. Get in touch with our friendly, experienced staff for more information and to reserve your storage unit.