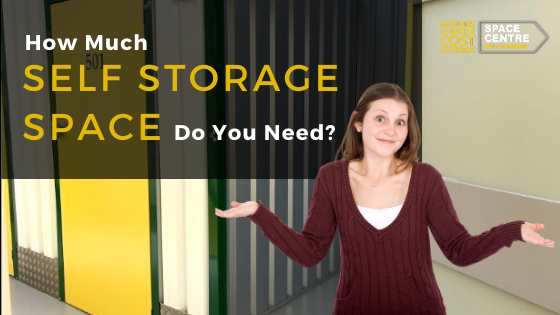 The first question on everyone's mind when they consider self storage is how much space they need. Regardless of how much you want to store, it's never easy knowing what size self storage unit you should rent. It's even harder to picture where everything from the living room, bedroom or kitchen will go.
Self-storage units of all different sizes are used by a wide variety of individuals and businesses. Whether you're renovating, moving house or to a new office, it's a stressful process. Running out of space at home or the office is not ideal but that's what makes self storage the perfect solution.
What Size Storage Unit Do I Need?
The first mistake many people make is thinking that they need a massive self storage unit the size of their house. It's easy to picture your furniture in a room at home or the office but not when you have to try and squeeze everything into a smaller space.
Look at all the items and think about how you can pack them to fully utilise 'hidden' storage space. In many cases, you can put smaller items into dressers and chests of drawers. If they're big enough, you can even store boxes, cartons or cases inside which saves a considerable amount of space.
One thing to remember is when doing this is to make an inventory list so you know where you stored everything. Along with labelling boxes, a master inventory list is essential especially if you need regular access to your unit. You don't want to waste time going through the entire unit to find one item.
Utilise The Available Storage Space
When enquiring about the sizes of self storage units, remember to ask about the height of the ceiling. Unlike storing furniture around a room at floor level at home, you can now stack things and maximise the full height of the unit. Remember to pack and stack safely, keeping heavier boxes and items at the bottom and lighter, more fragile items at the top.
At Self Storage Space Centre, we provide you with all the necessary information about our units so you know what to expect. To help you visualise how big our units are and how much space you may need, we compare our units to van sizes. Our Price And Size Guide will give you a clear idea of the unit size and how many loads your goods will be.
What's the best way to move? Take a look at the article for more info, Removals – DIY Or Professional Movers.
Packing Tips For Self Storage
When packing things for self storage, do so carefully to avoid costly damage. There are many packing tips out there for a variety of items but we've listed our top 10 below:
Make sure everything is clean and dry especially for long-term storage
Protect furniture with covers
Use the right packing boxes or containers (preferably ones that can you can seal)
Never overfill boxes as the bottom could tear and items can fall out
Don't under-fill boxes as things could roll around and break
Label everything and remember to mark fragile boxes clearly
Wrap fragile items well using bubble wrap or tissue paper
Distribute weight inside boxes evenly for easy transport and storage
Use enough packing tape to secure the bottom and across the seams
Store items you need regular access to closer to the front
What Does Self Storage Cost?
The price of self storage involves more than just the unit as there are many other costs to consider. Many people forget about things like storage insurance, travel costs, access charges and security deposits. While not all storage facilities charge for everything, it's good to know what it entails. In some cases, providers charge per visit and others add an additional weekly or monthly fee.
Storage Insurance
When you store anything, you need insurance and you must find out whether it's included in the rental price. If so, how much does it cover and is your normal household policy enough? At Space Centre Self Storage, we provide FREE insurance for items up to the value of £3,000 per unit. If you require additional cover, you can use our self storage insurance provider or arrange your own.
Security Deposits
Some facilities ask for a security deposit but not at Space Centre Self Storage although we have some advice for you. Security deposits are usually around the same as half a month's rent so make sure you verify the amount. Also, find out the terms for getting your deposit back at the end of the rental period.
Cancellation Charges or Extension Fees
Life happens and sometimes people need to leave before the agreed-upon date. It is essential to ask if a storage facility charges cancellation fees and, at the same time, find out what their policy is on extending your rental term. The same applies to a situation where you may need a different size unit.
Access charges
Storage providers have similar operating hours to shops and offices with a few variations over weekends. Even though most storage facilities don't have access charges during normal hours, some may do so after hours. What happens if you can't get to the facility because you worked late or got stuck in traffic? If this is a real concern, ask the facility if you can have access outside of their normal hours and if so, what the additional costs are.
Why Choose Space Centre Self Storage?
Self storage shouldn't be a hassle or a concern, it's there to give you total peace of mind. If space is an issue at home or the office, renting a self storage unit can really simplify your life. All of our storage units are clean, dry and secure with prices guaranteed for 12 months. There is also no deposit and no hidden costs.
At Space Centre Self Storage, we don't tie you to long term contracts and we don't charge a fee if you need a different unit or extend your rental period. Our facilities are monitored by 24-hour CCTV while each unit also has a smoke detector.
We have self storage facilities in Bristol, Stroud and Gloucester which are all conveniently located near major access roads. Get in touch through our website for more information or to request a quote.