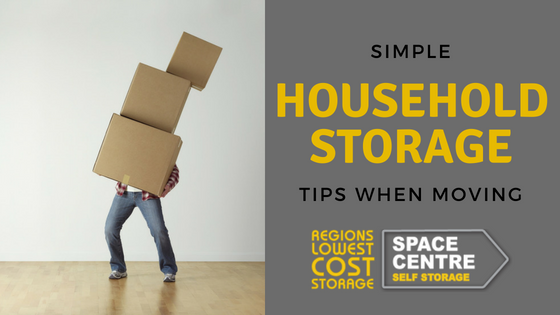 There are many reasons why people want to store personal belongings, from needing extra space to the secure storage of items when traveling or renting out property. In fact, one of the main reasons people opt for household storage this time of year is when moving.
With everything that goes on during a move, it's no wonder that some things get left behind. Have you thought of using a removal company or doing it yourself? Do you have a packing plan to ensure everything fits into your new home and your household storage unit? Don't forget about using the right boxes and working out a system to declutter like a professional before you pack.
Following a few simple household storage tips and planning effectively, your move could be much less stressful. You might even enjoy going through all your belongings and only taking what you really need. Let your move become a way to clear your life of unnecessary clutter.
Household Storage And Decluttering
While many are fortunate enough to move into a new home immediately, others have to make alternative arrangements. This involves finding temporary self storage facilities nearby while working out what to do with everything or waiting for the right selling price. This is particularly important when you need to empty the loft or garage while your house is on show. You will need a secure space to sort through your things without interrupting potential buyers looking at your property.
Our favourite tip is to declutter one room every day as it really helps to spread the workload. As you sort through everything, visualise the items that will go into specific rooms at your new home and those destined for self storage. This will make it easier to organise everything you want to keep, store, throw away or sell.
When sorting things like furniture, keep in mind the measurements of your new home. Start by planning how everything will fit in each room. Just remember that you will more than likely need to get rid of anything that won't fit well. The last thing you want is a cluttered, unorganised space which also applies to your self storage unit. Here are some useful tips on how to pack your storage unit.
If the items are too valuable or sentimental to sell or throw away, consider temporary household storage. Other options include classified ads, a garage sale and using eBay or any other eCommerce platforms.
Choose Your Movers
Hiring a professional moving company seems the least stressful way to move if you can afford it. Some professional movers are very expensive and while it does take the pressure off, you can't ignore the risks. Damage to your possessions is a real possibility so make sure your insurance covers the move. If possible, try to include insurance as part of your quote. Although some removal companies offer storage, it's almost always cheaper to privately arrange your own storage.
Even though you are more likely to save money doing it yourself, make sure it doesn't create more unnecessary stress. This includes using the appropriate packing materials, ensuring you have the right vehicle and enlisting help from friends and family. For a more comprehensive breakdown, read this article about choosing DIY removals or using a professional company.
Packing Tips
Packing is arguably the most stressful and arduous parts of moving but it is important to do it right. Here are a few packing tips even professional movers recommend:
Don't leave packing until the last minute as it will always takes longer than you think.
Start at the top of the house and move down. If you have an attic, it's a good idea to sort it out first.
Use the right boxes made of corrugated cardboard or transparent, sealable plastic containers.
Pack heavy items in small boxes to make transporting easier and to minimise back injuries.
Clearly label each box with details of the contents and the room to which it belongs. Label boxes that contain breakables and also those that are load-bearing and can be stacked in the van.
Keep all the boxes for each room together as it will save time when you unpack.
Wrap fragile items individually and place in a box lined with several layers of newspaper and a sheet of bubble wrap.
Pillows and blankets are also useful for wrapping valuables and protecting furniture from dents and scratches.
Keep important documents together, such as birth and marriage certificates and store them in a safe place.
Pack a box of essentials that you'll need for the first night at your new home. This includes cups, coffee, tea, kettle and snacks.
Moving With Pets
While kennels and catteries do provide a valuable service, many people prefer that their pets stay with friends, family or a neighbour. Many pets become very attached to their own familiar territory, especially cats and dogs. You need to give them extra special care and attention before and during the move. Always make sure you have suitable carriers and when in doubt about anything, speak to your local vet when planning a move.
Things To Remember When Moving
The first thing to do when moving is to take water, gas and electricity meter readings and notify your suppliers before you move. This is to ensure you don't get billed for someone else's usage. You should be able to easily update your change of address on their website.
Next up is letting companies know of your new change of address. This extends to banks, insurance providers, magazine and newspaper subscriptions, electricity and gas companies, not to mention family and friends. You also need to inform the DVLA to update both your driving licence and vehicle registration certificate.
When you move, make sure you don't lose your right to vote. Unless you inform the local council, you may not be eligible to vote in future elections. Make sure you register to vote at your new address and visit www.aboutmyvote.co.uk for more information.
Here at Space Centre Self Storage, we pride ourselves on offering quality storage units that always meet and exceed expectations. Our family run business started in 1995 and we've built a superb reputation on the back of exceptional quality and customer service.
For all your household storage requirements, from furniture to books, toys and even confidential paperwork, look no further. Please get in touch with any of our storage facilities in Bristol, Stroud and Gloucester and reserve your storage unit today.