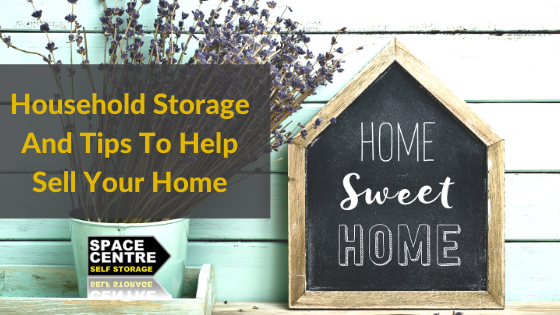 Thinking of putting your house on the market in the New Year? Homeowners know that selling your property is inevitable at some stage in your life and, along with household storage, you need to consider decluttering, cleaning and home staging regardless of the type of property or reason for selling.
Whether your family is growing and you need a bigger house or the kids have left and it's time to downsize, you want to get the maximum price possible when selling your house. To achieve that, you need to take a step back and look at your house from a buyer's perspective. Here are some household storage and home staging tips to help you sell your house!
Decluttering And Household Storage
One of the first things you should do is a proper clear-out and decluttering mission. Estate agents aren't magicians and they can only do so much to sell your house as much of it depends on you. If the house looks cluttered, dirty and neglected, chances are slim that anyone would even look at it. Make sure you get rid of all the excess stuff you have accumulated over the years.
There are likely things in every nook and cranny that you no longer need and certainly unnecessary when selling your home. If you have too many belongings for the new home and you can't get rid of everything, a household storage unit is the best and most affordable solution. Furniture storage is a popular choice for many whether it's long-term or short-term.
Related: 'Storage Tips For A House Clearance'
Where To Start Decluttering
While a clean, uncluttered and tidy home is vital, don't 'depersonalise' the entire place. The secret to selling your home is to keep some of your personality inside as potential buyers want to see what it's like to live there. If you make it look like a generic hotel room, people will have difficulty picturing their family in your home.
People often buy into a lifestyle just as much as they do the actual property. Make sure to show them the attractive side of your home and lifestyle by clearing the junk and putting your house on display. If you have big and bulky furniture, it can make the room feel small and you should replace it with something smaller.
Give Your Home A Fresh Coat Of Paint
If the woodwork and walls seem a little tired, consider sanding, varnishing and adding a fresh coat of paint to breathe some life into your home. While you might like a purple bathroom and yellow kitchen, other people may not.
Colour is a personal choice so avoid anything too bold as you don't want buyers to immediately think about all the paintwork they need to do. Be smart and choose neutral colours as going too bland or boring can have the same effect.
Clear Countertops And Surfaces
Cabinets, countertops and work surfaces stuffed with items can appear messy to some buyers. While a clean space is important, don't remove everything either as your house still needs to resemble a homely environment. Leave some family photographs, a few appliances and anything you'd expect in a normal house but without the clutter.
Potential buyers expect to see some evidence that you are living there but they shouldn't have to dodge toys or worry about knocking over a precious collection of antiques. Put anything you don't use in the loft, garage or you could simply rent a household storage unit.
Do A Proper Spring-clean
If painting is not necessary, you should do a good clean up by wiping all the skirting boards and cupboard tops. Replace any blown light bulbs, clean the light switches, blinds or curtains. Don't forget to give the bathroom grouting a really good scrub and clean around the base of the toilet. Always keep the seat down for any home viewings.
In the kitchen, make sure the bins have been emptied and cleaned so there are no unpleasant odours during a viewing. Remove excess surface clutter and put out clean tea towels and pack away any appliances that take up too much space or give a cluttered appearance.
Home Improvements
Unless there are structural issues or your house looks like a scene from the 1850s, you only need to do a few small home improvements to add value. You'd be surprised how much value you can add to the property if you are willing to spend a little bit of money. Remember, the two main rooms people tend to focus on are the kitchen and bathroom so budget wisely and you can reap the rewards.
Start with the basics like fixing holes in walls, broken doorknobs, cracked tiles and worn or damaged carpets. Many buyers would prefer to move in without having to do a massive makeover so remember this when preparing your home for selling. Here are some improvements that won't cost a small fortune:
Replace worktops
Paint or replace cupboard doors
Replace tiles
Recommended: 'How To Add Value To Your Home When Renovating'
What Should I Do About The Bathroom?
It's difficult for some buyers to ignore a bad paint job or poor choice of colour but you also need to consider this. Often, a bathroom without either a shower or a bath can immediately put people off. Here are a few small things you should do to add real value to your bathroom.
If your bathroom looks old with dated fixtures, replace it with a basic white suite. Not only is this a neutral choice but it will also help make the room feel bigger and brighter
If you have carpets, remove or replace them with lino or tiles. Many potential buyers will be concerned about old carpets being damp or smelly
Install a bath and a shower if there is enough space. If you can't add a separate shower cubicle and a bath, you could simply install a shower over the bath
Staging Your Property
By property staging, we don't mean turning your house into the perfect show home but rather try to show each room as it's intended. If you are using the spare bedroom as a home office or study but the details of your home stipulates that it is a double bedroom, you need to change the room so your buyers can see that.
Many people also use their dining room to keep the kids toys or other items but buyers don't need to see that. What they want is to picture how their dining table and chairs will fit in so instead of making them guess, show them. If you don't have the right type of furniture, borrow from friends for a short period of time to help you sell your home.
Beautify The Garden
While your garden may depend on the season in which you are trying to sell, buyers still want to see a garden nonetheless. Make sure it looks as clean and tidy as possible with toys and tools packed away neatly. Remember that buyers want to see that the garden is safe and secure for children to play in or that it's good for entertainment purposes.
Household Storage And Packing Tips
If you have valuable or sentimental items you simply cannot sell, donate or throw away, you should consider short-term household storage. All of our units are clean, dry, dust-free and under 24-hour surveillance. Each unit is also equipped with a smoke detector and you are the only one with access leaving your valuables in great hands.
Packing up your house and moving can be stressful but doing it right can simplify the entire process. Here are a few of our top packing tips:
Don't leave packing until the last minute as it always takes longer than you anticipate
Pack one room at a time and plan ahead to cover the entire house systematically
Use boxes made of corrugated cardboard or you can also invest in transparent, sealable plastic containers. These are exceptionally durable, easy to stack and see the contents
Pack heavy items in small boxes to make transporting easier and to minimise back injuries
Clearly label each box with details of the contents and the room it belongs in
Label all boxes containing breakables and those that are load-bearing
Keep all the boxes for each room together as it will save time when you unpack
Wrap fragile items individually and place in a box lined with several layers of newspaper and a sheet of bubble wrap. At Space Centre Self Storage, we can also provide boxes, bubble wrap, padlocks and packing tape
Affordable Household Storage Units
Furniture storage is part and parcel of the moving process and many people will need space to put things. If you are donating goods, take furniture to Restored Furniture with The Salvation Army clothing bank and The British Heart Foundation will gladly collect clothing from your house.
At Space Centre Self Storage, we offer FREE insurance up to £3000 and there is no upfront deposit. If you need more cover, you can use our provider or your own. All of our units are purpose-built for business, student or household storage.
Prices are guaranteed for 12 months and we don't tie you to long term contracts. In addition, there is also no extra charge if you need a different unit or extend your rental period. Get in touch with our friendly, experienced staff at our facilities in Bristol, Stroud and Gloucester for more information and to reserve your storage unit.