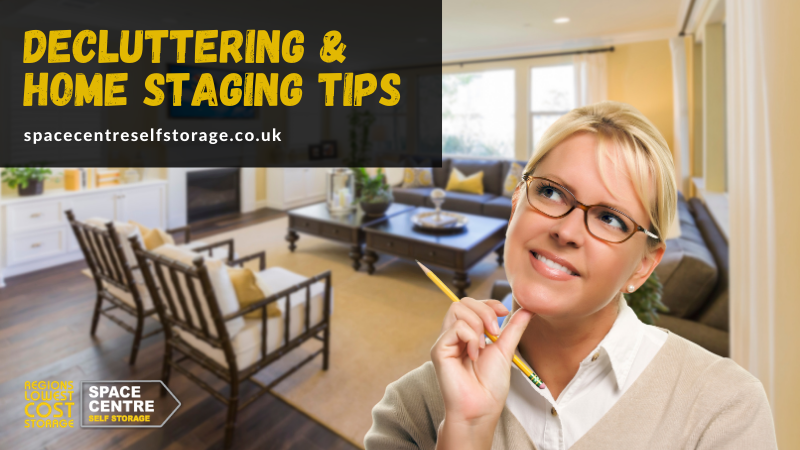 Chances are that since the start of Covid last year, you've probably decluttered, cleaned out and spruced up many areas of your home. But is it enough if you're selling your home? With so much to consider, a few small changes and relying on a household self storage unit can help you sell.
Considerations For Selling Your Home
People sell their homes for various reasons depending on their circumstances, financial position and personal growth. Whether you have to relocate for work, downsize or make a change due to a new baby or the kids leaving for university, you still want the best market price for selling.
There are many ways to improve your home with everything coming down to effective planning. You need to find the correct estate agent, ask for the right selling price and organise the aesthetics of your home.
The best place to start is decluttering and putting whatever you don't need right now into a household self storage unit. You'd be surprised how much this can help alleviate some of the anxiety associated with selling and moving.
Decluttering And Household Self Storage
On a normal day you may not think twice about having extra furniture and other items in your house but what about when you're moving? These items can add to the clutter so removing a few things can make your home look and feel more spacious, making it more inviting for potential buyers.
Recommended: 'Self Storage Rules And Regulations'
How To Declutter Your Home
Removing some of your electrical appliances on kitchen work surfaces will make the place look cleaner and more organised. If there's no space in the kitchen cupboards, move things you use less often out of the cupboards to make room.
Besides the kitchen, areas that require the most decluttering are the living room and other high traffic areas. Make sure you pack away piles of books, hobby equipment, umbrellas and excessive furniture that add to a cluttered environment. Decluttering bedrooms include packing away out-of-season clothes and personal items that won't add any value to potential buyers.
Keep in mind the functionality of your appliances and furniture so if something serves a purpose and looks good, then leave it in the house. However, if anything takes up space it's best to store them. To make space and create a beautifully streamlined ambience, put these items into a household self storage unit.
Organise And Pack Your Home In Stages
Moving isn't easy but nobody said everything has to be done in one day, or even a week. The best way to prepare for a move is to do things gradually and bit by bit. A household self storage unit near you can act as a secure half-way house for packed boxes ready for moving day.
Start by organising things into piles for throwing away, donation, selling or storing
Pack things that you rarely use into good quality boxes
Move boxes into your storage unit as soon as they're sealed and labelled
This will help you get a head start on packing and before you know it, your cupboards and rooms are clutter-free, making your house more appealing.
How To Keep Your Home Minimal But Functional
For best results, optimise the ambience as buyers are more attracted to homes when certain conditions are met. For instance, a brighter house with a good amount of open space is typically more appealing than a cluttered, dark home. Whilst space is important, you are still living in the house so make sure you retain that 'homely' atmosphere.
Almost every home shows better with some furniture as it will help people imagine their things in your space so keep it minimal but functional. Whatever furniture you keep needs to showcase the room's purpose so don't put a dining room table in the spare room or study. The last thing you want is wondering what a room is used for.
Remember, decluttering is primarily about the removal of any distracting or unnecessary items and not everything you own. So, what can you do to make your home more appealing?
Top Home Staging Tips And Tricks
It's often challenging to sell a home as it can sit on the market for a long time, especially if it hasn't been staged in a presentable way. To help get your home in a sell-ready state, here are a few things you can do:
Paint a few of the walls (but keep it neutral)
Sand and varnish wooden finishes
Fix or replace light fittings
Put some plants around the house
Make the bed and put on a new bedspread
Add colourful scatter cushions on the sofa
Make sure every part of the house smells fresh and clean
Light candles during home viewings
Spruce up the outside of your property (garden, flower beds and driveway)
Pack away garden tools, hoses and other equipment
If you have pets, make sure their mess is also cleaned up
Recommended: 'DIY Home Improvements And Home Staging'
Tips For Using Household Self Storage
Decluttering and organising your home is challenging as there's so much to consider. Help minimise the stress of packing by following these simple packing tips:
Use the right boxes made of corrugated cardboard or transparent, sealable plastic containers
Pack heavy items in small boxes to make transporting easier and to minimise injuries
Label each box with the contents and the corresponding room
Label boxes that contain breakable items and those that are load-bearing
Keep all the boxes for each room together as it will save time when you unpack
Wrap fragile items individually and place them in a box lined with layers of newspaper and a sheet of bubble wrap. We can also provide you with boxes, bubble wrap, padlocks and tape.
Keep an aisle in the middle of your storage unit for easy access
Recommended: 'How To Make The Most Of Your Storage Unit'
Where To Find Affordable Household Self Storage
When selling your home, many people can't see past the mess and will be put off by an untidy or cluttered environment. Decluttering with household self storage offers a great space to keep all of your belongings safe whether it's short-term or long-term. It's ideal when doing renovations, home improvements or moving.
At Space Centre, all of our storage units in Bristol, Stroud, Gloucester and Stonehouse are clean, dry and in secure compounds with alarms, CCTV and smoke detectors. We offer easy terms and FREE storage insurance up to £3000 using our provider or your own. Some storage insurance providers include Surewise, Insurastore and Store-Insure.
Visit our website or contact us today if you are looking for an affordable household self storage unit for furniture, kitchenware, clothing, toys, books or sensitive documents.