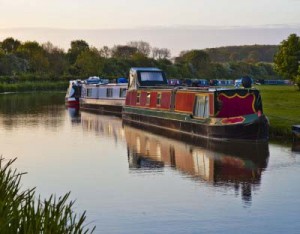 It goes without saying that storage space is definitely limited on a houseboat. Even a large boat will not compare to a small home in the amount of storage and closet space. Yes, there is usually under boat hull storage, small closets in each bedroom and possibly a storage locker on the back of the boat. However, it hardly compares to the wardrobes, chests of drawers and various outbuildings that are taken for granted by house owners.
On top of that, as most boats come fully furnished, there would be no room for that antique pine kitchen table or valuable three piece suite. You will most likely have room for some clothing, kitchen items, toiletries, and a few personal belongings. Owning a houseboat is about messing about on the river and not messing about with the interior!
So what's the answer? Simple really. Firstly, there will be those of you only too pleased to rid yourself of the belongings that have been cluttering your bedrooms and dining room for the past few years. Sift through everything and be very selective in what you want to keep. If it's valuable and won't fit in your new abode, why not consider secure storage.
There are plenty of canals and waterways in and around the Bristol and Gloucestershire area, so if you plump for a change of lifestyle and swap your two up two down for a narrow boat, why not give us a call at Space Centre self storage ?
We have secure storage units of all sizes to help provide you with peace of mind as you enjoy the experience of canal boating. Co director Lucinda Dangerfield said; "There are many people who fancy a change of lifestyle and who swap their house, bungalow, cottage or flat for a narrow boat. In Gloucestershire, we see it all the time.
For many of those people, it will be a permanent swap. However, some might fancy a few months or years navigating the waterways before returning home. Those who fall into the latter category are reluctant to sell all their goods and belongings. After all, the last thing anyone wants is to return home and start all over again.
It might be that you want to store just your furniture or garden tools or maybe you need safe, damp free storage for your valuables and those clothes which you simply won't have enough room for on a boat. Whatever your need, we can cater for you."
Have you ever owned a houseboat or are you ready to change track and swap civvy street for a life on the water? If so let us know how you solved your storage problems.