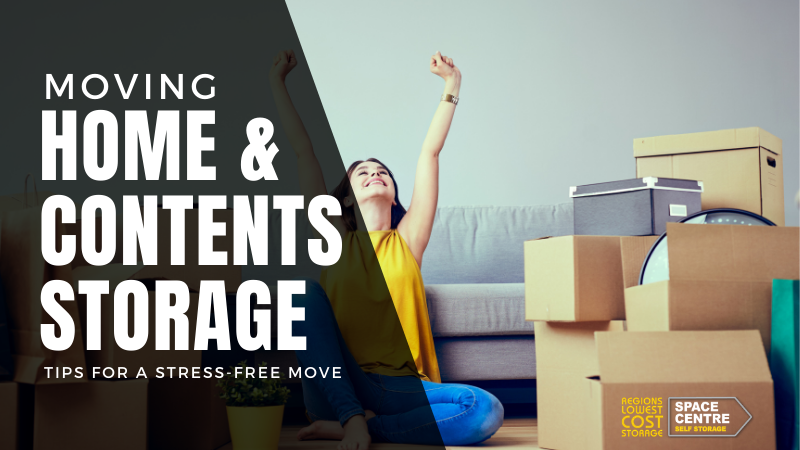 Moving house is said to be one of the most stressful things you'll ever do in your life. The good news is that there are many things you can do to help reduce the stress of moving. From planning, making lists to finding a reputable removals company and home contents storage, this guide can help.
Checklist For Moving House
Trying to declutter and organise your belongings when moving to a new home can be tiring, time-consuming and stressful. This can lead to a variety of mental health issues such as an increase in anxiety or even depression. According to research studies, "more than 1 in 10 people" will experience "a disabling anxiety disorder at some stage in their life".
Moving house can often trigger a number of these disorders which further emphasises the importance of proper planning and making sensible choices. With so much to remember when moving house, checklists can help and here's one to get you started.
What To Do Six Weeks Before Your Move
Confirm your moving date
If you are renting, remember to notify the landlord
Check your home insurance
Get quotes from at least three removal companies
If you have pets, book them into a kennel or Doggy Day Care
Start the decluttering process
Order new furniture or carpets for your new home
Order packing boxes, cases and storage containers
Arrange to redirect your phone
What To Do Two Weeks Before The Move
Start packing
If you need home contents storage, find a reputable storage facility near you
Inform your GP and dentist that you are moving
Notify all your utility companies
Arrange for your post to be redirected to your new address
Cancel milk, newspapers and other daily deliveries
Make a list of people that you need to inform (family, friends, colleagues etc.)
Finalise removal plans
Arrange to collect keys
Inform your bank, the council and your insurance company
Empty your freezer and make sure it's defrosted
Decluttering Tips And Home Contents Storage
Even if you have moved several times before, the stress of moving doesn't just disappear as you probably still worry every time you think about packing up your home. To help reduce your stress during a move, have a look at these useful tips and suggestions, which includes advice on home content storage.
Start Decluttering And Packing Early
Don't leave anything until the last minute as this will most certainly increase your stress levels. Make sure you give yourself plenty of time to declutter, pack your boxes, and arrange any services early on. If you don't have enough space for your furniture, clothing or valuables, home contents storage provide the perfect short-term or long-term solution. Here's what you need to do:
Methodically work your way down the house
Pack up one room at a time
Pack clothes you wear the least so if it's summer, pack all your winter clothes first
Pack the books you won't be reading anytime soon
Organise non-essential kitchen equipment and utensils
Pack important documents including birth certificates, marriage certificates, tax documents and passports
Pack photographs, photo albums and photo frames first
Label boxes with contents and location so you can find everything quickly and easily
Recommended: 'Top Packing Tips Experts Swear By'
Ask For Help
Whether you hire a removal company or your friends and family, getting help is essential in managing moving stress. Ask your friends or family to help pack as it's often more fun and easier for you. Reward your helpers with some pizza, beers or a barbeque once everything is done. If your neighbours offer to help, don't be shy as you'll need all the help you can get.
Use A Professional, Reputable Removals Company
For the most part, you can do a small house move on your own but it's almost always better to use a removals company. You'd be surprised just how much they can reduce your moving stress and anxiety. Most home removals provide a full packing service along with home contents storage facilities but if they don't, companies like Space Centre Self Storage can help. Here's what you can expect from a good removals company like Burke and Wills Removals:
Experienced in moving heavy items to avoid damage to walls and floors
Lift, load and unload boxes
Offer a full packing service to avoid moving stress
Offer to disassemble/reassemble your furniture
Potential home contents storage services
Pack An Essentials Box
In addition to following these checklists and keeping an eye on the next steps, don't forget to pack an essential box. While the contents may differ depending on your immediate requirements, here are some of the more common items to include:
Phone chargers
Chronic medication
Basic toiletries (soap, toilet paper, shampoo, toothbrush, toothpaste)
Shower curtain
Small emergency or first aid kit
Portable tool kit
Flashlight, candles and matches
List of important or emergency contact numbers
Important documents such as medical and financial records, passports, leases
Food and beverage items (snacks, coffee, tea, cutlery, crockery)
Sharp knife and scissors
Change of clothing and towels
How To Reduce Anxiety And Stress When Moving Home
The reasons for moving anxiety may vary but it's mostly the result of unfamiliarity with our new surroundings. Anxiety is often worse when moving with children or pets as there is a lot more at stake than only looking after yourself. Moving can be tough on children as they leave behind friends and the bedroom they feel comfortable and safe in.
It can be even more stressful for teens who are already experiencing age-related issues. Add in a move to a new city or town, and their life can feel a lot more complicated. Here's what you can do to help your children beat the stress of moving house.
Moving With Children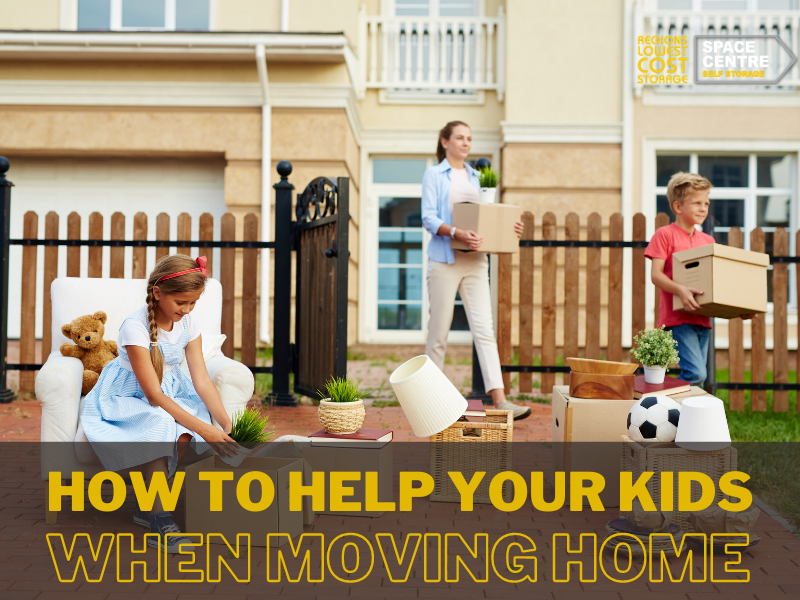 Make sure you communicate clearly so they know what is happening and when. Talk things through and make it clear that you're available to answer any questions they may have. If they're concerned or scared, make sure they know you are there to offer comfort, security and safety.
Try to maintain a routine as it's better for children to have a strict structure in place throughout the majority of the move as it will help them feel more relaxed. Take them to their new home, school and the surrounding areas so they get a clearer picture of all their new surroundings.
For young children, make a game of it as decluttering and packing can be tedious. Get them involved in packing up their rooms and helping with small tasks. Don't forget to take toys and their favourite things with you during the journey so you can keep them entertained.
Most importantly, you need to stay calm as children feed off the energy around them. The calmer you are, the more relaxed and stress-free they will be so it's a win-win in our books.
Tips For Moving With Pets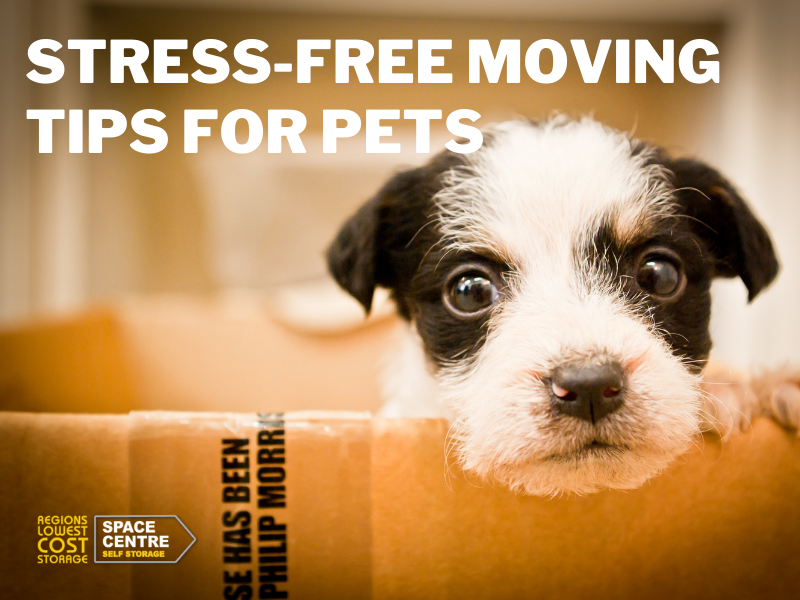 Pets are known to help reduce our stress and anxiety but they can also find a move stressful, especially if you are not calm and collected. Fortunately, there are several ways to ease your pets into the transition and deal with moving anxiety.
Use a diffuser to release calming pheromones
Maintain a routine
Check the new garden for escape routes and dangerous plants
Consider asking a friend or family member to look after your pet on moving day
Create a safe space for them to sit and watch
As you do with children, take your pets to the new home beforehand so they can get a sense of the environment
Remove any furniture that has the scent of previous pets
Keep their favourite treats and toys on hand
Home Contents Storage At Space Centre
There are many different types of storage units and the right one for you will depend on how much and what you are storing. At Space Centre, our facilities in Stroud, Bristol, Gloucester and Stonehouse have units of all sizes at affordable prices with free storage insurance up to the value of £3000.
We have units with drive-up access which make them ideal for home contents storage. For your convenience, we are open during normal operating hours but you also get 24-hour storage access at no extra cost.
Our facilities are monitored by 24-hour CCTV surveillance and alarmed for added safety and peace of mind. We can also provide you with a padlock and you are the only person with a key. To find the right home contents storage unit for you, visit our website, choose your preferred facility and click on the square foot area you think you'll need.