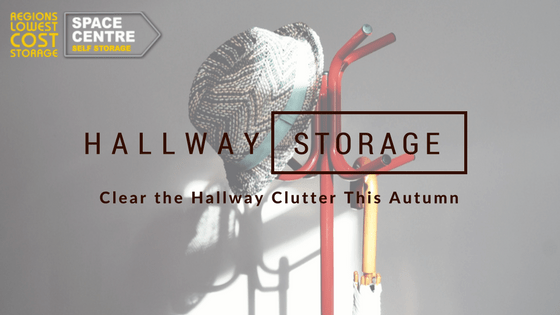 This time of year can get messy with muddy wellies and soaking wet coats piled up on the hallway floor. It tends to be the first thing people see so keeping your hallway organised gives a good first impression and saves space. If you have a mudroom you're certainly one of the lucky ones. For those of us who don't, alternative hallway storage solutions need to be found.
There are in fact many creative, affordable and practical hallway storage ideas for shoes, coats, hats and scarves. You just need to know where to look! We've highlighted some of our favourites to help you get started.
Autumn Hallway Storage Ideas
The Classic Coat Rack
This may seem simple but it's very effective, practical and easy on the budget. The classic coat rack is easy to install, saves floor space and adds personality to a mostly dull entrance way. Take it one step further and add chalkboard labels above the hooks. Big families can organise it by person so everyone has a dedicated hook. Alternatively, label it according to what goes where like hats, coats, scarves or even keys.
Clothes Rack with Plastic tub
Want to take hallway storage to the next level with added space for shoes? Place a plastic tub underneath a small, freestanding clothes rack and line the tub with a towel. Kids can hang up their coats, allowing water to drip into the tubs. Their shoes can also be placed inside the tubs. All that's left for you to do is put the towels in the wash.
Storage benches
Nothing screams practicality more than multi-purpose furniture. Ideal for all your hallway storage needs like coats, hats, shoes and even backpacks. Other clever uses for a storage bench includes blankets, towels, linen or dog leads and toys. Think outside the box and be creative. There are so many simple and creative ideas for hallway storage benches.
Turn an old, cheap cabinet into a stylish storage bench perfect for shoes. Simply place baskets in the open space underneath and then mount hooks above for coats, hats and scarves. The perfect 4-in-1 hallway storage solution.
Combine storage with seating by transforming an old dresser into the ultimate space saver. After all, you need a comfy spot to sit while tying your laces or while you consider going to work.
Spice Racks and Wall Hooks
Don't throw away the old spice rack even if you've given up on cooking. Instead, use it in the hallway to store notebooks, mail or booklets. Moving onto the simple wall hook which must still be one of the most commonly used storage solutions. It serves so many purposes from the kitchen, bathroom, bedroom to the hallway used for coats, hats and even bags. Whatever you can hang, you can store here. Nothing needs to be on the floor except the 'Welcome' mat.
Shoe Storage Ideas
Shoes just seem to appear on the floor out of nowhere and sometimes without the matching one. The ideas we've listed here may seem unconventional but they are all very practical. You just need to find the right solution for your hallway.
Slide shoes into a wooden pallet, TGIF (toes go in first)
Use floating shelves in a spare corner
Store flip flops in folders
Hang your wellies upside down on a coat rack
Organise shoes on a tray and slide it under the furniture
If you have an extra nook in your hallway, use a curtain to hide your shoe rack
You can also attach old wine crates to the wall for shoe storage. Add a lick of paint and you could make it look really stylish. There are some incredibly clever storage ideas out there and we recommend that you pay Expert Home Tips a visit.
Next Level Hallway Storage
One last thing we'd like to touch on is hidden storage. This really applies to those with a staircase in the hallway. Two of the best ideas we've come across are hidden drawers inside each step and a hidden sliding clothes rack under the stairs.
The drawers can be used for anything and everything from shoes, bags, clothes, blankets and toys. With a little bit of creativity, you can make the handles appear as part of the design. No-one will even notice so your space remains decluttered and easy on the eyes.
A picture tells a thousand words which is exactly our sentiment with the hidden sliding clothes rack. Seems like such a simple idea but extremely practical, neat and a great space saver. Take a look for yourself.
If you do run out of space at home and your cupboards look more like a second hand shop, you should consider renting a self storage unit. At Space Centre Self Storage we offer short- or long term options, drive up access, 24 hour security and our prices are guaranteed for 12 months.
Tell us about any creative or interesting hallway storage ideas you've come across or may already be using. We'd love to share your stories with all our readers.