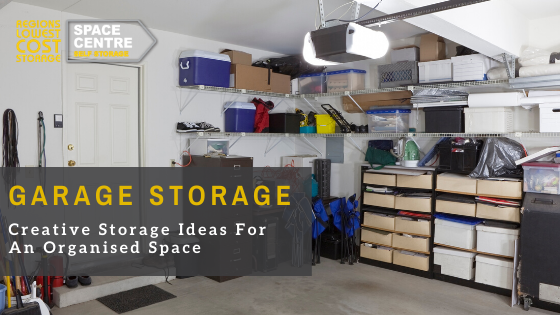 Many will agree that a garage often becomes the dumping ground for nearly everything, whether intentional or not. Between ladders, bikes, boxes, tools and golf clubs, there's usually not much room for anything else. With the lockdown still in effect, and considering you can't really go anywhere, you have more time to spend on garage storage and organising.
Regardless of what is causing your clutter, chances are you are likely not maximising the available space. There is no better time than the present as the weather is reasonable but not quite warm enough to relax in the garden so what can you do? You can also have a functional and clutter-free garage by using these helpful garage storage tips.
Garage Storage And Organising Tips
There are so many home and garden essentials that need a safe place and your house is not always ideal. Things like gardening tools, lawnmowers, garden furniture and outdoor toys need a suitable home and, let's face it, garage storage is the most practical solution. For best results, you should start with a decluttering plan and make sure you know how to pack and store.
Recommended: 'Things To Do During The Lockdown'
Declutter First
Before you can start anything, you need to declutter your garage properly. This means going through everything and throwing out what you no longer need. There are probably many old boxes, files, books, shoes and toys which are only adding to the clutter. Be ruthless when purging your belongings and don't keep things just for the sake of it. If you haven't used it in the last year, you probably never will.
While the lockdown stops you from doing a garage and a car boot sale or visiting a charity shop, you can still sell things online. Place a few items on eBay and let your unwanted goods earn you some extra money. This is an easy solution to counter the travel restrictions which means you have no excuse to start decluttering.
Organise Everything
In light of the decluttering challenge, it's best to organise things into different piles. The number of piles depends on how much you have and how you want to organise things. We refer to it as the five-pile system as it is a more comprehensive approach.
The give-away pile includes items that will go to friends and family
Donations pile is anything you no longer want but could be useful to Goodwill or The Salvation Army
Throw away pile is everything you don't want or need
The Keep pile is everything you want to keep but avoid being sentimental over items you haven't seen or used in a long time
The for-sale pile is optional but worth considering if you want to make some extra money. A car boot sale is a nice idea but not ideal at the moment so the focus should be on eCommerce
Smart Garage Storage Solutions
Not everyone has a garden shed or garage big enough for all the toys, garden equipment, tools and the family car. However, there are several creative garage storage tips to help maximise the available space and these are our top choices.
Durable, Sealable Plastic Containers
Stackable storage bins are quite possibly one of the best garage storage tips for any organised space. They are ideal to separate and organise your stuff while keeping it safe from the elements. Use clear plastic containers to store small items like screws or nails as it makes it easier to see what's inside. You can even make an inventory list, especially if you've got lots to store.
The only downside is that you often stack them to the rafters and against the wall so accessing them can be challenging. A stylish and effective solution is to build your own DIY storage towers to ensure easy access without having to move everything around. Use different colour bins for specific items or simply label each box to indicate its contents.
Magnetic Tool Storage
How often have you misplaced a screwdriver or spanner only to find it months later after buying a new one? Magnetic surfaces are incredibly useful for storing tools as they keep things in one place, easy to see and access.
You can use magnets or magnetic storage for saws, files, screwdrivers, pliers or any other tool made from metal. Another great use for a magnetic tool holder is for storing paintbrushes. It means that the bristles won't get squashed and they will dry easier after cleaning.
If you don't want to drill holes, check out this free-standing tool storage unit ideal for shovels, rakes and brooms. You should be able to find it on Amazon.
Pegboards For Easy Garage Storage
Pegboards have been around for some time and still a handy addition to any organised garage. They are particularly useful if for garden tools, including rakes, spades and pitchforks among others. The small holes allow you to place hooks in specific areas so each item has ample room while being in one place. You can even add baskets, wire bins or shelves onto the pegboard to store other items like power tools or a tape measure. In some cases, people even use pegboards to display plants or decorative items.
Quality Garage Shelving
A garage without shelves or racking of some sort is just asking for trouble. People often quickly accumulate loads of clutter and one of the best garage storage solutions is to add sturdy shelves. These are ideal for paint cans, tools, petrol cans or anything else that would otherwise land up on the floor.
Always make sure to use the right material and supporting brackets so it doesn't break under the weight. Position the shelves at the correct height and not too close to the garage door so you can easily access everything.
Rolling Shelves Or Mobile Work Bench
Rolling shelves can refer to various garage storage solutions, including old wire racks used for shoe storage or in the pantry. Rolling shelves are great for saving space, especially when used in conjunction with normal racks. They also make it so much easier (and safer) to move things around so you re-arrange your garage as you see fit without breaking your back.
Staying with moveable storage solutions, have you considered a mobile work station? Mobility is often the key to a functional garage workspace and not many garage storage ideas are as complete as this. You can get a rolling workbench online or make your own. The possibilities are endless as you can even add built-in drawers for added storage.
Hooks And Brackets
If you're a keen cyclist, you will love hooks and brackets as your 'go-to' garage storage solution. Whether it's one bike or the entire family's collection, it takes up valuable floor space so why not use hanging hooks? Hanging a bicycle from an S-hook in your garage is an easy way to save space but make sure you attach them properly to a strong rafter or stud.
By applying some creative thinking, you can place hooks or brackets on your plywood, against the wall or from the ceiling. Big "ladder" hooks or brackets, for example, can hold several tools with long handles (including ladders) while "ceiling hooks" for bikes also work well on walls.
Recommended: 'Practical And Creative Bicycle Storage Solutions'
Ceiling Tracks For Added Garage Space
We all know how durable, affordable and versatile plastic storage bins are but they're even handier when combined with ceiling tracks. Save loads of space by utilising the garage ceiling for light and medium weight seasonal items. This includes things like holiday decorations, Halloween costumes, camping gear or canoes.
The process involves screwing 2×2 beams into the ceiling using 3.5-inch screws spaced every 2 ft. Use the storage bins as a guide for spacing the 2×2 beams. The lips on the bins should just touch the 2x2s when sliding them into place. Now, make sure that you centre and screw the 1×4 pieces of wood to the 2x2s with 2-inch screws.
Garage Storage For Household Items
Keep an empty corner of the garage open for boxes or bags that will appear once you've decluttered your house. You need enough space for the items you have cleared out from the cupboards and wardrobe and that means clothing, blankets, linen and kitchen equipment. Once more, think about what you can put in plastic storage containers as they will keep things in good condition for longer.
Here are some more incredible tips and handy DIY solutions: '25 Garage Organisation Ideas That'll Free Up a Parking Spot'.
Looking For Affordable Storage Units?
If you are running out of space at home, you should consider renting a self storage unit. At Space Centre Self Storage, our units are clean, dry and secure with many are on the ground floor and drive-up access. We have facilities in Bristol, Gloucester, Stroud and Stonehouse offering free insurance for goods up to the value of £3000.
While the lockdown has affected us, we are open for storage access and staff are available but only on a part-time basis. Please contact us via telephone or our website if you need any advice or would like to know more about our storage units. Not sure what size storage unit you need? Our Price and Size guide will help give you an estimate.