Many of us have a garage but how often do we actually keep a car inside? There are probably garden tools, sports equipment, DIY tools, kid's toys and other bits lying around that only add to the clutter. While garage organising is not a one-size-fits-all project, there are several garage storage solutions that will help make your garage more organised and functional.
Where To Start When Organising Your Garage
It's important not to treat your garage as a dumping ground. With some effort, planning and decluttering, you and your family can greatly benefit from a more organised space. You'd be surprised how much you can get in there when using the right garage storage solutions.
It all starts with putting a plan in place to get rid of everything you no longer need, want or knew you had. If there are belongings you can't get rid of, rather rent a self storage unit than squeeze it into any gap you can find. We recommend setting aside at least a full day or a couple of weekends to get the job done properly.
A great idea is to make decluttering and garage organisation a family project by getting everyone involved. Ask a few friends to help out as it will speed up the process considerably.
Expert Decluttering Tips
Before deciding on the best garage storage solutions and ideas for you, the first thing to do is clear out all the extra junk. Here are some expert decluttering tips anyone can follow:
Don't organise your clutter by adding shelves to simply create more storage as it makes the space appear smaller and adds to the "organised mess"
If you can't throw away a family heirloom, give it to a family member, donate it to charity or place it in self storage
Ditch, sell or donate all the clothes that no longer fit
Unless they are original comic books, first edition novels or something with significant meaning, stop collecting random magazines
Don't let unwanted gifts collect dust either. Why not give it to someone who really wants it or donate it to charity?
Scan confidential documents and invest in digital storage
What Should Be Thrown Away?
Once you've gone through your stuff methodically, sort all the items into three piles: keep, donate or sell, and throw out. Not sure what to get rid of? Here are a few goods or items that should be tossed:
old grocery receipts
old newspapers, magazines and books
outgrown toys
items that are broken beyond repair
expired household chemicals (make sure you follow any special disposal instructions)
anything you haven't used in two years or more
If you struggle to let something go that has sentimental value, either take photos as keepsakes or rent a self storage unit. Whatever you decide to keep, put them in broad categories, i.e. sports equipment or tools, and store them in good quality boxes or stackable storage containers. Don't forget to mark the contents on the top and at least one side. Here are some great garage storage solutions and ideas you can try.
Our Top Garage Storage Solutions
Not everyone has a garden shed or big enough garage to store all the toys, garden equipment, tools and a car. Fortunately, with some creative thinking and choosing the best garages storage solutions, you can maximise the available storage space.
Wire Shelving In the Garage
One of the simplest and most cost-effective small garage storage solutions is to utilise wall shelves. With basic and inexpensive shelving, baskets, and hooks, you can quickly and easily maximise the storage capacity in your garage. Better yet, most of these garage storage racks won't take too long to install.
Garage Storage Solutions for Fishing Equipment
Are you tired of all your fishing rods getting tangled? Here is an easy fishing rod organiser which you can make at home. All you need is a PVC pipe with a 3-inch diameter and a foam swimming pool noodle.
Drill 1-inch holes in the PVC pipe spaced every 4 inches
Cut slits in the foam noodle using a utility knife and spacing them 4 inches apart
Line up the pool noodle on the wall with at least two slits sitting over studs
Pull apart the slits, slide in a washer and screw the noodle to the wall with 2-inch screws
Now, fit the PVC pipe to the wall beneath at a comfortable height and insert your fishing rods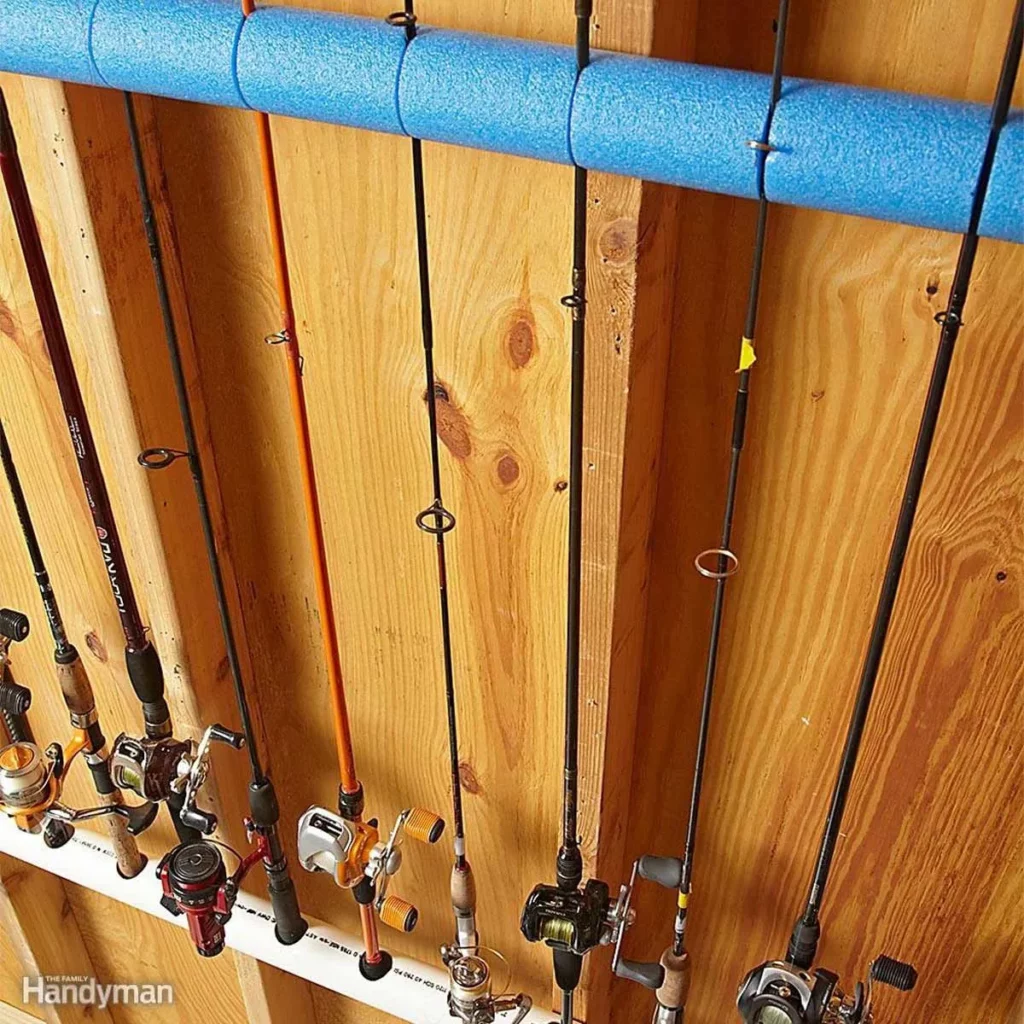 Maximise Vertical Space Using Stackable Storage Bins
One of the best ways to save floor space in your garage is by using stackable plastic storage bins. These are fantastic for separating and organising your equipment by categories, such as sport, home DIY or a specific season. Unfortunately, they are often stacked against a wall which makes it difficult to access the bottom storage bins.
There is a solution in the form of storage towers consisting of separate shelves that provide easy access to all the storage containers. You could even use different colour bins for each category to make finding certain goods a lot easier. Add a few hooks to the wooden frame to create wall-mounted storage space for accessory items.
Garage Storage Solutions for Walls
Speaking of wall-mounted storage, you can mount hooks or brackets to your garage walls to create additional space. The best way to do this is to fit a three-quarter-inch piece of plywood over the drywall or bare studs. This will give you the ability to easily arrange items in a more efficient way without simply adding to the clutter on the floor.
Overhead Garage Storage Solutions
The garage ceiling is ideal for keeping light and medium-weight seasonal items like Christmas decorations, camping gear or sports equipment. Get those big plastic storage bins off the garage floor and onto the ceiling! You can create a basic ceiling garage storage system by doing the following:
Screw 2x2s to the ceiling framework using 3,5-inch screws spaced 2 ft apart
Use the bins as a guide for spacing the 2x2s by ensuring the lips on the bins just brush against the 2x2s when sliding the bins into place
Lastly, centre and fit 1x4s to the 2x2s using 2-inch screws
Using Garage Storage Cabinets
Since a garage is often used as a central holding area for home improvement projects and seasonal gear, extra cabinets is among the top garage storage solutions that can save you loads of space. Whether you buy garage storage cabinets and simply put them in the garage or build your own, there are several options to choose from. Whatever you decide to do, draw up a plan and configure the space by placing masking tape on the wall and floors. This way you can ensure the cabinet will fit perfectly with space to spare.
Install Vertical Garage Storage Solutions
Pegboards may not be new but they are certainly most useful and have become one of the more popular garage storage solutions. They are particularly handy for storing garden tools, such as rakes, spades and pitch forks among others. A pegboard consists of small holes which allow you to select specific areas for each hook or basket. This ensures that you have ample room for each item which means you can remove clutter from your garage while organising it.
Sports Equipment Storage
While being active and playing sport are vital for fitness and overall mental health, sports equipment often find its way on the floor and all over the place. A sure way to keep this from happening is to build a sports storage locker similar to the ones professional athletes use. Although it is ideal for the hallway or entryway, it doubles perfectly as one of our favourite garage storage solutions.
The dedicated space for sports equipment will help keep clutter to a minimum while the open design allows sweaty equipment to air out. Take it a step further and add a personalised name tag to the top of the storage cubby to make your child feel like their favourite sporting icon.
Mobile Workshop With Storage
A mobile workbench is a must if your garage doubles as a parking area and a workshop. It turns your garage into the perfect space for DIY projects while you can easily roll it away in seconds to reclaim the space for cars, boats or bicycles. The one shown below is a standard rolling workshop made from scratch using 2x4s and plywood. Here's a closer look at the plans and instructions to build your own mobile workshop.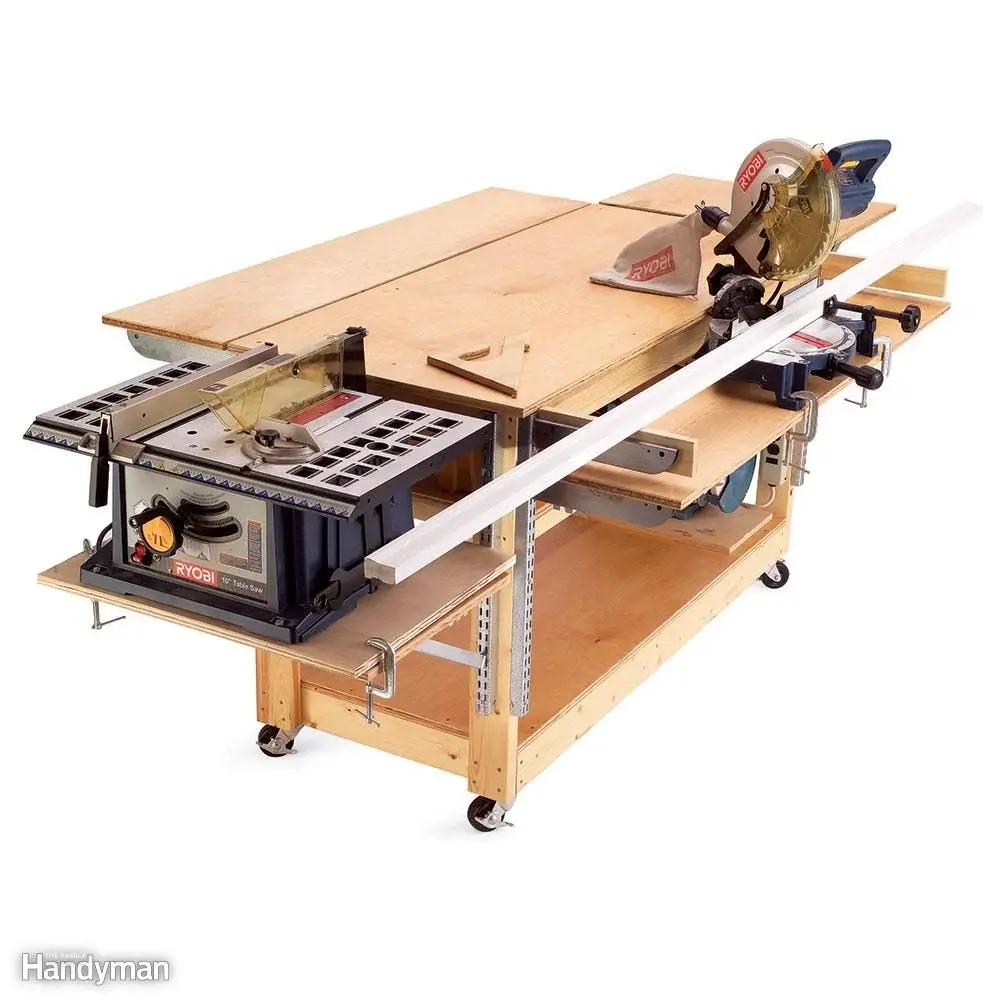 Basic Garage Storage Solutions and Seating
Garage storage solutions don't have to be difficult as there are many creative ideas out there, some of which you can find here. By making a few simple modifications to basic box shelves and by adding legs, you can create an incredible versatility storage seat or bench to keep all your footwear in one place with loads of space to spare.
Magnets For Garage Storage
A magnetic tool holder, which is often seen in a kitchen rather than a shed or garage, could be a fantastic addition to your workshop. It may be used to keep saws, files, screwdrivers, pliers, and other metal tools. A great tip is to use your magnetic tool holder for storing paintbrushes so the bristles won't get squashed while allowing them to dry much easier after cleaning.
Garage Storage Solutions for Bicycles
There is no denying that hooks and brackets are incredibly useful for just anything. From storing bicycles and ladders to garden toys and sports equipment, hooks can do it all and are easy to install. You don't even need expensive, specialised variations as you really only need the simple screw-in hooks.
Considering all the available space, you can use them on the plywood, against the wall or from the ceiling. A great example is using big "ladder" hooks or brackets to store several tools with long handles while "ceiling hooks" for bikes can easily go onto the wall.
Recommended: Bicycle Storage, Cycling Safety and Maintenance Tips
Looking For A Self Storage Unit Near Me?
If your garage is still a disaster, self-storage may be the best option for you. They're particularly useful for keeping seasonal items, bikes, and equipment on hand, especially for the holidays. Some storage facilities provide drive-up access, making loading and unloading larger or heavier things much easier.
Space Centre Self Storage has units in various sizes at highly competitive prices and we don't tie you to long-term contracts. Please get in touch if you need a storage unit for your equipment, tools, furniture or anything else that you can't seem to part with.
If you recently decluttered and have found more interesting garage storage solutions, please share them with us on Pinterest, Twitter or Facebook. For more articles on self storage, home staging, moving and packing tips, decluttering and interior decorating, please follow our blog.