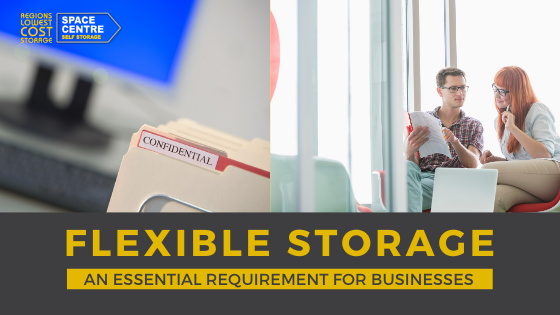 Whether you're a homeowner looking for more space or working for a small, medium or large business, flexible storage is essential. Secure self storage units are ideal when moving home, doing renovations or for various business purposes.
Self storage is the ideal solution for start-ups, growing businesses, tradespeople and online companies looking for a safe place to store stock, equipment, tools, vehicles and personal belongings. In fact, the use of business storage has increased significantly over the last few years, particularly among e-commerce businesses and tradespeople.
Thing is, many businesses don't know the countless benefits that flexible self storage has to offer. They end up renting additional office or warehouse space which is costly and, in most cases, unnecessary. This often involves an expensive deposit and signing a long-term lease on the premises; something that flexible storage is not.
Why Choose Self Storage For Business
Today, storage facilities are widespread due to more competition which means it can help businesses grow. This is mainly due to lower overheads, added security and ease of 24-7 access. Flexible storage opens up so many possibilities for different businesses such as being able to purchase supplies in bulk at a discounted rate which results in larger profit margins while ensuring customer satisfaction.
We've highlighted some of the main benefits.
You can run your business from almost anywhere with a central, low-cost distribution or holding centre
Logistical costs are much lower and you can even set up to collect goods on-demand only
It costs considerably less than renting warehouse or office space
Lower overheads mean you can use funds for marketing, staffing or training
You get to declutter your office while keeping everything safe
Flexible storage rates, terms & conditions with a short notice period
The Convenience Of Flexible Storage For Business
Flexible self storage units are the saving grace for many companies and for many reasons. Some may decide to downsize which leaves them with a space and clutter problem in terms of what to do with the extra desks, chairs and filing cabinets.
Instead of keeping equipment at the office, in the garage at home or selling it (even though you don't want to), rent a storage unit. Most reputable facilities offer a short-term rental period which is ideal when you only need storage for a month or two.
Affordable and flexible storage gives you the ability to safely store documents, surplus stock, equipment or as a central distribution point. If you have sales people who need access to your stock, simply give them a key to the storage unit and they can come and go as they please.
Recommended: 'Can I Run A Business From A Self Storage Unit?'
Increased Productivity With Flexible Self Storage
Think about the average office and how much space is wasted with things you don't need on a daily basis. Self storage is perfect for extra stock, unused furniture and financial or confidential documents you are not allowed to throw out. Tax documents and financial statements are prime examples.
For many people who run a home office or work remotely, a self storage unit becomes a necessity. If your business doesn't require an office area or you work remotely, your garage or spare room is not the place to keep your goods, equipment or paperwork.
Renting a storage unit for all the extras will open up a lot of space at the office. This will help clear the clutter and result in a more productive working environment for everyone.
Cancellation Fees Or Security Deposits
Like renting an office or warehouse space, some storage facilities could also ask for a security deposit but not at Space Centre Self Storage. With that in mind, here is some valuable advice you may find handy when talking to a storage facility.
Security deposits are usually around the same as half a month's rent so make sure you verify the amount. Don't forget to ask them about their terms and conditions on getting your deposit back at the end of the rental period.
For the most part, we can't control what happens in life and sometimes people have to cancel before the agreed-upon date. It is essential to find out a facility's cancellation fees and their policy is on extending your rental term.
Why People Choose Self Storage Space Centre
There are many good UK storage facilities and people are really spoiled for choice. However, remember to read the contract thoroughly as not all facilities charge the same or their policies may.
At Space Centre Self Storage, our customers enjoy full transparency in all communications without any small print or additional charges. We offer FREE storage insurance of up to £3000 and you can use our provider or choose your own. Our prices are guaranteed for 12 months and we don't tie you to long term contracts. There is also no extra if you need a different unit or extend your rental period.
Final Thoughts
Flexible self storage is on the rise in the UK and across the world as office space is becoming increasingly expensive and more people are becoming entrepreneurs. Not only does self storage appeal to, and benefit, start-ups but the cost saving and convenience make it a popular option many established small to medium enterprises.
If you're looking for affordable, flexible storage in Bristol, Gloucester or Stroud, please contact Space Centre Self Storage today. Our friendly, experienced and trained staff are here to assist you in any way they can. They can help you find the right storage unit for you needs while our price and size guide will give you all the information you need to make an informed decision. Please read our blog or follow us on social media for more tips on business storage, household storage, decluttering and home staging among others.