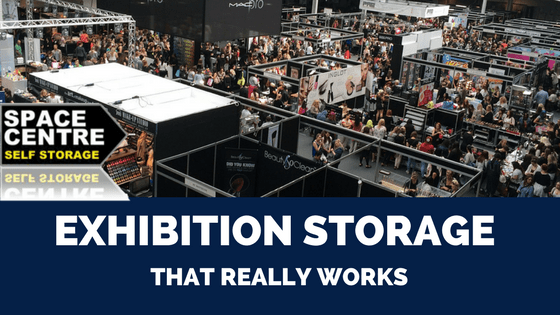 There's no denying that attending exhibitions and conferences are essential for promoting your business, regardless of size or industry. Considering that some events are seasonal and can be expensive, where do you store everything in-between? Tables, chairs, banners, and even promotional items or display stock. Many people hire podiums, tables and chairs but it could cost a lot more than simply renting a storage unit. A simple solution is exhibition storage especially if you attend multiple events each year.
If you're running seminars you may have invested in your own microphone and sound system so where do you store them when they're not in use? Without proper warehouse-type space, it can certainly be a challenge. Things get stacked in offices, closets, on top of cupboards, under desks where damage could easily occur.
There are many reasons why you should use exhibition storage and you'll find our top four tips below.
Quality and Affordable Exhibition Storage
Avoid Damaging Stands, Signs and Banners
The trouble with keeping seasonal items like exhibition equipment in your office is that it could get damaged. If you have additional storage space like an allocated exhibition storage room, you're one of the lucky ones. Even if companies have warehouse space, it may not always be suited for expensive exhibition equipment. The pure nature of packing and stacking in an area intended for bulk storage and distribution may do more harm than good.
Always Ready For The Next Event
Some exhibition stands can be packed up in a few simple steps while others can be left as is. This makes transport and storage a breeze. Storage units with drive-up access are ideal as it allows for quick offloading and packing. The better you pack your storage unit, the easier it is to load up for the next event. Just remember to keep small parts and screws bagged and attached to the corresponding item. You don't want to arrive at the exhibition unprepared and scrambling to find screws or other attachments.
Exhibition Storage is Safe and Secure
Whether you have one or ten stands, these are valuable business commodities that need secure storage. Our facilities offer 24 hour security with around the clock surveillance. You also have the only key so you have exclusive access to the unit. Along with safety comes quality where our units are clean, dry and damp free. Our staff is well-trained and eager to assist in any way and can help you choose the right unit for the job.
Easily Accessible, Cost Effective and Convenient
Depending on your business and how often you attend exhibitions, chances are you may need long-term storage. However, we have very flexible terms and don't tie you to long-term contracts. You only pay for the storage you need, for as long as you need. If your exhibition storage requirements change and you want a smaller unit, we'll simply adjust the contract at no extra charge.
If you do run out of space at the office and need an effective exhibition storage solution, give us a call. We have facilities in Stroud, Bristol and Gloucester. Feel free to pop in for a visit or take the virtual tour.