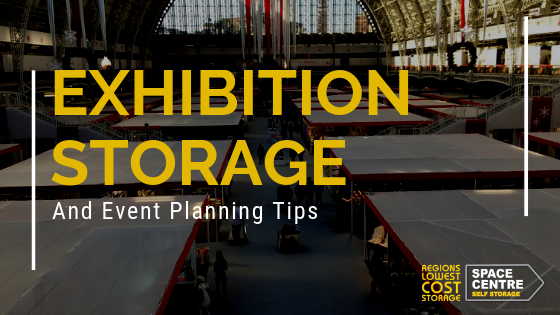 Does your business attend major expos or exhibitions? Then you should consider looking at the best possible exhibition storage solutions and Space Centre can help. Chances are you already have your own exhibition stands and equipment especially when you attend exhibits annually. If you don't, now is the time to start planning in terms of banners, equipment or stock you might need.
Find The Right Exhibition For You
Attending the right exhibition is vital to promote your business regardless of what products or services you offer. Deciding which exhibition is right for you can be challenging so always conduct thorough research before making any decisions. A few basic tips for planning your exhibition include looking at the demographic of people attending and whether they match the ideal customer you would like to engage with.
Once you have created your own shortlist of worthwhile events, calculate the total cost of exhibiting. Besides the price of the exhibition space itself, also include the travel budget and the necessary exhibition equipment. Use that amount to determine how much you need to break even after attending the event. If you cannot afford that amount, perhaps it's time to look for another event, one where you can gain a better return on investment.
While not all events will require the same approach to decision-making and considerations, planning for any exhibition involves a methodical approach. Here is a handy 49-point checklist for planning a successful exhibition.
Put Together A Winning Team
Another area that requires careful attention when planning your exhibition is the event staff. The best way to approach this is to choose reliable, trustworthy and knowledgeable team members. Perhaps your focus should be on who knows the most about the products or services you are showcasing. Remember, the people you choose for your exhibition stand essentially represent your business. It's important that they are professional and knowledgeable but also friendly, approachable and engaging.
Exhibition Stands And Equipment
Once you've chosen the most appropriate exhibit, identify what type of exhibition equipment you need. This will largely depend on how much space you have for the stand and your exhibition budget. A low budget generally means a small stand space which means using items such as printed branded tablecloths, a banner stand or a roll-up banner are ideal.
On a larger budget, you can get a bigger 3m x 4m exhibition stand which requires more branded displays. This often includes a complete modular exhibition kit, banners, posters and pop-up stands for a professional backdrop. There are also several accessories that provide additional assistance such as literature stands and special counters for any size stand. The more eye-catching and professional your exhibition stand appears the more likely potential customers will pop in.
Related article: How to plan the perfect exhibition marketing strategy
Exhibition Storage Solutions
Considering that many events are seasonal, where do you store all the exhibition equipment in between? While some people might have sufficient space at home or the office, it's still not the ideal solution. Think about everything you cart around when attending exhibits – tables, chairs, banners, podiums, sound equipment and promotional products among others. Things often get stacked in offices, closets, garages, on top of cupboards or under desks where damage could easily occur.
Avoid costly damages to your equipment, stock and promotional material by investing in exhibition storage. If you attend multiple events each year, renting a self storage unit is the answer. It's simple, cost-effective and convenient while providing complete peace of mind knowing your goods are secure. Here are some of the main reasons why you should use exhibition storage.
Avoid damaging exhibition equipment
Whether you attend seasonal events or one each year, keeping exhibition equipment in your office could easily get damaged. Not everyone has additional space like a designated exhibition storage room or warehouse-type space. Even if companies have a warehouse, it may not be the best place for expensive exhibition equipment. The nature of packing and stacking in an area designed for bulk storage and distribution may not be the answer.
Always prepared for every event
While some exhibition stands can easily be packed away in a few simple steps, others have to remain as is. This often makes transport and storage an interesting challenge. However, finding exhibition storage units with drive-up access would be ideal as it means quick offloading and packing.
Keeping your equipment and stock in self storage means everything is in perfect condition and ready for the next event. Here are some valuable tips on how to pack your storage unit to make it even easier to load up when preparing for the next exhibition. A golden rule of exhibition storage is to keep small parts and screws bagged and attached to the corresponding item. You don't want to arrive at the exhibition unprepared and try to find screws or other attachments.
Exhibition storage is safe
Regardless of how many stands, banners, tables or chairs you have, they're all valuable commodities that require secure storage. Space Centre Self Storage facilities have 24-hour security with around-the-clock surveillance. You also have the only key which means you have exclusive access to your unit. Safety is nothing without quality and our storage units are clean, dry and damp-free. In addition to quality and security, our staff members are well-trained and always eager to assist in any way they can.
Accessible, convenient and affordable exhibition storage
If your business attends multiple events every year, you may need to consider long-term storage. It's safer than keeping things in the garage or shoved in a corner office while offering real value for money. While many storage facilities offer long-term storage, our terms are very flexible and we don't tie you to long-term contracts. You only pay for the storage you need, for as long as you need. Furthermore, if exhibition storage requirements change and you want a smaller unit, we'll simply adjust the contract at no additional cost.
We can help you find the right storage unit to suit your needs while providing expert storage advice. If you run out of space at the office and need an effective exhibition storage solution, give us a call. We have facilities in Stroud, Bristol and Gloucester. Feel free to pop in for a visit or take the virtual tour.