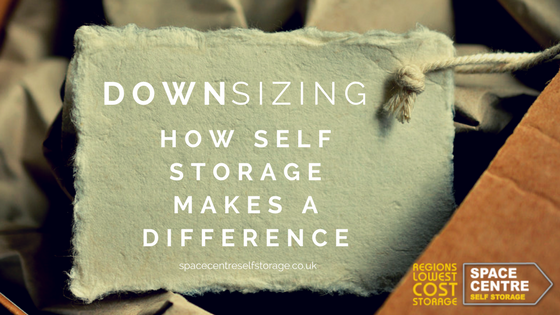 Downsizing has long been considered something people do when they retire. Fact is, the modern-day minimalist way of living is one of the major contributing factors. Downsizing your household is sometimes difficult but self storage units can really help. You get to declutter, organise and safely store sentimental or high valued items without breaking a sweat.
Moving, Downsizing and Self Storage
There are many reasons why people downsize from the housing market crashing, retirement, employment relocation to kids moving out. Many people downsize not because they want to, but because they have to.
In times of financial uncertainty and fluctuating interest rates, people review their needs to see where they can save money. A smaller property will have lower mortgage repayments and cost less to heat, light and insure. For some, maintaining and cleaning a big property could be a strong motivator to find a smaller place. Less time spent on cleaning means more free time for the things you enjoy.
Downsizing isn't cheap and there will be costs involved but proper planning will certainly help. Over the years we acquire more and more 'stuff' where some don't ever see the outside of the box or closet. The more space you have, the more junk you'll find to fill it with. Organising all of that may seem a daunting task but you need to start sorting things long before you decide to move. In some cases, you may even have to move a few things temporarily to increase the saleability of your home.
This is where secure self storage comes in where you can use it before, during and after your move. Some facilities even allow you to change the unit size according to your requirements.
Downsizing Before You Sell
While some are fortunate enough to find a new home immediately, others don't have that luxury. You may need to find a temporary storage space while figuring out what to do with everything or to achieve the selling price you're after. This is particularly true if you need to empty the loft or garage while your house is on the market. After all, you need a secure space to sort through your things without interrupting potential buyers looking at your property.
If you're moving out of a big house, you probably have a fair amount of belongings. Downsizing room by room will help break up the workload and it's best to do one room each day. As you sort through everything, visualise which items will go in particular rooms of your new home and which will go into storage.
When sorting things like furniture, keep in mind the measurements of your new home. Begin planning how everything will fit in your new place and be prepared to get rid of items that won't fit well. The last thing you want is a cluttered, unorganized space, which also applies to your self storage unit.
It's easy to reminisce about things you haven't seen for a while and you could get carried away. You need to be disciplined and set yourself a goal of how many boxes you will sort through and be brutal about decisions. If you haven't used it for years, do you really need it? You'll need to be firm about what you want to keep, throw away, sell or donate to charity.
Make sure you regularly get rid of the bin or sell pile. Don't hang onto it for weeks while you sort through everything else. Getting rid of a small amount at a time is easier and will free up space in your storage unit. You may even be able to reduce the size of your unit and your storage costs as you go along.
What Happens Once You Sell?
No move is ever perfect or simple and chances are you still have things to sort through. If you've got a property to move into, start putting the 'keep' pile into place and continue sorting through the rest. If you don't have a property yet, you may need to move more furniture into your storage unit but don't be tempted to stop sorting.
Once you sorted everything you want to keep and got rid of the rest, it's time to organise your storage unit to maximise space. If you've sorted everything and there are still items that can't be taken to your new property and can't get rid of either, long-term storage is always an option. It may be furniture that will help your children in their first home, or a family heirloom, that can't be sold. If you decide to leave furniture in long-term storage, make sure it is packed properly to prevent damage.
Space Centre Self Storage has secure self storage facilities in Gloucester, North Bristol and Stroud. We have a variety of unit sizes at each site and are happy for clients to change unit size as their needs require. If you need advice about storing your goods, get in touch.