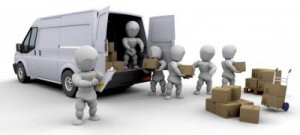 Are you planning to move house? If so, are you prepared for doing the DIY removal or would you prefer to thumb the Yellow Pages and opt for a removal company? If you hire professional movers, they will be the ones who are tasked to do the packing, transportation and unloading of your stuff. Of course, it makes things a little easier when it comes to the big day. All you have to worry about is the cost.
On the other hand, if you are the hands-on type, then you can always do the move yourself
The DIY Removal – Advantages
If you choose to move yourself, there are a number of advantages, none more so than the cost. You get to save a lot of money because you will be only paying for your usage. Calculation of cost will be based on how far you have travelled and the size of van you hire. You can drive the truck yourself and enlist the help of friends and family. It might cost you a pint and a pie when the day is done, but compared to the cost of a removal firm, it's small beans.
In terms of packing, you can pack things according to your liking. All fragile items will be properly taken care of and you know exactly, what item goes in to which box. However, make sure you mark your boxes clearly and don't stack them too high in the van.
Another advantage of this kind of move is that you have a total control on the whole process. You do the planning, the loading, the arrangement of your belongings in the van and the unloading process too.
The DIY Removal – Disadvantages
Now that you have seen the advantages, you should also know the disadvantages. Moving on your own requires a great deal of hard work and honest endeavour. You cannot move on your own without your friends and family. Without help, the moving process becomes sluggish. Moreover, if you have poor planning skills, you will definitely be stressed out after doing the whole process.
Tips on moving yourself
If you have decided to do the move on your own, it is important to be ready. Make sure the truck you have chosen is available and if so, begin to plan the move.
Empty one room as a time, starting upstairs.
Always use durable boxes for better handling and a decent marker pen to help you at the other end.
After packing the boxes, seal them and always label them properly.
If you have fragile items, make sure they are stabilized.
Do not forget to do an inventory of your stuff.
In handling your packed items, be systematic. If you want a specific item to go inside the house first, then load them last. Also, do not forget to put the light items on top of the heavier boxes.
This BBC article has some good advice about preparing for a house move.
Space Centre Self Storage can provide any help you might need during your move. If you need to store some of your belongings ahead of a move and need some advice, get in touch. If the move is due to a downsize but you can't bear to get rid of everything and need some longer term storage, we can advise you on teh best way to store your belongings.