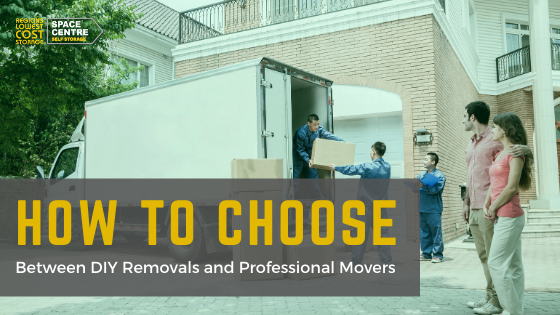 Was your house sale put on hold during the lockdown? Well, there's some good news as things are starting to go back to some kind of normal. Of course, the "new normal" now involves social distancing and wearing masks but at least the day to day things are slowly getting back on track. That is good news for home buyers and home sellers but what is the best option, DIY removals or hiring professionals?
The choice you make will largely depend on the number of belongings you want to transport and your moving budget. As with everything in life, there are always pro's and con's to each option and we're here to help you discover what the best way might be for you.
What Are My Moving Options?
Moving is not an easy exercise as there are so many variables which makes it impossible to provide a simple answer. The only certainty is that moving home is not cheap but it can be good value for money and less stressful depending on what you decide. So what are your moving options?
The total DIY removals option involves packing, loading, driving, and unloading everything
You could pack your belongings yourself and then hire a professional moving company to transport everything
The complete package is when you get a removals company to pack and transport all of your home contents
How To Choose Between DIY Removals and Professional Movers
The way to start is by eliminating at least one of your moving options. Remember, several aspects could be the deciding factor for different people and reasons. Let's look at some of the factors you need to consider when moving home.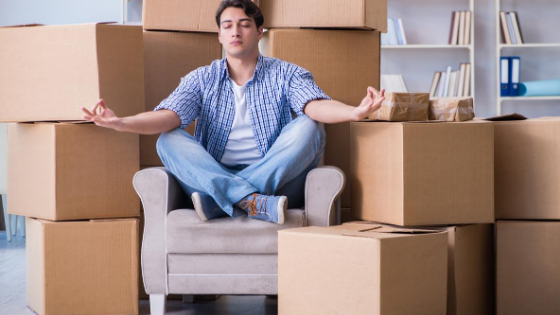 Moving Abroad
If you are moving abroad, especially outside of Europe, DIY removals are not recommended. Whilst not impossible, it's not practical either especially considering the long distance and the real possibility of damaging goods in transit. At this point, you should probably not pack everything yourself either and rather enlist the help of professionals.
Expensive or Fragile Goods
When you pack valuable antiques, fragile or very expensive items yourself, you will not be insured by a removals company. If insurance during transport is a non-negotiable, you're better off getting the removals company to pack and transport your belongings. You can do a DIY move but only if you are prepared to carry the risk of packing and moving expensive items.
Recommended: 'Packing Tips For Antiques Or Breakables'
Moving Big, Heavy and 'Special' Items
Another consideration is the physical size and the number of items and boxes you are moving. If you have loads of heavy boxes and several furniture pieces, it's best to avoid full DIY removals and opt for a professional like Burke and Wills Removals.
When you have items such as a grand piano, sculptures or pieces of art, definitely avoid DIY removals and a normal moving company. At this point, you should find a moving company that specialises in transporting high-value items as they will have the necessary experience and equipment.
This section also covers whether you are physically able to move heavy boxes or furniture. If not, full DIY removal is not recommended and you should choose a professional company to help you pack, transport and unload.
No Easy Access
Moving into or out of a big house is one thing but what about a small flat on the third or tenth storey? This is a serious consideration as you may be able to pack things yourself but if you have any access issues you should hire professionals. They will have the manpower and even hoists to ensure your belongings are moved and unpacked safely.
Budget Constraints
Hiring a reputable moving company can be expensive as you are paying for their expertise, equipment, vehicle and manpower. If you have a small budget and a large amount of stuff to move, you probably won't be able to use a professional mover.
You could find a Man with a Van or ask your friends and family to help but this is normally a better option if you don't have too much stuff. You can always request an estimate from the moving company to find out what your budget can cover.
Also, if you are putting some stuff into a household storage unit, use our Price & Size Guide to find out how much space you need. We compare storage unit sizes to vans so which makes it easier for you to gauge what is required.
What You Need To Know About DIY Removals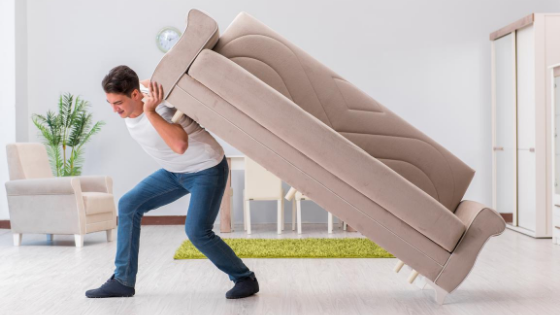 DIY removals can be slightly cheaper as you pack and transport everything yourself but it depends on what you want to move. If there's no furniture and only a few things that can safely fit into your vehicle, DIY removals will be the cheapest option but not without stress. Here are just a few things you need to keep in mind:
Buying the right packing materials and enough boxes
Dismantling and reassembling furniture and appliances
The effort of manoeuvring furniture and boxes
The risk of injury when moving heavy, awkward and large items
Driving an unfamiliar or large vehicle on new roads whilst navigating parked cars and traffic
Having to pay an insurance excess on the hired vehicle in case of an accident
Items you packed yourself but transported by a removals company are often not covered by their insurance policy
Recommended: 'Moving Day Tips And Tricks'
What About Professional Moving Companies?
Using a moving company may cost more but can you put a price on a long-term injury sustained during a DIY move? It could mean staying off work for some time which is not an ideal situation. Here are some of the many benefits of using a professional removals company:
Ensures a stress-free home move
Goods are professionally packed
The entire packing and moving process is so much quicker
They find and use the best packing materials
They have the proper equipment
The removal company is responsible for any damage that may be caused to your property and any associated costs if the removals vehicle is damaged
No more struggling to get large pieces of furniture through tight spaces or down the stairs
No risk of personal injuries
Reputable moving companies will provide insurance for your goods whilst being moved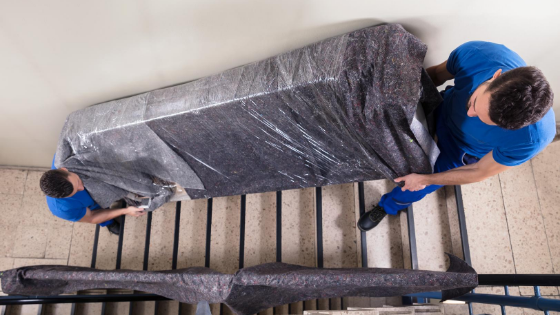 Related: 'Should You Hire A Storage Removal Company?'
What's The Verdict?
Professional movers seem the least stressful if you can afford it and especially with a large amount of stuff and awkward items. The risks may be small but don't ignore potential damage to your possessions so make sure your insurance covers the move as well. Where possible, speak to the moving company and ask if they could include insurance as part of your quote.
DIY removals have its merits especially if your budget is limited but it involves doing a lot of work yourself. Even if you asked friends and family to help, what if they don't show up? Hiring people to help could cost you £40 an hour.
The choice is ultimately yours and as you have learned from this article, there are quite a few things you need to keep in mind. Use this guide to make the call that best suits your needs, budget and timeframe.
Affordable Household Storage Solutions
Many removal companies also offer storage but it's nearly always cheaper to organise your own. If you do you need a safe place to keep some of your belongings whether short-term or long-term, Space Centre Self Storage can help.
We don't tie you to long-term contacts and there is no fine print or hidden costs. Our prices remain the same for at least 12 months and you can store with us without having a minimum rental period. Our units are clean, damp-free, secure and accessible storage with facilities in Gloucester, Bristol, Stroud and Stonehouse.
Please visit our website for more information or contact us today to reserve your unit. Remember, we are open for access 24 hours a day with many units on the ground floor for easy drive-up access.