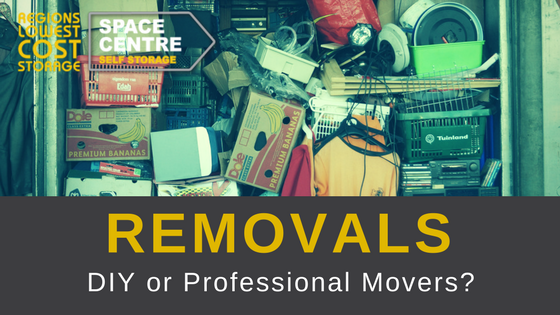 There are many reasons for moving house or business premises but only two real options for removals. Choosing a professional company or doing it yourself is entirely your decision but there are pros and cons to consider. Be sure to carefully evaluate both options before making your choice.
Choosing between a DIY move or hiring a professional company is not an easy decision and is usually based on time versus money. Hiring a removal company may generally save you time but there are additional costs involved whereas moving yourself will save you money but will be more time-consuming. Other issues that may affect your decision could be the distance between the properties and the number of items to be moved.
You should never underestimate the amount of physical and mental organisation it takes to move. Packing up boxes is one thing, but transporting them from A to B, is a different story. It can be extremely exhausting, especially if you're on a tight deadline to vacate your old property.
DIY Removals
Most homeowners choose this route when looking to cut costs after purchasing a property. Even though you are more likely to save money, make sure you can perform a solo house move without creating more unnecessary stress. The first thing you have to bear in mind is that DIY removals are not suitable for moves that take place over long distances. International moves should especially be done by professionals considering the long distance and possibility of damage in transit.
If you have a smaller vehicle, you may need to do countless trips back and forth and are you really prepared to pack everything yourself? It may be best to hire a vehicle better suited for removals and enlist the help of family and friends. Added benefits of DIY removals include packing items in your own time, safely handle fragile items and know exactly what goes where. You can also work according to your own schedule but on the day of the move, you must be prepared to do numerous trips.
Tips for DIY Removals
If you decided to do the move on your own, it is important to be ready. Make sure the truck or van you hired is available and if so, begin to plan the move.
Start upstairs and empty one room at a time.
Always use durable boxes or plastic containers for better storage and handling.
Remember to label everything using a decent marker to help you at the other end.
If you have fragile items, make sure they are properly packed. Here are some excellent packing tips for antiques or breakables.
Do an inventory of your stuff and make notes on where you packed everything.
Using a Professional Removals Company
When choosing a removal company, you need an option that will not only suit your budget but your moving schedule too. In addition to transporting your goods, many moving companies offer different levels of service. Some offer to pack your belongings, load boxes and furniture, as well as unpacking.
To get a clear indication of costs, make sure you get at least three quotes from reputable removal companies. It's vital to state all your moving requirements upfront and include all the required details of the logistics.
After an initial evaluation of your move, the company will present you with a quote for consideration. Once accepted, a date can be set and your moving can begin. On the day of your move, the removal company will send a team to prepare your belongings for transportation and a truck will arrive to load everything. They then make their way to your new premises where all the unpacking and arranging begins.
Conclusion
If you have a substantial amount of stuff to move and you are pressed for time, this may be the only available or practical option. Many removal companies also offer storage, but it's nearly always cheaper to organise your storage privately.
Hiring a professional company definitely seems the least stressful way to move if you can afford it but don't ignore the risks. Damage to your possessions is a real possibility so make sure your insurance covers the move. If possible, try to include insurance as part of your quote.
Once everything is packed, moved and delivered, you might be left with a few extras. If you don't want to get rid of anything just yet, consider renting a self storage unit short- or long-term. Space Centre Self Storage has secure self storage facilities in Gloucester, North Bristol and Stroud. Get in touch if you need advice about storing your goods and to find the right solution for you.