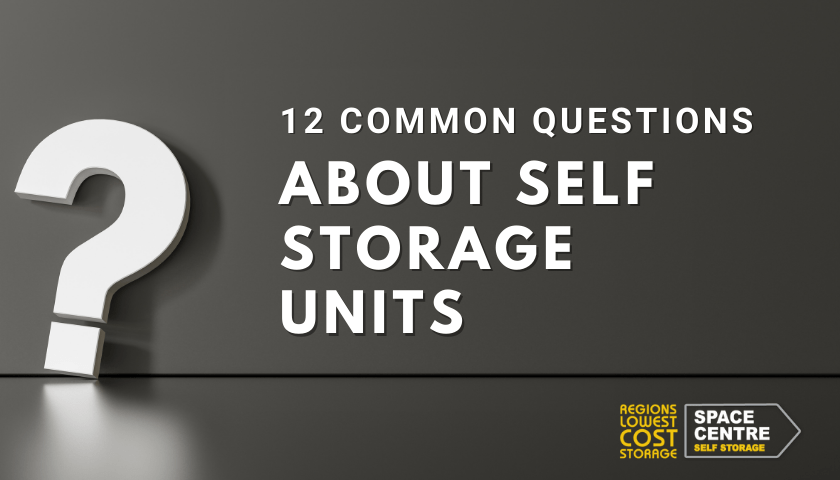 Everyone has different storage needs, whether it is moving house, downsizing, retiring, antiques or business purposes. Self storage is one of the most convenient and affordable ways to free up space at home or the office, but there are some common self storage questions that people often ask. To help you understand what to expect, how it all works and more, here are some of the most frequently asked questions (and answers) about self storage units.
What is Self Storage?
For those new to self storage, it is a way to safely store your belongings away from your own property. Self storage units are like garages for your stuff, but you pay to stay. Storage facilities often offer on-site packing supplies or moving assistance along with many other amenities.
Can I Store my Stuff Short-term?
At Space Centre, you have the choice of long-term or short-term units and do not tie you into a minimum length contract. You are also free to move to a different size unit if your storage requirements change, providing a storage unit is available.
How Secure are Self Storage Units?
Most storage facilities should provide 24-hour security whether it's CCTV surveillance, access control gates or security guards. All of our storage facilities are fully managed during office hours with CCTV and smoke detectors.
Is There a Difference Between Indoor and Outdoor Self Storage Units?
Outdoor storage units are typically located on the ground floor with most having drive-up access. This makes loading and unloading your belongings much easier as you can park your car or van right outside. Indoor storage units are inside the property which means you have to access the building to get to your unit. Some indoor units may be on the ground floor but at bigger centres, you are often required to use an elevator.
Can I View A Storage Facility and Unit Before Booking?
Most self storage facilities will allow you to look at the premises and storage unit during regular business hours. At Space Centre, you can schedule a tour at any one of our facilities between 9 am and 5 pm from Monday to Saturday.
What Can I Store?
Most storage facilities follow the same rules to ensure the safety of staff, customers, the premises and the belongings inside other units. You can store anything from furniture and clothing to toys, books, glassware, antiques, garden tools, sports equipment, bicycles, cars and motorbikes among others. At Space Centre, you are not allowed to store the following:
Food or perishable goods
Pets
Combustible or flammable materials and compressed gas
Toxic or hazardous materials
Illegal substances, items or goods (drugs, weapons, ammunition, counterfeit tobacco, cigarettes, or perfumes for example)
Can I Sleep In My Storage Unit?
It may sound like a silly question but there are instances where people have been found staying in their units overnight to save on living costs. Storage facilities do not have residential permission so not only is it illegal but it is also unhealthy and dangerous.
Can I Use My Self Storage Unit As An Office?
While there are certain circumstances where you can, it's more common with business storage units at newer facilities in big city centres. They often have a dedicated reception area with Wi-Fi and other amenities which, of course, will impact the cost of the self storage unit. Even if you can't run a business from a storage unit, there are several ways it can benefit you as highlighted in this article.
Do I Need Self Storage Insurance?
Self storage insurance is not a legal requirement if it is stated in your contract that you have declined to insure your belongings. However, we highly recommend that you take out storage insurance as do the SSA UK as it not gives you peace of mind but it also protects you and the facility should something go wrong, such as flooding, fire or in the rare case of theft.
If your belongings are worth storing, then they are worth insuring. At Space Centre, we provide free insurance up to the value of £3,000 but if your items exceed that value, you need to take out an additional policy. Besides adding it to your household insurance policy, you can find good insurance providers such as Insurastore, Surewise and Park Insurance.
Can I Give Someone Else a Key?
The answer to this self storage question depends as not all facilities follow the same rules. Many companies don't allow sharing of self storage units as you are the sole person named on the agreement. However, considering you are the only key holder, the choice is ultimately yours. Here's why storage facilities prefer having one person as a tenant.
How Often Can I Access my Storage Unit?
Some self storage centres will allow you 24-hours access but some may not. However, you will be the only person with a key so if the centre is accessible, you will be the only one able to get in. You will often have to pay a premium for 24-hour access so make sure you choose a reputable storage facility with excellent on-site security.
As storage facilities offer different access hours, it's best to discuss this with the manager. Unmanned storage facilities may offer 24-hour access to all units with the downside of not having anyone there to assist should you need it.
How Do I Find a Self storage Facility Near Me?
Wherever possible, try to look for a storage facility close to your home or office to minimise travel time. The easiest (and fastest) way to find a self storage facility near you is by doing a Google "near me" search. If you have not done this before, go to Google or any other web browser, enter "storage units near me" into the search box and wait for the results to appear.
For more information about our facilities in Bristol, Stroud, Cheltenham/Gloucester and Stonehouse please visit the website. You also have access to our easy-to-use Price & Size Guide that will help you determine how much space you actually need. For all the latest self storage news, packing and moving tips, please follow our blog and join us on Twitter, Facebook and Pinterest.