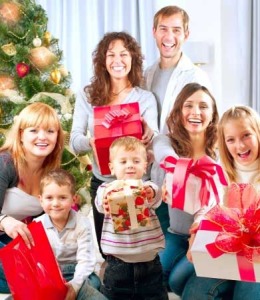 It seems that Christmas storage for unwrapped presents is becoming increasingly difficult every year. With only a few short weeks until Christmas, your partner and the kids are probably getting curious about their presents. Keeping them hidden is always a challenge as it seems children are masters at finding things they aren't supposed to!
Considering there are only so many hiding spots at home, you'll have to get creative and find more ways of keeping Christmas presents out of sight and out of mind. If you are running out of secret places to store them, or have large and awkward shaped presents, maybe these Christmas storage tips can help.
Where Not To Hide Christmas Presents This Year
Kids between six and 14 years old are predictable when looking for presents when your back is turned. Some of the obvious places to avoid storing Christmas presents include the following:
Under the bed
In or on top of parents' wardrobes
Under the stairs
Under their own bed
Inside the kitchen cupboards
Behind the sofa
Parents' chest of drawers
The airing cupboard
Their own wardrobe
For some parents, the answer is to move things from one place to the next place hoping to outsmart the gift hunters, but this doesn't always work. Why not try some of our favourite secret Christmas storage ideas?
8 Christmas Storage Ideas For Presents At Home
There are Christmas storage solutions all over the house and maybe even elsewhere, but what are the best ways to hide presents? Of course, you could store them at the home of a friend or family member but if it's a close relationship, they may be visiting that person's house before Christmas.
Here are some tips to help you, even if it's in and around the most commonly known places. With a bit of creativity, you may just come out on top.
Old Christmas tree or decorations box
Inside mislabelled boxes called "Tax Receipts" or "Miscellaneous Stuff"
The laundry basket
Under the floorboards
The tumble dryer
Inside rolled up socks
Behind books
Behind the bath panel
Hiding Small Presents
One of the best ways to hide small presents is inside rolled-up socks, in the laundry basket or behind books. Kids seldom pay too much attention to washed or folded laundry, not to mention a bookshelf. If you can fit their present into a rolled-up sock or hide it underneath clothing or linen in the laundry basket, chances are good they won't find anything.
You can also use other places that may seem obvious but these are areas that the kids are highly unlikely to investigate. For slightly larger presents, hide it behind the bath panel, underneath the floorboards or inside the tumble dryer with some laundry to make it even less obvious.
Our favourite Christmas storage tips for presents are using purposefully mislabelled boxes and old Christmas tree or decorations boxes. Put these in the garage, shed or loft and if you label it accordingly, they won't even think twice about checking the contents.
Christmas Storage At The Office
The office is another great idea for hiding Christmas presents away from home, as long as you have somewhere secure to keep them. Don't risk leaving it at work if you have a big shared floor space with no lockable furniture. However, if it's your office building or you have an office with lockable cabinets, it could be your best bet, especially for bigger items.
Hide Christmas Present In The Garage, Shed or Loft
While many people think it's safe to store Christmas presents in the garage, shed or loft, that's often not the case. We're not just talking about the kids finding things either but also keeping in mind dust, moisture and insects. If you are going to use these areas, make sure nothing can get damaged and think about how your parcels can blend in with everything else.
Think about the point above using old boxes of decorations, books, files or tools. Don't leave new carrier bags and shiny boxes as these will immediately draw attention. You can also wrap presents in old curtains, sheets or black bags.
Storing Christmas Presents In The Car
Another popular Christmas storage tip is to keep presents in the car but this also needs careful planning. It may be great for the last minute things just before Christmas but not for keeping things hidden long-term. The kids will be in and out of the car for various reasons so a good place to keep smaller items would be inside the 'emergency' box in the boot or under the spare tyre if there is space. If you have two cars and the kids tend to travel more in one than the other, then the second car could be used for longer-term Christmas storage.
Need Help Wrapping Odd-Shaped Christmas Presents?
While some presents are easier to wrap such as jewellery, books, clothes and gaming consoles, others prove challenging even for seasoned wrappers. If you have to wrap things like rugby balls and stuffed toys, watch this handy 'how-to' video that works for almost any awkward shaped Christmas gift.
Renting A Christmas Storage Unit
As good as these Christmas storage ideas may be, the most secure place to hide Christmas presents is inside a self storage unit. You can rent a small storage unit for bicycles, electronics or sporting equipment while a storage locker is ideal for smaller items. Don't forget about self storage insurance!
The process couldn't be simpler as you buy your presents, store them in a self storage unit and have the luxury of wrapping everything undisturbed and in your own time. A few days before or on Christmas, simply load up your car and take everything back home.
Storage units are available in all sizes so whether it's just a few presents or enough to fill up a room full, there will be a unit for you. Consult our Price and Size Guide for a good indication of the size unit you may need and contact us if you have any questions.