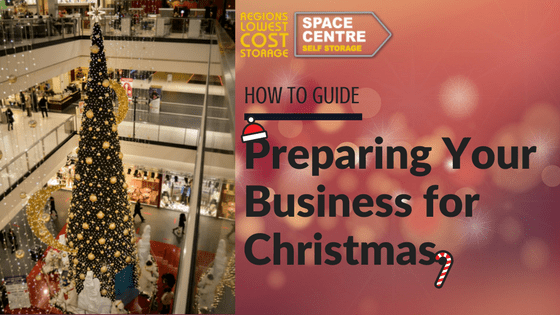 Christmas is a busy period for many businesses and for some, it can be quite a stressful affair. Preparing sufficient business storage is essential as it helps reduce stress so you can enjoy the festivities.
Can you believe that we're almost halfway through November and with it comes decorations and Christmas lights all over the country? This signals the true start of Christmas but most of the seasonal preparations have already been underway since September. With planning and business storage in mind, we've listed a few essential pointers to ensure you have a Merry Christmas.
Business Storage Solutions for Retailers
When a business faces Christmas stock problems, self storage is often the best solution. The flexibility alone allows a business to respond easily to seasonal demands, like extra Christmas stock and taking advantage of bulk ordering discounts.
Retailers typically order their stock months in advance, estimating what trade might be like. As with everything in life though, not all plans work out. Sometimes things just go wrong like goods arriving when they are least expected. What do you do if your stock arrives long before you have space to store it?
Many retailers have made the move to business storage units for their surplus stock all year round while others choose self storage only when demand requires it. Christmas is a good example of this but don't forget about New Year's where some businesses use their storage units for decorations, promotional items and leftover stock.
If you're a retailer also doing Christmas Markets and Fairs, there are a few things you need to consider when preparing your business.
Flexible Trading Hours and Suppliers
Not everybody shuts down completely over the festive period but many do and some have reduced or restricted hours. Make sure your customers and clients know your store's opening hours and also when you will be at the Market. Last thing you want is customers arriving at the Market while you're busy setting up or completely on the wrong day.
Your operating hours should be flexible to cater for their seasonal demands. Letting your customers know when you are open well in advance means they can plan their shopping sprees accordingly.
What about your suppliers? Be sure to know their trading times especially if you need to get extra orders in early. Same applies when you're using a self storage facility as not all of them are accessible 24 hours, especially over Christmas. If you need stock, the last thing you want is to find a locked gate with no access to your goods. Being prepared is the secret to everything, especially when it comes to seasonal business storage.
Hire Seasonal Staff
Do you usually require additional staff over Christmas? Some businesses tend to use part-time employees every year to ensure customers experience the best possible service. This is the 'silly season' after all and your customers will expect nothing but the best. Instead of overworking your permanent staff, prioritise duties and plan their workloads to avoid burnout. Even if you only hire additional staff to help with stock take, window displays or manning the cash registers.
Don't forget to include some refresher training courses if necessary and make sure everyone knows all the specials. Having all hands on deck means happier customers, better business and a very Merry Christmas.
Update Storefront and Website
Don't be afraid to go big with a Christmas makeover. People love the festivities and everything that goes along with it. The more 'Christmassie' your store, the more people will show interest. Happiness is contagious so turn your shop into Santa's Den with staff dressed up and decorations from wall-to-wall.
The same applies to your website or eCommerce store. Optimise your website by implementing good SEO and perhaps a Pay Per Click (PPC) campaign. This time of year people are bound to search for Christmas related words or phrases. Remember, it's not just about making it eye-catching and interesting, it's about being found more often by more people. Using the appropriate content with good keywords and phrases means online searches will yield better results. Just make sure your website mobile-friendly as this is a deciding factor for many online visitors.
Excess Seasonal Business Storage
Have you thought about what you're going to do with excess or leftover stock? Some people might be tempted to store everything in the garage but this is exactly what you shouldn't do. Don't be penny-wise and pound-foolish. Improper handling and storage can lead to damage where replacing stock can be far more costly than renting a storage unit. Using a quality business storage unit means your stock is kept in excellent condition. And if you planned well by ordering the right stock, you could use most of it again next year. Be smart and find the best seasonal storage solution for your business.
With over 20 years' experience in self storage, we can help you plan ahead. Give us a call if you need help choosing the right business storage unit for you. Our facilities are in Stroud, Bristol and Gloucester with 24 hour security, drive-up access and flexible terms.