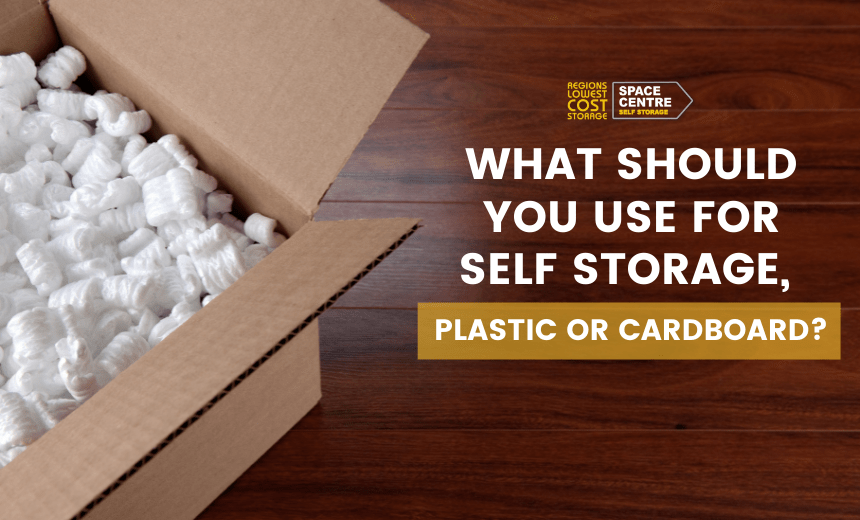 Boxes come in various shapes and sizes and choosing the right containers for self storage may be more important than you realise. Getting organised and storing items involves more than simply putting things inside boxes. You must think about how much storage space you need, the appropriate storage conditions and the type of box best suited for your needs.
Today, we share some valuable tips on choosing the right containers for self storage, how to pack your things and what to avoid.
Finding The Right Containers For Self Storage
The self storage boxes you choose can have a big impact on how you get organised and how well-kept your items will be. So it's important to choose the best containers for self storage as they come in different sizes and materials, each with an intended function.
When finding containers for self storage, it's best to only use a few different sizes with lids to prevent dust and rodents. Sturdy boxes with lids are also best for stacking but make sure they can handle the weight of the contents and what you stack on top. Strong plastic tubs or boxes may work out better if used at the bottom of stacked piles.
Cardboard Self Storage Boxes
When it comes to cardboard boxes, people automatically think of the normal corrugated ones but there are several different types you can use. Whilst cardboard boxes are tremendously versatile and quite sturdy, they're not always the best choice containers for self storage long-term. However, if storing the right items in the right boxes, and in the right conditions, these boxes should be just fine.
Types Of Cardboard Boxes
Folding cartons (paperboard carton) boxes are commonly used for retail items. As they are thinner compared to most other storage boxes, it's best to use them for smaller items or to keep things separate from other items in larger boxes. Considering they are very collapsible, you don't want to use them for stacking or storing heavier items.
Rigid boxes are thicker, stronger and won't collapse easily so people often use these to store items of higher value. If you've purchased an iPhone recently, that box is one such example.
Corrugated cardboard boxes (brown cardboard boxes) are the most common with moving home, self storage and shipping. It's no surprise as they have a larger capacity and are sturdy due to the layers. You can get either a single-ply box or the much stronger and sturdier double-ply box.
Why You Shouldn't Use Cardboard Boxes For Long Term Storage
To store cardboard boxes properly, it's important to know all the problems you would normally associate with cardboard. Here are three of the most common cons of using cardboard storage containers for self storage (long-term)
They break down much faster than plastic and is more susceptible to weather conditions, such as heat and humidity
Cardboard takes age quicker so if you use them for long term storage, your items are unlikely to remain in perfect condition
Bugs and rodents are especially attracted to cardboard boxes and their contents. Considering they are not as sealable as plastic storage boxes, your items are at higher risk of damage
Plastic Storage Bins
Whilst cardboard boxes are a popular choice, plastic storage bins are better containers for self storage. They're easily stackable, can better protect your belongings from moisture, heat, and anything else that might be trying to get inside.
Another benefit is not having to worry about packing tape since most plastic storage bins have sealable lids. They are more expensive than cardboard boxes but because they are so strong and durable, it's an investment you can't ignore.
If you are opting for short term self storage, you can settle for cardboard boxes especially since you can't break down plastic containers when they're not in use. However, if you are keeping things long-term, you should really use plastic storage boxes, especially if it's not a climate-controlled unit.
If you're looking for the best places to buy plastic storage boxes, try Argos, B&Q, Wilko, or the Plastic Box Shop.
Specialty Containers For Self Storage
When storing items that are particularly fragile or valuable, you should consider using specialty boxes. They are specifically designed to safely store specific types of items such as dishes, holiday decorations, art and television sets. You can find specialty boxes in either cardboard or plastic varieties.
One of the biggest benefits of specialty boxes for self storage is that they make it so easy to pack difficult items. They often come with inserts that will help keep items from moving and shifting around. It's true that they are a bit more expensive than other containers for self storage but they offer added value, convenience and security. It's a no-brainer, really!
Tips For Packing Your Storage Unit
To help you keep everything organised and in excellent condition long-term, we've listed a few important self storage tips you shouldn't ignore.
When storing household items, collectibles or antiques, protect everything using blankets, bubble wrap or special packing paper
Keep heavy items at the bottom and lighter items at the top
Never overfill boxes as it will be difficult to carry and transport
Label everything and keep an inventory list so you know where each item is stored
Leave a walkway if you are using a large storage unit so you can easily access boxes at the back
Stack boxes on the floor or on racks to free up space and make it easier to find what you are looking for
Where possible, dismantle furniture to save space. Remember to keep the screws, nuts and bolts in a plastic bag taped to the corresponding item
Where To Find A Good Self Storage Facility
With decades of experience in the industry, we can offer expert advice on just about anything storage related. At Space Centre Self Storage, we have a wide range of ground floor or first-floor units ideal for loading and unloading larger items.
Our facilities in Bristol, Stroud, Gloucester and Stonehouse are fully alarmed with 24-hour CCTV. You can also access your storage whenever you need to within our opening hours. With no deposit or hidden extras, affordable flexible terms and no long-term commitment needed, why choose anyone else?
If you would like to reserve a storage unit please contact us at any of the branches by phone or on the website. Our friendly, experienced staff are here to give advice on containers for self storage, packing tips, storage insurance and more.