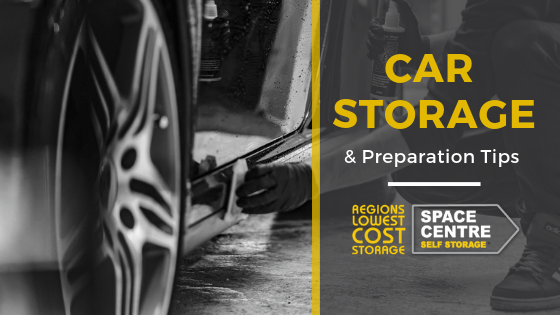 Car storage is an interesting topic of conversation especially for those who collect and restore classic cars. For the most part, people drive these collector's items only a few times each year, especially in summer, and require a safe and convenient location. On the other hand, many people also store their cars when going away on holiday or extended business trips.
Besides your house, your car is likely the next most expensive asset and needs to be looked after properly. If you barely drive your car, why risk leaving it parked in the driveway or on the street? Not only does it tempt would-be car thieves but it also leaves your car exposed to the elements. In this article, we take a look at the benefits of car storage and how to prepare your car.
Long-term Car Storage
While many people have enough space at home or in the garage, others have to make alternative arrangements. Of course, you can use a car cover but how effective is it against the elements? Wouldn't you rather have complete peace of mind using a car storage facility?
There is a big difference between not using your car for a few days and not using it for several months. To ensure your car is in tip-top condition all year round, you must prepare your vehicle for long-term storage. While there are loads of tips out there, follow these basic maintenance and service tips to help protect your car.
1. Car Registration And Insurance
Make sure to renew your vehicle's registration if it expires while in storage or set a reminder to do so when it is due. Don't forget to contact your insurance company to inform them that you are using a car storage facility. Before signing off on anything, confirm that your existing insurance policy fully covers your car.
2. Keep Everything Lubricated
Cars have numerous moving parts and we're not just referring to the engine. Before storing your car long-term, make sure you oil the hinges of the bonnet, doors and boot. You should use a graphite-based lubricant for locks and silicone or white lithium grease for rubber parts on the doors and tyres. This helps prevent them from freezing shut and prolongs their lifespan saving you more money in the long-term.
3. Preparing The Exterior
In the same way you clean your furniture before putting them in self storage, the same applies to your car. Use quality car care products to wash, buff and wax your car before covering and storing it. Remember to check the underside of your car and clean anything stuck at the bottom as it acts like a sponge, trapping moisture that increases the likelihood of rust.
Always remove wiper blades or at least lift them up so they retain their shape so you don't have to replace them later. Last but certainly not the least, remove all leaves, pine needles and other debris from the engine compartment and the area between the bonnet and the windshield.
4. Prepare The Interior
When it comes to long-term car storage, it's important to keep the exterior and interior in excellent condition. Make sure you throw out any rubbish, vacuum the seats, floor mats and wash the inside of your windows. Never use a chemical surface protectant on leather, vinyl and other fabric as it could stain or cause excessive damage. Preparing the interior of your car not only helps prevent smells but also protects against potential sun or heat damage.
5. Servicing For Car Storage
If you don't know already, regular services keep your car in a safe and working condition and it is something worth considering when putting your car in storage. Always make sure that your engine and fluids are in good condition otherwise your car may not start.
Change or top up fluids including oil, coolant, transmission and brake fluid. Did you know that synthetic oil breaks down slower over time which makes it the preferred choice for car storage?
Fill up your tank with petrol or diesel as there is less space for moist air to enter the engine causing condensation or ice build-up. You could also add a fuel stabiliser which is available at most hardware or auto parts stores
Check belts, filters, hoses, and other components of your engine to ensure that everything is clean and in working order
6. Tyres And Battery Check
Contrary to what many believe, flat spots are no longer a real issue as new tyres are designed to protect against it. Even if flat spots appear during long term car storage, they will disappear after driving for approximately 100 miles. While that is true, it does not apply to antique cars or those using non-belted tyres. Common best practice is to deflate your tyres to 10psi less than what the manufacturer recommends and putting your vehicle on jacks if storing for longer than 6 months.
Electronics can quickly drain power from your battery so make sure you charge it to full capacity prior to storage. You could also use a trickle charger or battery conditioner. Once again, if storing for more than 6 months, it is best to disconnect your battery.
Advantages Of Long-term Car Storage
Parking on the street is often dangerous for your vehicle and pedestrians and not to mention expensive. Many areas have exorbitant parking fees and they don't even offer any real security or protection. Even when storing a classic car or seasonal vehicle, finding a suitable storage space at home is not always an easy task. Car storage facilities offer many benefits and we've highlighted a few below:
Self storage facilities offer climate-controlled units that are generally fire and waterproof
Most are fitted with anti-vandal box locks for industrial strength padlocks, 24/7 CCTV surveillance and key coded security gates
Keeping your car in a self storage unit will free up additional space at home and give you much-needed peace of mind
Storing your car in a private parking lot is often very expensive and very few outdoor lots offer sufficient protection from the elements
Self storage units are unbeatable in terms of protection and affordability while offering flexible monthly or fixed packages
Car Storage At Space Centre
While we offer car storage, bike storage and boat storage among others, we do not store caravans. Our units are available in various sizes at centrally located facilities at very affordable rates. We also don't tie you to long-term contracts and you are free to move to another unit if your storage needs should change.
Follow our weekly blog or join us on Twitter and Facebook for more interesting stories, helpful tips and tricks. Contact us today for more information about our quality, affordable and flexible storage solutions.