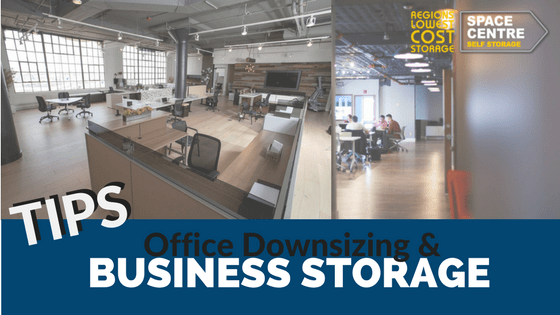 We all know moving house is one of the most stressful things you'll ever do but downsizing your office is not far behind. Modern day business storage has noticeably changed compared to a few years ago with more people working from home or flexi-time. Businesses can now manage with less space and fewer desks. As a result, smaller office space and saving money in the long term. The only question is, what to do with the extra furniture when downsizing?
Millions of businesses worldwide choose commercial or business storage for furniture, stock or documents. Some facilities offer short- and long term storage so doing your research is vital. Short term self storage is always a great option especially if you're struggling to sell your furniture or if you're moving to a smaller office and don't quite know what you'll need.
Saving Space with 'Hot-desking'
The first thing you need to do is identify how much space is currently being used. You'll be surprised how much space is wasted and how many unused desks are in the mix at any given time. Staff may be sick or on leave, always in long meetings or mostly on the road visiting clients. Some desks even remain empty long after someone has left the company. Think about maximising the available space and determine how the employees use their area when they are at the office and when they are not.
Space sharing and 'hot-desking', in particular, could be the answer but tread lightly. If this is not done correctly, it could cause some serious staffing issues. You need to include the employees in this process and understand how their area is used. Create an environment where people are happy to share space and confident that they will have the best space to get their work done. Here is an interesting article that offers good advice on how space sharing can work.
Effective Business Storage
Whether you're downsizing your office or simply decluttering, effective business storage is the ideal solution. Whatever your reasons are for renting a business storage unit, the benefits are overwhelming. Storing extra office furniture will keep everything safe and in excellent condition for when you need it. It also costs much less than retail or warehouse space.
Having the right storage space enables a business to function optimally and stay organised. This rings particularly true if your business is growing rapidly. All types of businesses can benefit from effective business storage. Take a look at these examples:
Event management companies storing bulky items for exhibitions or trade shows
Home based businesses requiring additional safe storage for their products
Small businesses with limited or non-existent storage space on premises
Self-employed plumber, electrician or carpenter who needs storage for tools and equipment
Auctioneers and collectors
Not only should you consider using self storage for your office furniture or equipment; your files, documents and other important paper records should also be kept safe. Making digital copies of what you can is highly recommended but not always possible.
Before you choose just any storage facility though, do some research and find one that best meets your requirements. It is important to know what questions to ask and what to expect. A good storage facility will help you find the right space and guide you on how to properly pack your storage unit.
We have facilities in Bristol, Stroud and Gloucester with clean, secure and affordable commercial storage units. Whether you need business storage for furniture, documents, stock or deliveries, Space Centre Self-Storage will keep it safe.