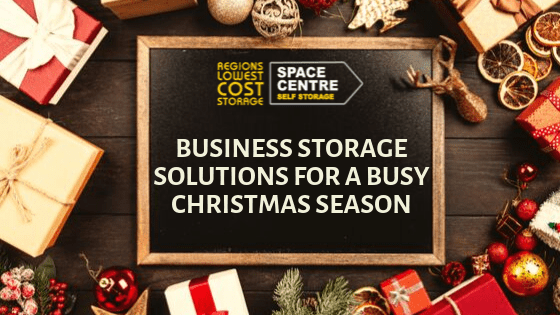 Not everyone likes having to think about Christmas in the summer, but it's different for a business. Christmas preparations can often even start immediately after the New Year and is a full-time task for many. Are you prepared for what lies ahead in terms of stock, sales and business storage?
There really is so much to consider from analysing last year's figures to determine the need for additional stock to business storage solutions and packing everything correctly. Luckily, Space Centre Self Storage has extensive experience when it comes to organising, packing and storage for business.
When Should You Start Your Christmas Preparations?
As with many things in life, it's best to start planning early on as you don't want to leave it for the last minute. The challenge with big holidays like Christmas, Black Friday or even Easter is that there is often so much to do. You must decide what you are actually capable of doing with your current manpower and the limited time.
Regardless of your business, planning remains the key to a successful festive season. One way to get ahead is by making a list of holidays at the start of the year that you want to promote. Determine the time you want to spend preparing for and promoting plus the number of staff and stock you might need. This will save you loads of time later on and avoid scrambling for ideas and find time for everything.
Do You Require Seasonal Staff?
Some businesses rely on part-time staff every year to account for the increase in customers and to ensure the best possible service. Instead of overworking your permanent staff during the festive season, rather prioritise duties and plan their workloads. If you don't need more staff doing sales or front of house, why not get them to help with stock take or window displays?
Do You Need Additional Stock?
Many retailers usually order their stock well in advance and base their decisions on sales figures of the previous 1-3 years. However, it's not always that simple as things can go wrong. What happens when too many goods arrive when you least expect it? What if you don't have enough space in-store; where would keep it safe so far ahead of time?
When companies face Christmas stock issues, many choose business storage as the preferred solution. The flexibility of terms and access allow businesses to respond swiftly to seasonal demands including extra stock for Christmas. For starters, using business storage means they can take full advantage of bulk order discounts.
Can You Reuse Last Year's Stock?
Before you decide on what to order, first check to see if you can reuse old stock. Not only will this help you save on storage space but your budget as well. There's little point in ordering tons of new stock if you have good quality seasonal items you could reuse.
Planning ahead is important so check old sales figures and order some extra stock of your best-selling items. In this case, you'd rather want to have too much stock than run out, right? Besides, if you're smart about it, renting a business storage unit means space would never be an issue.
The mistake many companies make is not packing properly which could result in stock-loss. If you're guilty of this, learn from your mistakes and follow these simple and effective packing tips.
Business Storage Packing Tips
There is a right and wrong way to pack your Christmas stock and not following the rules could result in damaged goods. That's the last thing you need going into one of the busiest times of the year. You also really shouldn't store stock at home, the garage or shed as they don't provide the optimal conditions of a business storage unit. That said, you still need to pack things properly to avoid injury or damage.
Use the right boxes and remember to label everything
Always pack large and heavy items at the bottom
Reinforce your boxes by taping the bottom for added protection
Wrap fragile items in bubble wrap, newspaper, blankets or special packing paper
Create a master list of everything in your business storage unit so you can easily find what you're looking for
Related article: 'Do's and Don'ts When Packing Boxes'
Creative Ways To Plan A Success Christmas Season
While making a living is important, the holiday season is not just about sales but also connecting with other people, giving thanks and celebrating. Here are FOUR simple ways you can ensure that your business enjoys an incredible Christmas season.
1. Get Festive And Write A Christmas Newsletter
Newsletters are one of the most cost-effective ways to inform your customers of all the latest offers during the Christmas period. This means you can connect with as many people as possible without spending a fortune. You can create it yourself using various online apps like Canva or DesignBold or employ the services of a professional design company.
2. Offer Promotions And Discounts On Deliveries
Businesses are after every customer they can get especially before the Christmas season. If your business can afford to offer free deliveries, you really should as it could be the deciding factor for many. To cater for the inevitable last-minute shoppers, give customers a discounted price on 'Next Day Deliveries'. This could go a long way in setting you apart from the rest.
3. Use Social Media Wisely
Social media is arguably one of the easiest (and cost-effective) ways to reach a large number of people in a short space of time. While you can use paid advertising on social media channels, it's entirely up to you. With Twitter, you can easily keep your customers informed on all your latest offers using your very own unique hashtag.
Use Facebook to spread the word about a Christmas competition you are planning while Instagram is fantastic for posting pictures of Christmas present ideas, wrapping tips and more. On Pinterest, you can create holiday-specific boards with pins of products from your shop. Remember to add a creative product description and include the price.
4. Write A Christmas Blog Post
Blogs can be incredibly powerful when the content is relevant, interesting and informative. Do the right thing and write a Christmas blog post to connecting with your customers. Some blog content ideas for Christmas includes outlining your special offers, creative present ideas or mention how your business is involved in charitable work.
Remember that your blogs must be optimised for SEO to generate traffic through search engines like Google. If you're new to all of this, here is some expert advice on how to write an SEO-friendly blog post. It's always a good time for content marketing, but this time is especially good.
An important bit of information you should include anywhere you can is your Christmas and New Year Opening Hours. The more your customer knows about your business, the better chance of success.
Affordable Business Storage Units
Many companies have turned to facilities like Space Centre to solve their business storage needs. Clean, dry watertight conditions, combined with flexible leasing arrangements mean you have more control. Whether you're a big retailer or a small trader, quality and affordable business storage units can make all the difference this year. Please visit our website or give us a call for more information or to arrange a site visit.