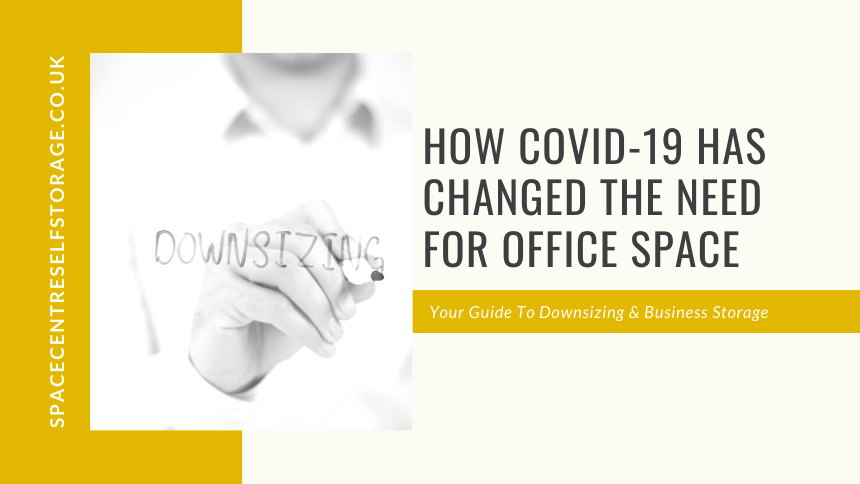 Covid-19 has impacted nearly every sector of business in some shape or form with much of the focus being on the "new normal" for office space and remote work. Companies across the world have had to adapt with many confirming that they will implement a different strategy. In this article, we explore some essential advice on downsizing premises and the benefits of business storage. But first, let's take a quick look at the impact of the pandemic on office space as we know it.
How Covid-19 Is Impacting The Need For Business Premises
Covid-19 has made many people rethink their business premise options. With office staff working from home for up to a year now, employers are seriously considering whether they need big premises or to keep remote working as an option.
The pandemic has shifted the focus of many businesses in terms of what the office is used for and the type of role it should play in company strategies and budgets. With remote work becoming the new norm, could the days of showing off a big corporate head office be numbered?
In September 2020, the Institute of Directors conducted a survey where more than half of UK directors saying they plan on cutting back office space as staff are permanently working from home. Over 40% said one of the main reasons was that working from home was more effective than previous setups.
Remote Work, Downsizing And The Role Of Business Storage
Lockdown has resulted in many people embracing remote work as the default option with much success but is it the answer for everyone? Although the pandemic has demonstrated that some people can work from home and still perform admirably, other concerns cannot be ignored.
In some sectors, a company's success will continue to depend on face-to-face interactions and collaboration which means an office is still very important. Having a business premises plays a vital role in providing learning opportunities for younger employees as they interact with the environment and other staff members.
Perhaps a hybrid or blended workplace model could be the answer but even this presents a great opportunity for companies to reassess their structure and downsize accordingly. Moving or downsizing may be a daunting task but business storage can help streamline the process considerably.
Recommended: 'Working Remotely: Advice For Business Owners'
Business Storage And Downsizing Advice
Business storage has long been the preferred option for many companies but with the lockdown and Covid-19, it's becoming even more critical.
People use business storage for various reasons including stock storage, equipment, machines, vehicles or documents. With everything that's going on at the moment, more people are turning to business storage as they consider office downsizing or restructuring.
If you consider how much the retail sector has suffered, for example, business storage could be a great way to help reduce costs. Do you really need all that warehouse or retail space you currently have? Can downsizing to just retail space and utilising self storage facilities for stock storage help?
Regardless of potentially reconfiguring office space, businesses that previously had no or limited remote working will have extra office space that no longer suits their needs. Looking to downsize? Then here's what you have to do.
Considerations For Office Downsizing
If you are reconsidering your office strategy, make sure to consider all the key factors. Here are a few questions to keep in mind:
Are you nearing a lease break or lease-end window?
Will the landlord allow you to sublet any surplus space to someone else?
Can the landlord offer your business a smaller space in another building they own?
Will you be allowed to move out or relocate to another part of the building?
Does the office location still meet your strategic goals?
Are you introducing a blended workplace strategy or 'Working From Anywhere' (WFA)?
How will you be operating and why will employees come into the office?
If staff are mainly coming in for meetings, you'll have to reduce desk space and increase the number of meeting rooms or collaboration spaces with social distancing in mind.
Break Option For Downsizing
Before we share some business storage tips, here's some practical advice when it comes to a break option. If you have serviced office accommodation, try to take less space once the current agreement ends. Speak to your operator to see whether they have implemented any specific proposals and for anyone with a lease agreement, consider exercising any break option you may have.
Without a break option, you could try to re-gear or renegotiate a deal with your landlord by doing the following:
Agree to surrender part of your office space or move to a smaller location also owned by your landlord
Agree to downsize as part of a renegotiation while locking into a long term and/or a higher headline rent agreement
Recommended: 'Will Businesses Reduce Their Office Footprint In 2021?'
Leasing Or Sharing Business Premises
Another option is to assign your lease but this could take time and paying the assignee a sizeable premium. If allowed, you could underlet a part of or the entire business premises but in the current climate, you may not be able to charge the same rent. Other options include:
Sharing office space with a group company
Sharing office space on an informal licence basis with a third party
Sign with flexible operators who will allow you to change your space requirements every 3, 6, 9 or 12 months
How Business Storage Can Help With Downsizing
Whether you're simply decluttering or downsizing your office, business storage is hugely beneficial.
Business storage units offer a safe place to store stock, equipment, tools, vehicles, furniture and personal belongings before, during and after downsizing or relocating.
Instead of keeping all the extra desks, chairs, tables and other equipment in the garage at home or selling it (even though you don't want to), you can rent a business storage unit. This helps keep everything safe and in excellent condition for when you need it but, more importantly, self storage costs considerably less than renting retail or warehouse space.
Most reputable facilities offer a short-term rental period which is ideal when you only need storage for a month or two. At Space Centre, we don't tie you to long-term contracts and you can change your unit size with no additional charge if that particular unit is available.
Business Storage Can Boost Productivity
If you are downsizing and need a central location for salespeople who need access to your stock, give each one a key and they can come and go as they please. This use of business storage has increased significantly over the last few years, particularly among e-commerce businesses and tradespeople.
For many people who run a home office or work remotely, a business storage unit becomes a necessity. If you are downsizing or work from home and don't have space for a dedicated storeroom, avoid using your garage or spare room and it's not the safest place to keep your goods, equipment or paperwork.
Renting a business storage unit for all the extras will open up a lot of space in the new office or at home. This will help clear the clutter and result in a more productive working environment for everyone.
Conclusion
Considering the financial implications, combined with more remote work and the continuation of social distancing, businesses are questioning the type and size of premises they need in the future. This has resulted in a likely shift in employers looking to change their leases or look for flexible office space rather than long-term rental agreements.
If offices are to reopen safely, they still have to maintain physical distancing which means square meters per person will have to increase. This, coupled with shifts, staggered start times and continued remote working opportunities are all important considerations in a post-Covid society.
The thing is, will people ever feel comfortable enough being close to others again? This makes office requirements rather challenging but with the right strategy in place, they can rent the type of space best suited for the business and staff.
Recommended: 'How Will Covid-19 Change Demand For Office Space?'
Business Storage At Space Centre
Whilst there are many good UK storage facilities, it's important to read the contract thoroughly as not all facilities charge the same and their policies may differ. You need to know what questions to ask and what to expect as a reputable storage facility should help you find the right space for your requirements and budget. If you're looking for a new self storage facility, keep this guide handy at all times.
At Space Centre Self Storage, our customers enjoy full transparency in all communications without any small print, no need for a deposit, or any additional charges. We offer FREE storage insurance of up to £3000 and you can use our provider or choose your own while our prices are guaranteed for 12 months. Contact our team on the website or give us a call if you have any questions about our business storage units, prices and locations.