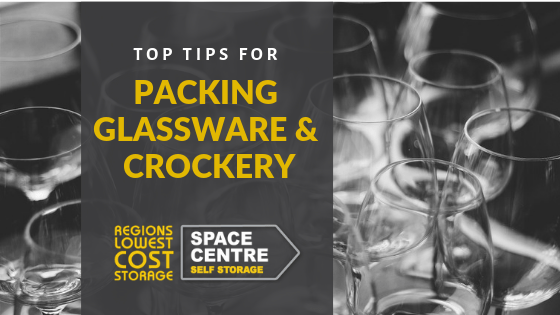 We know first-hand the stresses and worries when moving house as sometimes there is just too much to remember. From packing glassware and crockery to furniture, clothing and important documents, you need to be prepared. While moving can be a stressful time, it should also be exciting for the entire family looking forward to a future in their new home.
There's no denying that moving into a new house is a big job and packing is unfortunately one of the things you cannot leave until the last minute. Look at moving and packing as an opportunity to consider what you actually need, what must be thrown out or put into self storage.
To avoid last minute packing and forgetting half your stuff, think about what you can pack in advance. You can start clearing your wardrobe, shelves and cupboards of anything that you don't often use and pack some of it ahead of time. While there are many things to remember when moving, packing glassware and crockery is among the most important. Not only in terms of value but also the sheer amount of time it takes.
Packing Glassware And Crockery
Packing glassware and crockery before moving takes up most of your time as many people choose to do it themselves. If you pack it properly, you won't have to worry about breaking expensive plates and glasses during the move. Here are some more helpful hints and tips for packing glassware and crockery along with a few other important items.
1. Use Packing Paper
Whatever packing guide you read, most of them advise using packing paper and there's good reason for that. While folding packing paper does work, crushing it into a ball absorbs more shock almost as good as any specialised packing material. The big difference here is that packing paper is considerably cheaper and reusable.
While more paper offers more protection, it does limit the number of items you can pack
Packing paper is one of the best materials to use for the bottom of moving boxes. Just make sure that the bottom it well-secured with duct tape for extra support before putting down the paper
When using packing paper, place the item in one of the corners and then fold each of the corners, one at a time, until the object is fully wrapped
You can also replace packing paper with newspapers or magazines while towels and bubble wrap are very suitable replacements
Remember to wash any plates and other dishes packed using newspaper to remove any ink marks
2. Using A Dish Barrel When Packing Glassware
А dish barrel, or dish-pack, is one of the most effective and simples ways to pack plates. A dish barrel typically has a capacity of about 5.6 cubic feet, which is sufficient to accommodate much of your glassware. You can quickly prepare your dish barrel following these simple steps:
Always place heavy and solid items at the bottom of the dish box. Anything made from metal will form a good foundation to the box protecting the items on top
Use the middle section of the dish barrel box for kitchen appliances and thick glassware such as vases or beer glasses
Before packing the top layer, leave some free space to layer with towels, newspaper or packing paper. You can use this section for Items like glassware, kitchen utensils and plastic kitchenware
Prepare the top layer for packing by using enough paper or bubble wrap to protect the items on top. Whatever you pack at the top of the other 3 layers, make sure it is lighter than the items below.
Secure the top of the dish barrel with packing paper or bubble wrap and then seal it carefully with packing tape or duct tape.
Whether you are packing and moving everything yourself or are using a professional moving company, we recommend that you clearly label the box, "Fragile". Not only does this streamline the unpacking process later on, it also lets you (or the movers) know to handle with care.
3. What Boxes To Use When Moving
While you can essential use any cardboard box for packing glassware and crockery, it is better to get a specialised box. In reality, this is merely a standard moving box but it comes with a separator or divider which helps reduce friction between each item. If you can't find proper moving boxes with dividers, you can wrap each item in packing paper as it actually provides much of the same type of protection.
The standard size of a medium moving box is 355 x 355 x 355 mm and about 457 x 457 x 457 mm for the larger ones. Remember to not exceed 20kg when packing a moving box as they are not designed to hold such heavy loads. Not only that but keeping the weight down also means the boxes are easier to carry.
4. How To Pack Ceramics
Packing ceramic plates and crockery often causes headaches as the material is brittle but still firm. The main problem is that once ceramic is damaged, it is very difficult to repair. While it's not impossible, it can prove challenging but there is a Japanese technique known as Kintsugi. Instead of trying to hide the repair job, the damage remains visible and often forms part of its historical past. It also sometimes adds great value to the object when sold later on.
Bubble wrap works well when packing ceramics as the air inside the bubble absorbs pressure from bumps or knocks. Wrap each plate with bubble wrap and finish it off with duct tape. Then, stack each place on its side and seal the moving box.
5. Packing Glassware And Crockery For Self Storage
When packing glassware and crockery for storage, consider the fact that it will remain inside a container for some time. Humidity or fluctuating temperatures could cause damage if the items are not made from materials that can withstand the elements.
While you could of course use temperature-controlled storage units, you can also invest in wooden crates. These may be very beneficial as wooden crates are big enough to store multiple moving boxes while the wood protects everything inside (at least better than leaving them on a shelf or a pallet). Alternatively, you can get sealable plastic containers as they are also waterproof and more durable than wood or cardboard.
Follow our weekly blog or join us on Twitter and Facebook for more interesting stories, helpful tips and storage advice. Contact us today for more information about our affordable and flexible storage solutions.