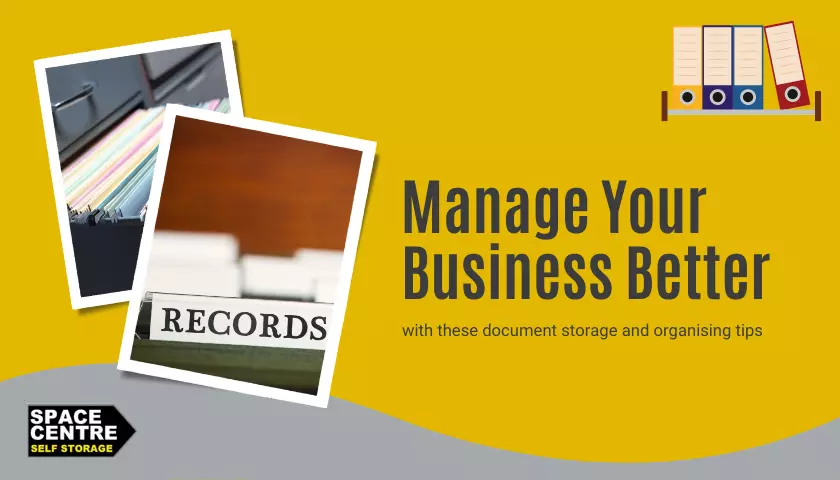 Regardless of your type of business, one thing remains constant and that is managing and storing business records. From daily invoices and bills to tax documents that you only reference once a year, business owners must keep track of a large amount of paperwork.
If you're just starting, with only a few easy-to-manage invoices, you may be able to go without setting up a proper document storage system. However, for bigger organisations, using your memory alone is not sustainable unless you have a photographic memory. Still, to ensure everything is in place and remains above-board, here are some of the best tips for storing business records.
Storing Business Records The Right Way
As time goes by and your business grows, going ahead without a document storage plan can be a risky bet for many business owners. The earlier you start managing and storing business records properly, the more efficient you will be as your business starts expanding. As such, here are some valuable insights to help you get started.
Which Business Records Do I Keep On Hand?
Before you plan anything, make sure you know exactly which business documents you have to keep. This may vary depending on your industry as medical businesses, for example, have far more regulations than a plumbing or landscaping company. In addition to industry-specific requirements, here are a few general documents you may want to keep in storage.
Pay as You Earn records including all payments made to employees, deductions made for income tax, national insurance, student loan payments and any statutory payments
Sales and takings including till rolls, sales invoices, bank statements, paying-in slips and accounting records, cash receipts
Receipts, purchase invoices, bank and credit card statements, chequebook stubs, motoring expenses and mileage records
Assets, liabilities, income and expenditure
Benefits records including any paperwork relating to statutory sick pay, statutory maternity, paternity or adoption pay and any employee benefits
If your business is VAT registered, you are required by law to keep track of all your VAT accounts.
How Long Should I Keep Business Documents?
While the primary focus may be on storing the latest documents, there are many rules and regulations for historic documentation. Most business documents should be kept for six to seven years as that is deemed long enough to defend tax audits, lawsuits and potential claims. The only documents you need to keep for 7 years though are tax records.
It's important to keep copies of your tax returns with all the supporting documents including statements and receipts. Store these safely in boxes or envelopes with the tax year clearly marked. If you need more information on archive storage for tax documents, visit the HMRC website.
Recommended: Top Reasons People Use Business Storage Units
How To Store Business Records
When it comes to storing business records, companies must manage important documents through the entire lifecycle. This means from the time a document is created through their useful life up until their safe destruction or storage. With an organised document storage policy, companies should be able to retrieve the records quickly whenever they need to.
There are many ways you can approach storing business records, from a traditional filing system using a specific order to digital storage and renting a business storage unit. This is especially important for the documents you may need to keep long-term according to legislation. If a company fails to meet business record-keeping requirements, the person responsible could be disqualified but more on this later.
Paper Archive Storage
Business owners need to keep certain paper records for longer and these should be stored securely and handled with care. Confidential records should be kept in a room or location with controlled access.
Keep your papers in good-quality archive boxes and plastic sleeves to prevent damage or deterioration. Make sure boxes are carefully labelled and indexed so you know where to find what you need quickly and easily.
If you do remove documents, make sure you put everything back in the right place as soon as possible. For record purposes, you may also want to put a note detailing when, why and who removed the documents.
Recommended: How To Pack Your Storage Unit
Storing Business Documents On-Site
While most storage units are clean, dry and damp-free with a smoke detector and fire suppression system, your office or storeroom may not. If you are storing business records on-site, make sure you can control the temperature and ensure there is no damp.
If you have a large number of paper files, it may be worth storing them offsite to free up space. Some documents need to be stored for between one and seven years – or possibly even longer for legal and financial professionals – so make sure you keep these safe.
Storing Business Records In Self Storage
To make sure your documents remain in excellent condition long-term, keep your files in a clean, dry and secure location. A reputable storage facility, such as Space Centre, is the choice to protect records from humidity, dampness, theft, natural disasters and accidental loss. When it comes to storing business records, packing a storage unit can be a huge task but these tips can help make it more manageable.
Maximise the height of the unit with additional shelving and tall racks (read the storage rules and regulations)
Place the more popular items closer to the entrance
Pack heavier boxes or items at the bottom to minimise collapses and potential injury
Consider an inventory management software for easy and accurate record-keeping
Create a master list of every item in the business storage unit so everyone knows where to find everything
Leave a walkway in the middle for better access to all the documents and boxes
Label every box on multiple sides
Digital Storage Of Business Documents
Many businesses will likely have piles of paperwork and business records on employees, tax, income and expenditure. Whilst most paperwork is necessary, by working through the list of required documents, you can electronically store everything just in case. This includes DVDs, Blu-Ray discs, USBs, external hard drives or cloud storage. From there, you can put the physical archives into self storage as a backup.
Knowing which company records you should keep and for how long will help minimise your clutter at the office, home or in a business storage unit. It also means having a more organised filing system so you know where to find the most important documents when you need them.
Cloud Storage For Business Documents
While cloud storage is an increasingly popular choice for businesses with Google Drive, Microsoft OneDrive and iCloud, for example, it can be costly and requires an internet connection. The good thing is that these services allow you to access your files from anywhere in the world and are not susceptible to problems such as flooding.
Of course, if the internet goes down, you cannot download your documents and while theft is not a concern, cyber-attacks are. If you are storing data electronically, make sure you do the following:
Make regular backups
Make more than one copy of your archive
Consider encrypting sensitive files
Don't use an easy-to-crack password
Only share access with people you trust
What Are The Penalties For Not Keeping Business Records?
As mentioned earlier, failure to keep proper records could result in a fine or disqualification. The HMRC could charge you with a penalty of up to £3,000 per tax year. In many cases, when HMRC determines failed record keeping, it's associated with an under-declaration of profit.
HMRC will likely charge penalties and interest on late payments of any additional tax and National Insurance contributions. In the worst-case scenario, if no business records are kept, there could be a penalty for failing to keep records over and above any other penalties.
If you are at risk of receiving a penalty from HMRC, consult a professional. You could meet with a Chartered Tax Adviser or someone from the tax charity, TaxAid, who will provide free tax advice to anyone with a lower income.
Dos and Don'ts Of Storing Business Records
Whilst some business documents must be kept in a physical location, most can be stored electronically. The more paperless you can make your business, the smaller the risk of losing something. So, as a summary, here are some big dos and don'ts when it comes to managing and storing business records.
DOS
Keep as much documentation in a cloud-based software application as possible.
Organize your documents into logical categories and folders.
Use a consistent naming convention for digital files so that you can easily search for and locate them.
Back up your most important files in a secondary location, like a USB drive or portable hard drive.
DON'TS
Wait more than 7 days after creating or receiving a document to file it
Rely on one hard copy. Instead, create physical backups and store them in a separate location
Store documents in multiple software systems if avoidable. Instead, try to keep everything in one centralised location, except backups of course
Related: Dos and Don'ts Of Business Storage
Storing Business Records With Space Centre
In addition to storing business records correctly, you also need to keep them clean, dry, readable and easily accessible. Apart from digital storage, one of the safest solutions for managing and storing business records is renting a self storage unit.
At Space Centre, you can store documents in our quality, affordable, secure and damp-free units. Our storage units and storage lockers are available in a range of sizes, protected with alarms, CCTV, smoke detector and a high-security padlock for which only you have a key.
Contact us for more information whether you need help storing business records short-term or long-term. We have conveniently-located facilities in Bristol, Stroud, Gloucester and Stonehouse.