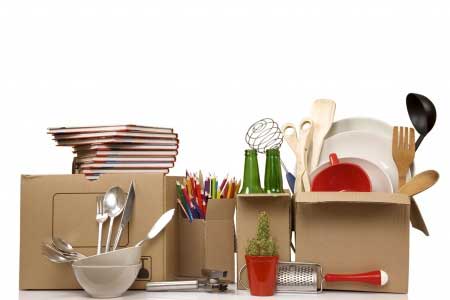 Are you moving home but there's a delay between leaving your old property and moving into your new? Maybe you've decided to rent until you've found the perfect next property or are even having a house built? If so, you are likely to need some short term storage space for your furniture and belongings.
Finding a storage solution for your home contents is never that easy. Some people will ask friends or family to look after their goods whilst others will opt to use a local self storage company. Your friends are unlikely to say no even though it may be a bit of an inconvenience for them but it can sometimes still feel like a bit of an imposition.
A self storage unit is often the ideal answer to your short term storage issues. You can transport your belongings to the unit and store them safely, in damp free conditions. Then, when your new home is ready to move into, simply collect them and move them to your new property. However, while your belongings are in storage, make sure that each individual item is stored with due care and attention, however big or small.
6 Tips When Using Short Term Storage
1. Plan
Of course, if moving to rented accommodation, many items will be taken with you new property. However, you will need to plan exactly what needs to go into storage. Once you have done that, speak with your local self storage centre and establish what size of unit is required.
Most storage centres will allow you to move up or down in size, without a cash penalty so if you find you've over or under estimated, it should be relatively easy to sort out.
When planning what's going in to storage, make sure you prioritise in terms of what goes where. Items you think you might need to use, should be packed in manageable boxes. Make sure those boxes are always accessible.
Group items by fragility or weight – heavier, sturdier items should be stored on the bottom of stacks, fragile items on top.
2. Use quality boxes and packing materials
If you don't pack your goods properly and in sturdy boxes, you could pay the price. Many people are tempted to use old boxes from the local supermarket to meet their short term storage needs. This might be a quick fix but mismatched shapes and sizes will affect your ability to organise most effectively.
Breakables should be wrapped well. Newspaper will suffice, but bubble wrap can be used repeatedly. It is also transparent which makes identifying contents easier.
If you have any concerns over what materials to use, for short term storage, ask at your self storage centre.
3. Pack Properly
Always distribute the weight in packed boxes evenly. Make sure they are not too heavy for you and others who may be lifting them. The last thing you want whilst packing or unpacking, is to suffer a back injury
Fill boxes effectively. That doesn't mean filling every box to the top. If you have heavy or fragile contents it may not be best to do this. But the contents of a half-empty box are likely to slide around during transport or lifting. Make sure you pack around the items to stop this happening. If you do have smaller gaps, consider using foam peanuts.
Fragile items and breakables such as glasses and ornaments should be wrapped separately. It is also wise to mark "Fragile" on any boxes containing breakable items.
Finally, clearly label all boxes on more than one side so you can easily identify the contents.
4. Prepare large appliances
If you are moving into rented accommodation for a short period of time, you might avoid the temptation of taking your large appliances with you. Washing machines, tumbles dryers, dishwashers etc can all be kept in storage until you make your permanent move.
If that's your choice, you must defrost refrigerators and freezers thoroughly to avoid water damage and mildew growth. Tie down the appliance doors during transport, but leave them slightly ajar once in storage.
Drain washing machines, and tie down hoses and cords before storing them.
5. Clean and prepare furniture
Disassemble furniture such as beds and tables before you store them. Wrap and cover the separate sections, clearly mark them and keep them together. All nuts, screws and bolts should be kept in clearly marked transparent plastic bags.
Furniture polish will give your wooden pieces added protection. It's a good idea to spray this on immediately prior to storing.
Likewise, wipe down metal objects and tools with a little oil before storing them to avoid rust forming.
6. Decide on your removal method
You can use a removals' firm to transport your belongings to the storage unit and from the storage unit to your new property. However, some folk prefer to do it themselves. Look into the cost of using a removals' firm and compare it with doing things yourself by hiring a van or a man with a van. Also consider whether a normal removals firm can handle the job or whether you'll need specialist help.
If you do things yourself, make sure that you pack your belongings in the van with care. Don't pile boxes too high and remember driving too fast can have an adverse effect on your goods.
Finally, don't forget to consider the logistics of moving your belongings back from storage to your new property. It will take a similar amount of planning if not more. If you're in rented accommodation with some of your belongings already with you, you may have 2 lots of removals to contend with. Consider the following:
What's the access like at your new property?
Will you be able to get a large removal van (or two) close to the house?
Can you fit your own vehicles in as well as the removals? If not, is there somewhere close by to park them?
Are there steps to consider?
Are you moving into rented accommodation or have you experienced rented accommodation as a short term stop gap? If so, let us know what you did with your home contents.