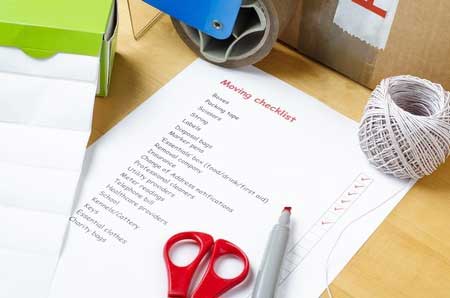 Moving house is one of the most stressful events that can occur throughout your life. For most people, the logistics of a move are enough to cope with. Solicitors, estate agents, removal companies and the other frustrating side-shows that accompany a move.
However, on top of the obvious issues that need to be addressed, there are many other smaller, but equally important, jobs to be done.
Create a checklist and make sure you remain in control, you will start to enjoy the move to your new home a great deal more if you are organised. And remember, don't leave things to the last minute. You will have enough to worry about with the actual move.
Here are 6 things that people tend to deal with later than they should when moving house, or worse still, forget to do altogether.
1. Locate your chosen school early
If you have children and they need to move to a school closer to your new property this will be one of your earliest considerations. Remember, there can often be waiting lists or it can take a while for the moving process to take place.
2. Don't forget to redirect your post
Arrange for your Mail to be forwarded onto your new address and change the addresses on your debit and credit cards and any standing orders you have set-up.
3. Council Tax.
It's important to inform your local council of your old and your new property when moving house.
4. Insurances
House, car, contents and personal insurance policies should be moved to your new home. It is worth noting that you should give at least seven days' notice before the move or you may not be insured.
5. Find anew dentist and doctor
Unless you decide to keep your current dentist and doctor, you should de-register with your current practices and sign up to ones closer to your new home.
6. Utilities
Tell your Gas, Electric, Telephone, broadband , TV licensing and Water companies that you will be moving house. This will make sure they stop charging you from your departure date and the new homeowner can pick up the bills where you left off.
Remember also, if there is a gap between the time you move out of your house and the day you move in to your new property, you may need to consider temporary storage. A self storage unit may be ideal as it will be damp-free and secure.
If you live in Bristol or Gloucestershire and need self storage space, give us a ring or take a look at our locations and facilities in Stroud, Bristol and Gloucester on our website.
Do you have any words of warning or wisdom for people moving house? Perhaps you forgot to tell someone important about your move. Why not share you stories below and help people avoid making the same mistakes?