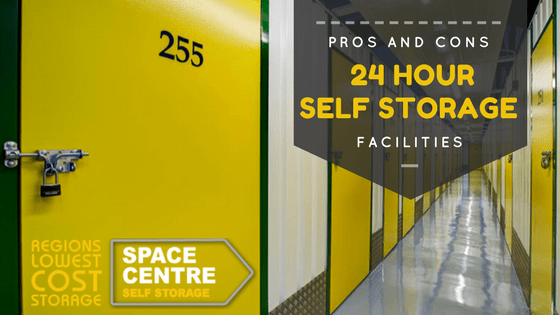 Although many companies provide 24 hour self storage access, as their sites are unmanned, it's a hotly debated topic. There certainly are pros and cons to unmanned sites and the right answer depends on which side of the table you're sitting. For some, it presents great opportunities while others don't share the same sentiment.
What if you need help with something? If the site is unmanned but general access is allowed, how does that impact your insurance cover? If storing business items and staff members are going in and out for stock, are they safe?
One needs to get absolute clarity on insurance and security concerns before making any decision. We'll take a closer look at this a little later but first, let's see how some 24 hour self storage facilities operate and what it means for business owners and customers.
How 24 Hour Self Storage Facilities Work
The main reasons businesses turn to automation is to make things easier for the customer, the site manager and reducing overheads. Self storage facilities with interactive kiosks and online functionalities make renting a storage unit much simpler for new customers.
Tenants can rent storage units on-site using a self-service kiosk in their own time and usually within minutes. They can look at available units, compare prices and select the features they need. In most cases, they can also complete lease documents and apply for self storage insurance from the kiosk without having to call or stand in line.
In every business, it's all about the bottom line and storage facilities are no different. Many automated 24 hour self storage sites have saved on overheads as they don't need as many employees. Unmanned facilities also free up managers to focus more on high-level tasks like security management, marketing and lead generation. They no longer need to chase after late payments, answer numerous calls or perform other time consuming day-to-day admin duties.
However, there are those who feel technology is not enough. They prefer talking to, and seeing, actual people on-site. For some, visiting a storage facility is all about meeting the owners or managers and physically viewing the storage units. Looking online doesn't always show enough and let's face it, nothing truly beats the real thing. That is why we, at Space Centre Self Storage, offer a virtual tour of our storage facilities in Stroud and Gloucester. This way, customers can view the units online and call us to arrange a site visit if they wish.
Although global trends do lean toward digitisation and automation, not all self storage customers are tech-savvy and it may not appeal to everyone. For many, unmanned facilities present more challenges than solutions especially in terms of security, insurance and absence of on-site staff. As much success as businesses have achieved turning to automation, many others still believe traditional storage is here to stay.
How Secure Is A 24 Hour Self Storage Facility?
Among others, this is likely one of the most important aspects to keep in mind. Businesses that use the facilities for stock storage are among those with more pressing concerns. If their staff need to access their storage unit at night collecting valuable stock or documents, how safe are they really?
Yes, security concerns do depend on the location of the storage facility but just because the location is favourable, doesn't mean there are no criminals around. Even though many unmanned facilities have the same security measures as a traditional site, some customers feel safer with a gated entrance and security personnel.
Most storage facilities have access control, motion sensor lights and security cameras where a select few even scans a customer's driving license and fingerprints when they first move in. This information thoroughly screens customers and identifies anyone who may become problem tenants. It also provides unmanned facilities with more information for after-hours security. Although impressive, no security system can provide the same level of safety a trained person can.
In truth, it does come down to personal choice as not every facility needs to be gated or staffed. Whether you want to use a storage facility with security and support staff, or a technology-driven site, there are pros and cons to both. All we know is that many people still prefer interacting with real people on the premises instead of a machine, website or mobile app. And companies who regularly visit their storage units after hours tend to prefer a facility with staff on hand without having to make a call and waiting for assistance.
What About Storage Insurance?
Regardless of storage facility, you may discover that your insurance provider needs you to fulfill certain responsibilities for security. In some cases, you must use a specific type of padlock to securely lock the storage unit door. At the same time, your insurance policy might stipulate how to store goods. This could include only using durable plastic boxes with lids instead of cardboard.
It is in your best interest to find out all you need to know from your insurance provider, including whether or not they cover automated storage facilities. Remember, if you fail to comply with any specifications or requirements, your insurance may very well be invalidated.
Make sure your goods are covered while in self storage. We provide free insurance for goods valued up to £3000 but if you're storing your entire house content, you'll probably need to arrange additional cover.
Space Centre Self Storage provides clean, secure and affordable self storage units in a range of sizes at convenient locations in Stroud, Bristol and Gloucester. Please give us a call or get in touch via LinkedIn, Facebook or Twitter if you need more information. We'd be happy to answer any questions you may have.